Estimated read time: 3-4 minutes
This archived news story is available only for your personal, non-commercial use. Information in the story may be outdated or superseded by additional information. Reading or replaying the story in its archived form does not constitute a republication of the story.
There is a growing sense of urgency to reform Utah's health care system, and today, a group of business leaders signed on the dotted line to cement their commitment to get the job done.
One by one, a group of business Presidents and CEOs representing 500,000 Utahns signed their name to a bill of rights for Utah health system reform. On the front steps of the Capitol, they took a stand for change, an action that could be risky.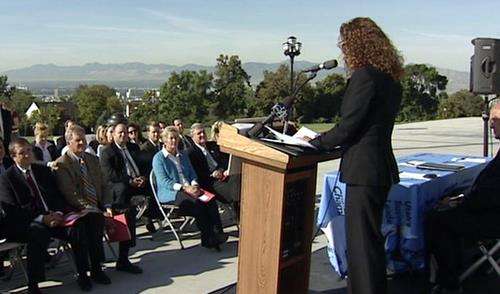 Chris Redgrave, Chair of the Salt Lake Chamber Board of Governors, said, "Especially change where we start doing shifting, cost shifting where we start empowering our employees, where health care programs follow our employees as they move from job to job, so it is a lot of businesses coming together."
The business leaders support a shift from employer-sponsored health care system to one that is individual. State legislators are also taking a close look at the idea, a way to make it customized for workers less of a financial drain for businesses.
One executive says it has to happen. The current system threatens to overtake them. Peggy Lander, with Richter 7, sad, "It's a little bit frightening because you think, 15 percent this year, 13 percent next year, and in a few years it's doubled. And that's basically unsustainable for a business our size. "
Redgrave points out that a growing number of Utahns do not have health insurance, up to 300,000 people right now. And she says Utah is leading the nation in the number of employers who are unable to afford to give health benefits to workers.
"We cannot be seen as a state that is not taking responsibility for the health care of our citizens," Redgrave said. She added, "Over the last eight years, the increases employees have received from employers have basically gone to health care."
The question is: Can a well-intended system to eliminate waste and inefficiency have a downside to the 2 million Utahns who will use it? Some are worried that reform is another way of saying money-maker to opportunists. Industry leaders insist that's not the case.
Terry Buckner, with the Buckner Group Insurance Brokers, said, "It's a situation where you have informed consumers, informed sellers, and informed providers. It makes for a more efficient system."
Buckner says this reform plan will put citizens more in charge of their health care. "We want people to have a part in the decision-making process. We want people to know what they are paying for," Buckner said.
Health system reform could be one of the most pressing issues of the upcoming Utah legislative session. Businesses and individuals are demanding a system that makes more sense and offers more choices to stay healthy. By signing a bill of rights, this group is sending a message that this won't be put on the back burner.
We've heard this before, and nearly everyone feels it needs to be done. The difference today is a commitment from this group of employers to actually get something done.
The reform plan would shift health care responsibilities from employers to individuals. The chamber plans to work with the Utah Legislature in the upcoming session to put this plan into place.
E-mail: rpiatt@ksl.com
E-mail: mrichards@ksl.com
×
Most recent Utah stories