Estimated read time: 4-5 minutes
This archived news story is available only for your personal, non-commercial use. Information in the story may be outdated or superseded by additional information. Reading or replaying the story in its archived form does not constitute a republication of the story.
SALT LAKE CITY — U.S. Attorney for Utah John Huber had strong words Friday for gang members in the Beehive State.
"We will find you. We will arrest you for the crimes you have committed. And we will hold you accountable," he said. "I will use the full force of federal law against you to bring swift, sure and significant penalties for the crimes you have committed."
Huber and nine other law enforcers from various federal, state and local agencies stood side by side Friday as Huber announced that his office is launching the Utah Gang Initiative. Gang crimes will now receive priority attention from his office, he said.
"So we're taking what we've been doing very well in an uncoordinated fashion for some time, and doing it in a more coordinated and efficient fashion. I'm asserting a leadership role that prioritizes investigations and prosecution of gang crime, that provides public safety and officer safety, and we will use all the tools available at the federal level to fight these offenses," Huber said.
The stronger focus on gang crimes comes in part because of a directive from new U.S. Attorney General Jeff Sessions.
"His priority is my priority. He says go after gangs. I'll go after gangs with more zeal than we have before," Huber said.
While the overall crime rate is much lower than it was 20 or 30 years ago, Huber said statistics both locally and nationally showed an increase in violent crime in 2015. Whether that is a "blip" or the start of a growing trend of violence, "We are not willing to gamble on which one it is. We are assuming that this is a trend and we are committed to stopping it," Huber said.
By reducing gang violence, Huber said overall violence in a community will be reduced. The U.S. attorney for Utah said gang violence affects all neighborhoods, and it's not just a matter of gang members harming only rival gangs.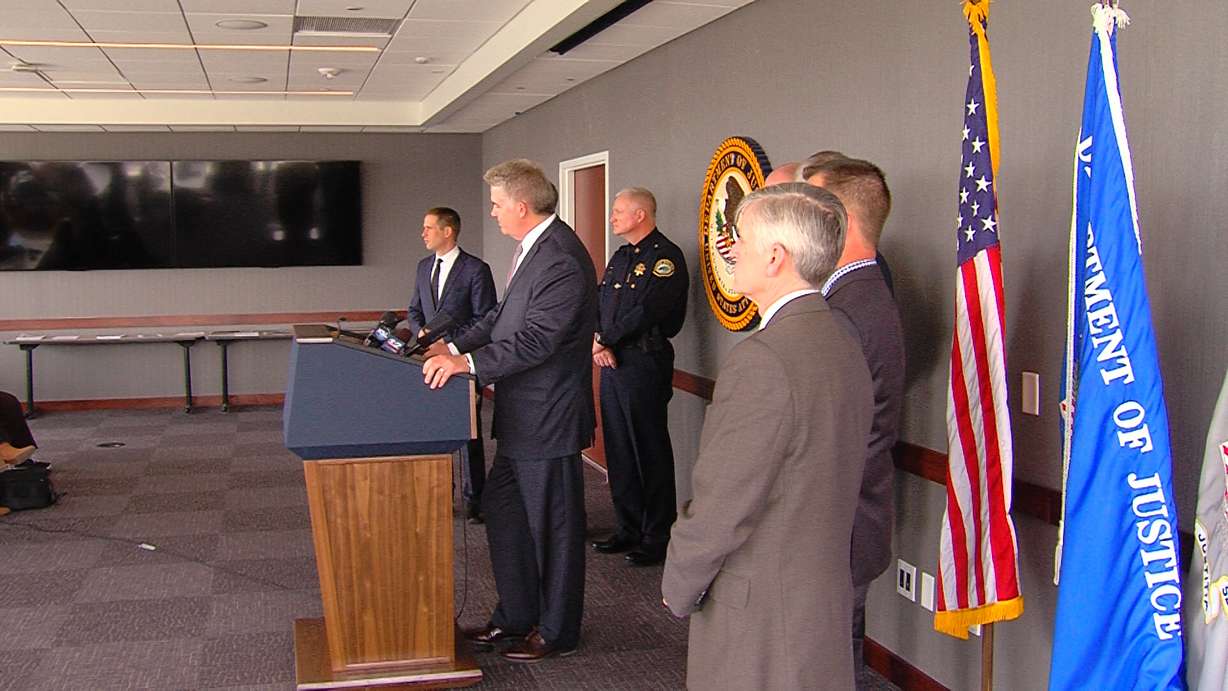 "Street gangs are violent by design. These are people who wake up in the morning and think, 'What violent crime will I commit today?'" he said. "We're coming after you. You should be in fear. You should be anxious about whether the feds are going to come after you."
When asked why gang violence is specifically being focused on as opposed to other crimes, Huber said, "Frankly, it's low-hanging fruit. This is a group that by design, by their stated purpose, by the way they live their lives, they are committing violent crimes. So if I can focus my resources on these groups who wake up every morning thinking how they can victimize us, then that will have a tangible effect on the overall crime rate.
"It's not like I'm picking on people. These are guys who have felony records, who do drug trafficking, who do human trafficking, who do intimidation," he said.
According to the FBI, there were 19 drive-by shootings recorded in Utah in 2015. That skyrocketed to 89 in 2016 and there were eight reported in January of this year.
To help in that effort, the Bureau of Alcohol, Tobacco, Firearms and Explosives, along with the Utah Department of Public Safety, announced Friday a national ballistics forensics center will be housed at the Utah State Crime Lab, and a State Information and Analysis Center will create "heat maps" to pinpoint where gang crime is taking place.
---
It's not like I'm picking on people. These are guys who have felony records, who do drug trafficking, who do human trafficking, who do intimidation.
–John Huber, U.S. Attorney for Utah
---
Salt Lake County Sheriff Jim Winder, Provo Police Chief John King, and Weber County Attorney Chris Allred also attended Friday's press conference, discussing how gang crime affects all parts of the Wasatch Front.
In Provo, an 18-year-old man recently posted a video on Snapchat of himself pointing a gun at four unsuspecting Provo police officers who were occupied with another incident, King said. The man allegedly stated in the video that for "15 snapshots I'll shoot every last one."
A concerned citizen saw the video and reported it to police. Jonah Robinson, of Orem, a documented gang member, was indicted Wednesday in federal court with illegal possession of a firearm and possession of a stolen firearm.
Other cases highlighted Friday include Joseph Medina, a reputed leader of the Nortenos gang in Ogden, who was ordered on Feb. 27 to serve 98 months in federal prison on drug and firearms convictions.
While the nexus of most gang crime is drugs, gang members are also profiting from human trafficking and arms dealing. Investigators noted Friday the extraordinary amount of drugs and firearms that Utah Highway Patrol troopers have seized this year.
Gang members have also become more sophisticated and are able to operate by "going dark," or by using apps to communicate with each other that police can't intercept and read, said Brian Embley, ATF resident agent in charge. Gangs are no longer "jumping in" new members, or beating them up as part of an initiation. Instead, they are making juveniles commit violent crimes to be initiated, he said.
And gangs are currently recruiting children as young as 13, according to Winder, whose department includes the nationally recognized Metro Gang Unit. The sheriff said the way to combat gangs locally is by suppression, investigation and prevention.
×
Photos
Related stories
Most recent Utah stories