Estimated read time: 3-4 minutes
This archived news story is available only for your personal, non-commercial use. Information in the story may be outdated or superseded by additional information. Reading or replaying the story in its archived form does not constitute a republication of the story.
SALT LAKE CITY — Walking into West High School, visitors would likely notice the diversity of language and culture among the hundreds of students moving through the halls.
Step inside the "Our CASA" room — dedicated for those students aspiring to attend college — and that diversity is magnified through the eyes and manner of the many young faces inhabiting the space created especially for them.
"It benefits me to know that this room is going to be a legacy," said Chantelle Zamora, 18, a senior at West High School who was on the committee that helped develop the concept for Our CASA. "One of the ways I've been able to grow is to know that this room in the long run is going to help a lot of students open their eyes and get involved in their own education."
Our CASA — Communities Aspiring, Succeeding and Achieving — is part of a network launched through an alliance between the University of Utah, the Salt Lake City School District, Google Fiber, A Capital City Education and local school communities.
The newest Our CASA space is set to open Monday at the Glendale Mountain View Community Learning Campus, one of six spaces planned for school and community sites across the west side of Salt Lake City. The initiative is part of an effort to help underprivileged students and their parents prepare for higher education, explained Paul Kuttner, Education Pathways Partnership manager with University Neighborhood Partners, an organization whose mission is to bring together university and west-side resources in reciprocal learning, action and benefit.
"This is (also) part of a broad effort to engage parents," he said. "Schools are a very intimidating space for many parents who may have had bad experiences or may not have a lot of experience with school or feel welcome."
He said the Our CASA spaces are meant to provide safe, encouraging environments for students and adults. The network carries out the mission by creating welcoming, family-friendly, college-themed spaces in schools and community centers, he said.
College Lounge
The initiative started four years ago at the Salt Lake Center for Science Education — a district charter school. With support from a graduate student at the U.'s College of Social Work, students decorated a room with couches, tables, a microwave and other amenities, dubbing it the "College Lounge," Kuttner said.
At the time, it was considered a comfortable, welcoming space where students could hang out and use a computer, he said. It also contained college and career information, he noted, as well as hosted workshops and support services for students considering post-secondary education.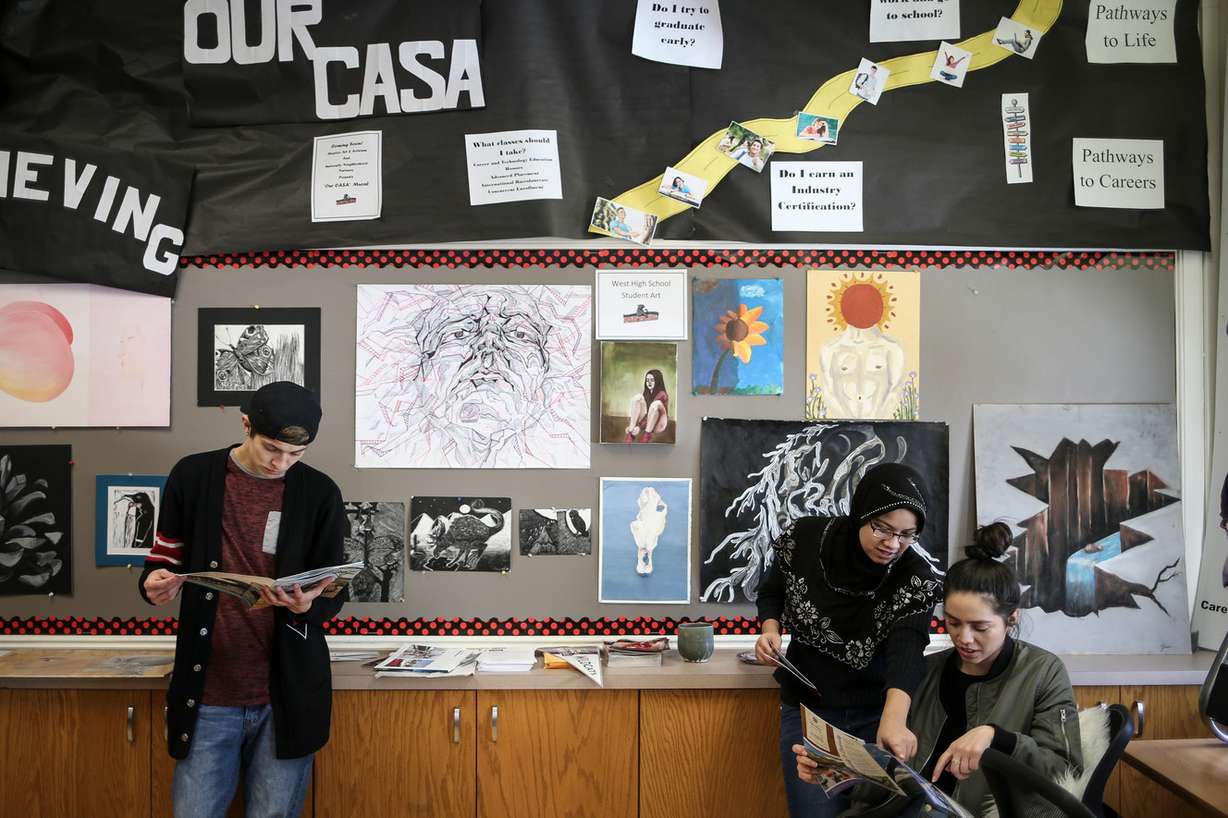 Parent Laura Hernandez has two children at West High. She said Our CASA gives students a productive place so they can avoid some of the other negative choices they could be making in their free time.
"It's a place where they can learn about (careers) and the possibilities for their lives rather than being on the streets and doing bad things," she said.
Goals
One of the key goals of Our CASA is to improve access to higher education for first-generation students and their families by strengthening cultures in schools and decreasing barriers to college, Kuttner said. Another goal is to build bridges between families and schools.
"We wanted to create a space in the school that was welcoming to the entire family," he said. "It would be space they could have ownership over."
He said new spaces are planned for Backman Elementary School, Northwest Middle School and the University Neighborhood Partnership's Hartland Partnership Center.
"The overarching goal is to build a culture in our schools and community centers that honors the diverse cultures youth and adults bring with them, and fosters aspirations and supports preparation for higher education," he said.
×
Photos
Related stories
Most recent Utah stories