This archived news story is available only for your personal, non-commercial use. Information in the story may be outdated or superseded by additional information. Reading or replaying the story in its archived form does not constitute a republication of the story.
COTTONWOOD HEIGHTS — Up against elite gymnasts several years her senior, Lundyn Vandertoolen stuck the landing.
Lundyn, a 10-year-old from Cottonwood Heights, has been practicing gymnastics since she was five.
A week and a half ago, that work paid off when Lundyn won the "Gymnast of the Year" award, becoming the first ever in her level (and from Utah) to win the award.
The "Gymnast of the Year" is awarded by the International Gymnast Magazine and recognizes up-and-coming gymnasts, usually between the ages of eight and 18, who demonstrate exceptional skill and capability in the demanding sport
"They're looking for how well they do in competition, they're looking for how tough they are mentally and then also their form; what sets them apart from the others," said Julie Vandertoolen, Lundyn's mom. "One comment that all of the national coaches made was that her form is impeccable. She has beautiful form on beam, bars, floor, vault and everything."
According to Vandertoolen, the judges look at gymnasts' scores at competitions throughout the country and then take the top 45 gymnasts from Levels 7 through 10 (which are based on the skills the gymnast has accomplished), then narrow it down to a top 15 and eventually a top five. From the top five, they choose a winner.
Lundyn is currently in Level 9 and was in Level 8 when nominated for the award. She was one of the youngest competitors for the award as well as the only one that wasn't a Level 10 in the top five. In fact, Lundyn was competing against many older than her, some even 17 and 18 years old.
It wasn't until Lundyn won the award, however, that she was even aware she was in the top five.
"Lundyn didn't know she had made the top five before we went down (to Las Vegas for the banquet), but we did," Vandertoolen said. "We were just in awe that she had even been nominated, because kids from Utah don't usually get a ton of recognition in most sports and especially not in gymnastics."
At the banquet, the judges announced the top 45 gymnasts, the top 15, the top five and finally, announced the winner. According to Vandertoolen, when they announced the winner, the judges first dropped a few hints.
"She's known for wearing her footie pajamas to the gym almost every day," Vandertoolen said. "And when they were talking about the person who had won they said... 'she's known for wearing footie pajamas every day to the gym' and we were like, 'Oh my gosh, it's Lundyn!' I got a little emotional because it's such a huge award."
Though the award is such a huge honor, Lundyn, herself, seemed to take it in stride.
"Mostly I was kind of confused of where I was supposed to go, like I didn't know where to go up (to accept the award)," Lundyn said.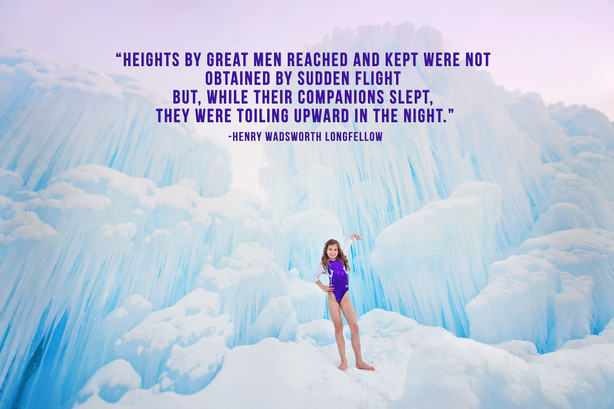 When asked what she finds hard about gymnastics, Lundyn's answer was "nothing" and she said her favorite event is the bars because she "loves the feeling of swinging." Sometimes she gets nervous, but not usually.
"I mostly just talk to myself, just like, 'I know how to do this and I've done this a lot,'" Lundyn said.
She first began gymnastics with her sister and enjoyed it immediately.
"Her coach said he noticed her right from the get go. She has this special look to her, she had mental stability and when they look at them for the elite track, it's not just, can they do the skills, but they're looking at them as the whole package, can they handle this crazy sport," Vandertoolen said.
Her coach, Ryan Kirkham at Olympus Gymnastics, has been coaching her for four of the five years she's done gymnastics and agrees that Lundyn has something special.
"Very few kids have the physical capability to be an elite level athlete, and she's one of those kids," Kirkham said.
"I think she won the award because she stood out in her level of gymnastics," Kirkham said. "She was completing skills that kids her level don't complete and she didn't just complete them, she did very well and scored phenomenally."
Lundyn practices six days a week for several hours a day, but doesn't seem to ever get tired of it. In fact, according to her, gymnastics is something she wants to do for the rest of her life.
And those around her seem to agree.
"She's just a pleasant kid," Kirkham said. "She's just a kid that smiles every day and… she talks so quietly and so soft… but she's just so willing to work and she's open to the process and very coachable," Kirkham said.
---
Liesl is a reporter at KSL.com, section editor of KSL Tech and a student at Brigham Young University. You can email her at lnielsen@ksl.com and follow her on Twitter at @liesl_nielsen.
×
Photos