Estimated read time: 4-5 minutes
This archived news story is available only for your personal, non-commercial use. Information in the story may be outdated or superseded by additional information. Reading or replaying the story in its archived form does not constitute a republication of the story.
SALT LAKE CITY — Utah Jazz owner Gail Miller said Thursday that she and other backers of the Our Schools Now ballot initiative to raise the state income tax rate to fund education are going to keep the pressure on lawmakers.
"I do think we have gotten their attention," Miller told KSL in an interview at the state Capitol, promising that the group "won't let up. We'll keep going. And we need to get something now. That's why it's Our Schools Now."
Miller said lawmakers "seem to have taken hold of the importance of education," and if they "do something for education this year that's significant and not just a stopgap, then we're willing to go along with that."
Still, she said, "we don't want to look at it as, if you don't do that, then we'll do this. We just want to look at it as getting the job done. We have to get something done to make our schools better."
With just two weeks left in the 45-day legislative session, GOP leaders are still working on a tax reform proposal that would make changes to the income and sales taxes that aren't expected to bring in additional revenues for at least a year.
Bob Marquardt, a member of the initiative group's executive committee and the president of a Centerville-based company, said that's not going to be enough to slow plans to start gathering voter signatures this summer to qualify for the 2018 ballot.
"That's a structural issue that they're dealing with. They're not suggesting any significant increase in education funding so we're full-steam ahead with the ballot issue," Marquardt said.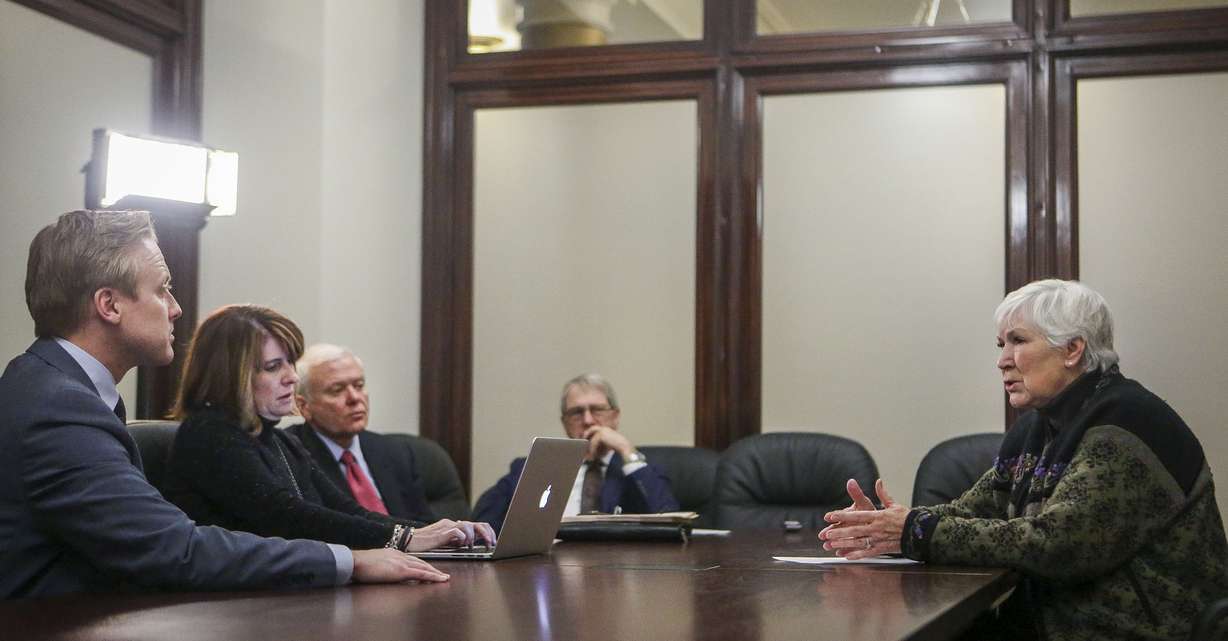 Senate President Wayne Niederhauser, R-Sandy, said he's talked with initiative backers about the Republican tax proposal that would restore the full sales tax on food, lower the cutoff to receive income tax exemptions, and lower both rates.
"They think that's good tax policy, at least that's what (Our Schools Now) communicated to me. But it's not sufficient for them. They want increased revenue," Niederhauser said, that goes well beyond what the tax changes may eventually generate.
What's now being called the Teacher and Student Success Initiative would increase Utah's 5 percent income tax rate by seven-eighths of a percent, a more than 17 percent boost to raise $750 million annually for public schools, colleges and universities.
That would add roughly $1,000 per student annually to public and higher education budgets, money that each school would be able to decide how to spend to boost teacher and student performance.
The new money could mean a raise and extended contract for teachers, new hirings, smaller class sizes, and more technology and early education programs, although schools would be required to show progress to keep the cash coming in.
Related:
The choice to ask voters to raise the income tax rate "is important because that's where the funds for schools come from, and it seems a natural way to increase the base for schools, and it gives us the largest number of dollars," Miller said.
Marquardt said it's been suggested that Our Schools Now instead seek a sales tax increase because many lawmakers are worried raising the income tax would hurt economic development.
"With this tax negotiation that's going on right now, we've been encouraged to switch from income to sales tax. We're not completely opposed to at least talking about that," he said. "So we're open to other ideas that are being presented to us."
A decision would have to be made by early summer, when the initiative is filed with the lieutenant governor's office to begin the process of qualifying for a spot on the November 2018 general election ballot.
Miller said the issue is a personal one for her. She said she homeschooled one of her 41 grandchildren who had attention-deficit disorder because he had difficulty learning in a too-large classroom.
Miller's experience when her own children were in school, she said, "was not a whole lot different than it is now. I was frustrated. They had big class sizes. It was hard for them to focus because teachers were not that captivating.
"The issues have been the same for all this time, and maybe it's just that we're now realizing that if something is going to happen, we have to make it happen," Miller said. "For public schools, we're not meeting the needs of these students."
×
Photos
Related stories
Most recent Utah stories