Estimated read time: 5-6 minutes
This archived news story is available only for your personal, non-commercial use. Information in the story may be outdated or superseded by additional information. Reading or replaying the story in its archived form does not constitute a republication of the story.
ELWOOD, Box Elder County — Following four days of extensive flooding in Box Elder County, Stan Summers couldn't hold back his emotions while describing the plight of one particular resident.
"There was an older gentleman that (approached us) and said, 'I don't have any money, can I get some sandbags?'" Summers, a Box Elder County commissioner, told reporters in Elwood through tears. "I don't know what you tell them besides, 'just get in here, load your sandbags up, where do you need them?'"
Warm weather, rainfall and massive snowmelt have resulted in flooding affecting up to 90 percent of communities in Box Elder County, officials estimate. The Utah National Guard was called to assist large-scale sand-bagging efforts Wednesday.
About 12 soldiers from Camp Williams responded to the Box Elder County Fairgrounds with an automatic sand-bagger, according to the National Guard.
"When it's operating at its peak efficiency, it's very helpful," National Guard Capt. Lance Curzon said. "We're able to fill up sandbags and put them on those pallets very quickly."
The response hasn't gone unnoticed by local officials.
"We appreciate everybody coming and doing these things for us," Summers said. "It's a little overwhelming to say the least in the last four days to watch everybody come together."
The widespread flooding of roads and homes means that opportunities for reaching out are plentiful, Summers said.
"I'd just say, if you're OK, you don't have to look very far to go help your neighbor," he said.
About 30,000 sandbags have been filled with 700 tons of sand and distributed to 25 locations throughout the county, Summers said. Thirteen heavy-duty pumps are in place to protect homes, businesses, fields and roadways, with six more on the way.
Salt Lake County also pitched in after an official made a call to the county mayor.
"They don't have time to go out and fill (sandbags) because they're out on the streets really protecting their community," Salt Lake County Mayor Ben McAdams said. "So I said, 'let me see what I can do we'll get some people together and get some sandbags up to you ASAP.'"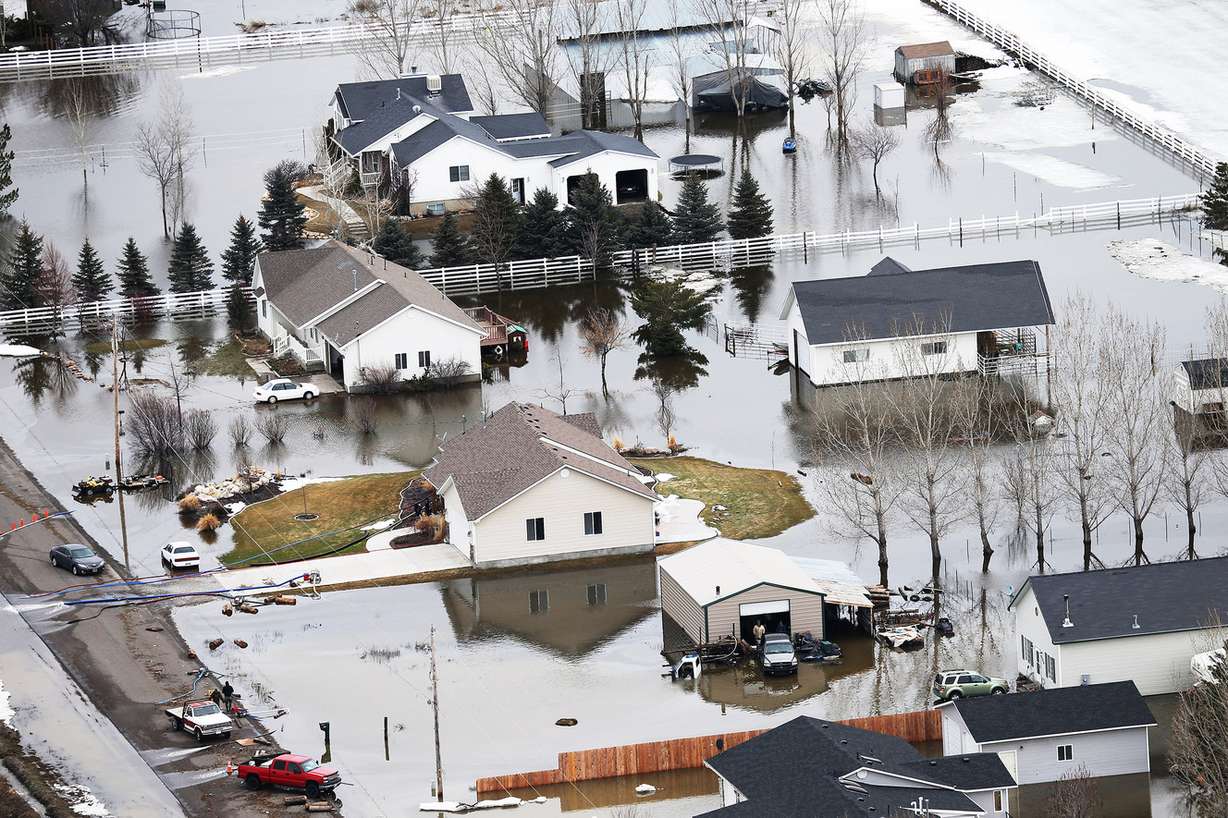 Volunteers filled between 3,000 to 4,000 sandbags Wednesday morning in Midvale; they were shipped to Tremonton in five large trucks early Wednesday evening.
"I know they'd do the same for us if we were in crisis. They'd help out," McAdams said.
The American Red Cross teamed up with state and local agencies at the Aldersgate United Methodist Church, 850 S. 200 East in Brigham City, to create a one-stop help center for flood victims.
For people like Corinne resident Rick Miller, whose family has a flooded basement and a ruined furnace, finding that help Wednesday was essential. He visited the church in hopes of finding help keeping his home warm.
"We've been living off of our wood-burning stove. ... I don't know if there's a way they can help us with our furnace — if there there's a way they can (help us find) fire wood that's dry," he said.
Summers said Box Elder County residents were mindful of the help coming in from throughout the state.
"We know that we have friends on every side," he said. "It's funny how events like this kind of erase borders between counties and states."
Curzon said he was grateful the National Guard got the call to assist.
"For us -- we have to see people in these difficult times, so we're more than happy to be up here and do everything we can. ... This is why we do it," Curzon said. "This is why all of us volunteered to serve in the military. You know, sometimes we've been called to go overseas, but it's nice to be here in the same communities that we live in."
Lt. Gov. Spencer Cox, who flew to Box Elder County to survey the damage Wednesday, praised those who had devoted "tens of thousands of man-hours" to protect homes and businesses.
"I (knew I was) going to see some terrible things and talk to some people who are having a really, really bad day," Cox said. "But I (knew I would) leave inspired because (of) ... stories about communities coming together, neighbors coming together, people coming together, churches coming together and helping each other out."
Brigham City resident Kerri Petersen drove to Tremonton with her sons to assist flood victims, most of whom she didn't know.
"(It) feels good," Peterson said. "Glad to get my boys helping, too."
Petersen can empathize with the stress of having her home threatened.The crawlspace of her own home flooded last week, she said.
Summers said there has been intermittent flooding in Box Elder County since January, mostly in its western portion.
"It really became a problem when the snowpack started to melt," he said.
Some roadways and canals have been breached in recent days, Summers said, making the situation all the more dire.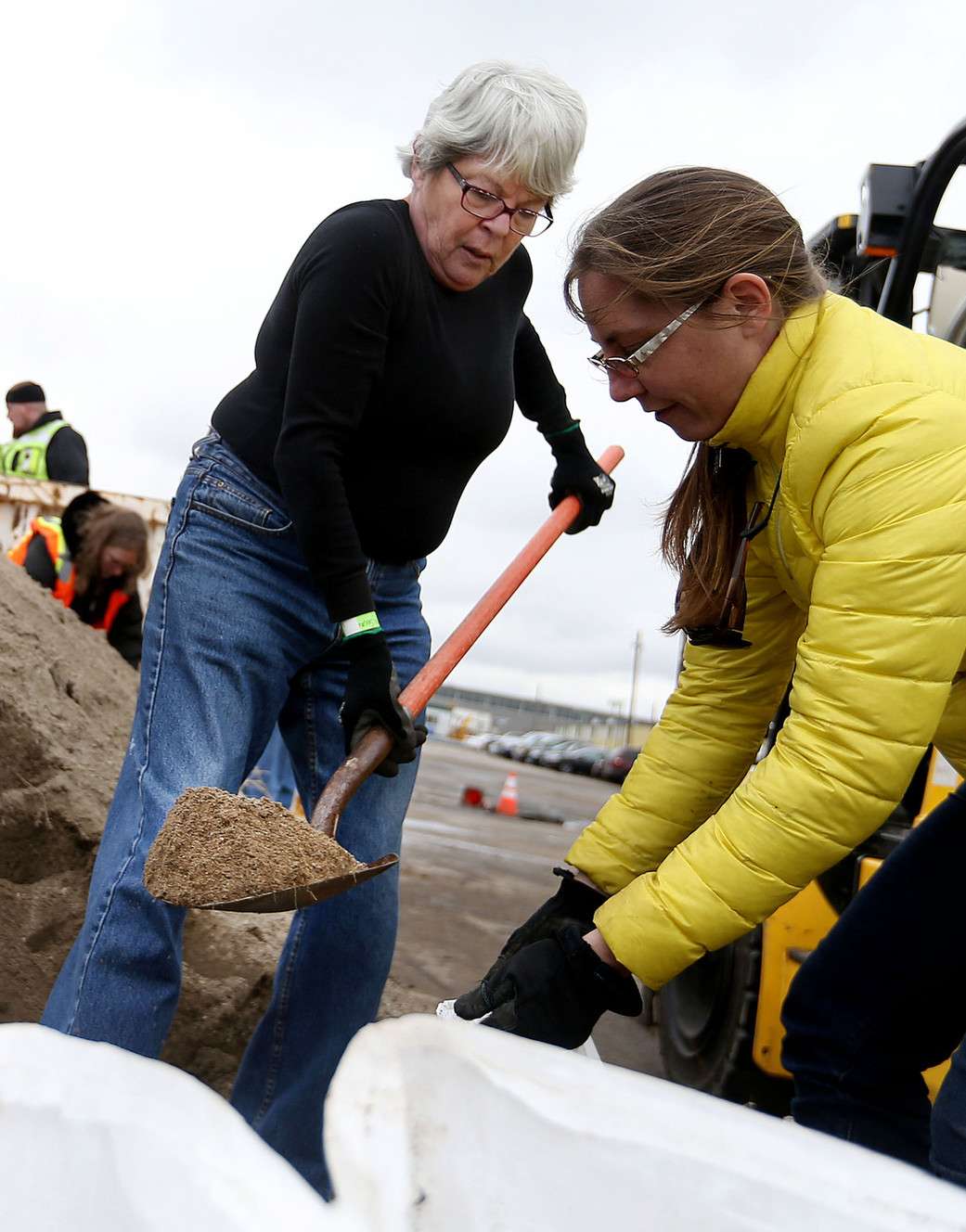 Mark Millett, emergency manager for Box Elder County, said the large snowpack, combined with warm, wet storms, is responsible for the flooding.
"As it's melted, the snow has just continued to concentrate the moisture (in place) and in many cases, not really run off too much," he said.
Most Box Elder County and other northern Utah residents can expect falling temperatures and snowfall for a large portion of Thursday, according to a forecast from KSL-TV meteorologist Kevin Eubank.
Temperatures are expected to cool significantly, dropping into the high 20s or low 30s through Saturday.
That forecast is good news to Box Elder officials.
"If we can move into just kind of a cooler warming period to allow us to come off in that more incremental measure, we're fine," Millett said.
Contributing: Andrew Adams, Nicole Vowell, Paul Nelson
×
Photos
Most recent Utah stories