Estimated read time: 20-21 minutes
This archived news story is available only for your personal, non-commercial use. Information in the story may be outdated or superseded by additional information. Reading or replaying the story in its archived form does not constitute a republication of the story.
SALT LAKE CITY — Brian Besser has worked all over the country for the U.S. Drug Enforcement Administration, but when he moved to Utah, he was surprised to find a growing trend regarding opioids.
"I was stunned with the magnitude of the problem here," the assistant special agent in charge at the DEA said in a recent interview on KSL Radio's Doug Wright Show. "Now that it's my home, I have a vested interest."
There were 409 deaths in Utah attributed to opioid overdoses in 2015, according to the state Medical Examiner database. That's a staunch contrast to the 139 reported cases in 2000. Even with a growing population in the state, the number of deaths per 100,000 people has steadily grown from 9.1 in 2000 to 19.6 in 2015 — though 22.2 was the highest amount in 2007 during the 15-year span.
"It makes up a sizable percentage of our workload every week certainly. Sometimes it's the vast majority of what we do on any given day," said Dr. Erik Christensen, Utah's chief medical examiner. "There's no question that this is probably the biggest category of deaths that we deal with in our office."
In 2016, the current number is 332 deaths. However, the final 2016 numbers could be higher with several more pending cases, as of Feb. 3. Christensen said it often takes a longer investigation into causes of death regarding opioids because not all cases are obvious.
With the numbers rising, law enforcement officials, health experts and legislatures are scrambling to figure how this problem came about and — more importantly — how to fix it.
Utah's growing problem
The number of illegal opioid deaths has risen through the years. In 2000, the number of deaths related to the drug was 5.3 per 100,000 compared to 6.6 in 2015. That number once previously dipped to 3.8 in 2003.

However, illegal drugs aren't the largest problem in Utah's opioid struggles, and that's what makes finding solutions so puzzling. Even legal opioids have created powerful lessons for Utah law enforcement and emergency responders that are seeing the problem firsthand.

The number of prescription opioid-related deaths ballooned from 60 in 2000 to more than 250 each year from 2012 through 2015, according to the Utah Medical Examiner Database. That's a jump from 3.9 deaths per 100,000 people to 14.6 in 2014 with a jump to 18 per 100,000 once in 2007.

"I would say it is — when you factor in all substance abuse-related issues — it's (the top problem)," Salt Lake County Sheriff Jim Winder said. "If you distill it to opioids specifically, it ranks right up there. In terms of resources, they're finite. We are doing all we possibly can to direct efforts to it but one has to remember that we still have significant other issues going on that require large amounts of resources."

​

Besser adds the unfortunate aspect of it all, opioid issues are not just affecting certain parts of Utah; it's affecting Utahns across the state in urban, suburban and rural areas.

"It's top priority for us right now," Besser said. "We are losing in between six to 10 Utahns a week from the epidemic — 24 on average per month Utahns are dying from heroin and opioid abuse. That is absolutely staggering."

In Carbon County, for example, the problem of both illegal and prescription drugs are rampant. A report from the Utah Department of Health noted the county had some of the highest prescription opioid death rates compared to the rest of the state.

"It's a huge epidemic in our area," Carbon County Sheriff Jeff Wood said. "We are No. 1 in the state for that issue right now, so we've taken a very community-oriented approach to try to combat this problem."

Opioid deaths are growing nationally as well at an equally alarming rate. In 2015, 33,091 deaths were attributed to legal or illegal opioid overdoses, according to the Centers of Disease Control and Prevention — a number the CDC says has tripled since 1999.

Finding new drugs ==================

Among the problem Utah law enforcement officials are facing is that new forms of opioids are causing emergency responders to scramble to figure out how to handle new situations.

For example, in September last year, two Park City teens died after overdosing on the drug U-47700 — otherwise known as "pink" — which they had obtained online.

"We hadn't heard about it before, and it becomes the drug that takes the lives of two young men," said Park City police Chief Wade Carpenter.

Police seized 40 school computers at the middle school the boys attended searching for clues as to how the two 13-year-olds could find a drug that was shipped from China. A 15-year-old boy has since been charged after prosecutors said he helped the teens get the drug from a private computer.

The unfamiliarity to U-47700 initially left Park City officers unsure how to even handle the drug during the investigation.

"We were very reluctant to put our dogs on it because we didn't know how it would react with the dogs," Carpenter said, noting officers should have treated the home where "pink" was found as a HAZMAT scene.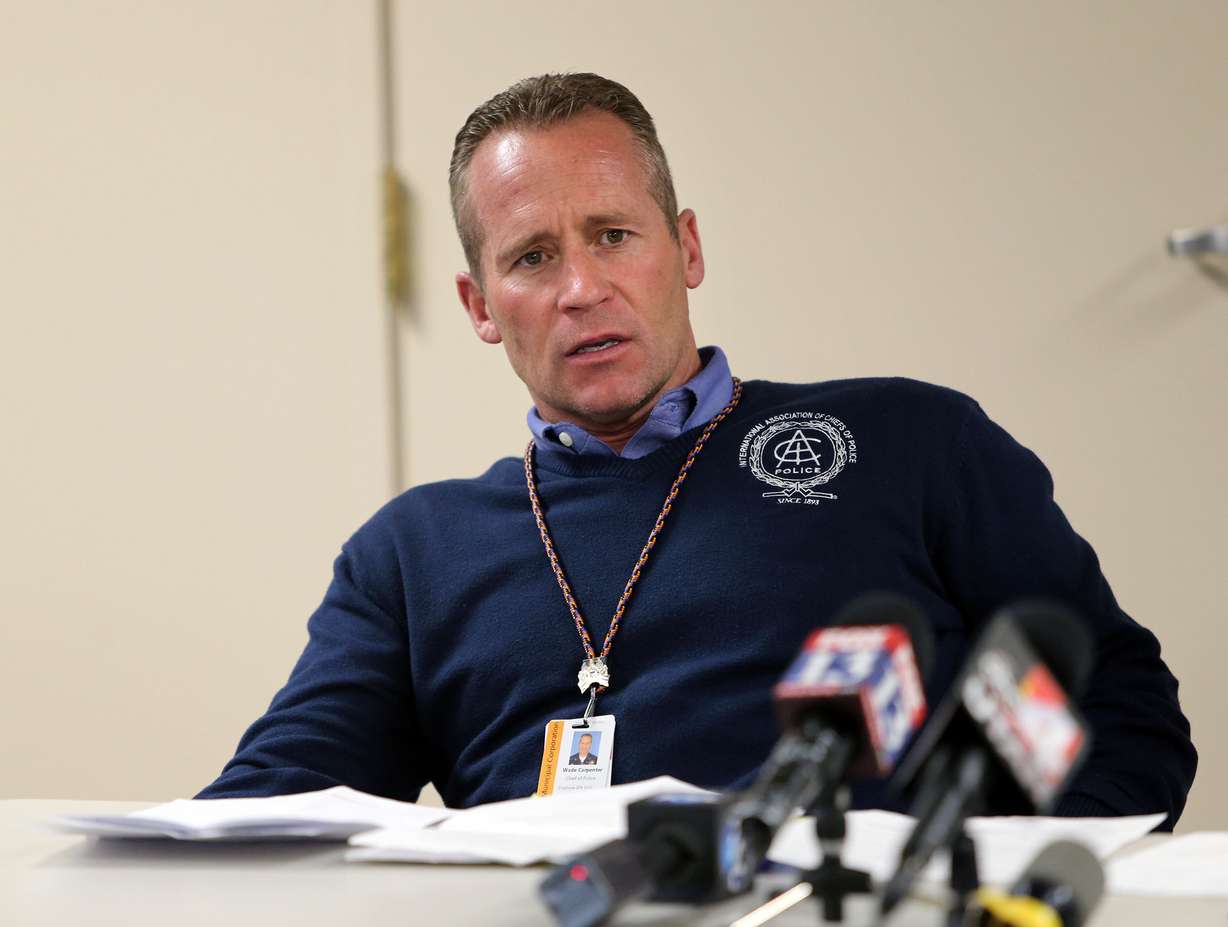 That's because Christensen said some of the synthetic opioids going around are potent enough that even skin contact can be fatal. The DEA eventually added U-47700 to the list of illegal drugs in November after linking at least 46 deaths to the drug at the time it was banned.
Then, of course, there are problems with counterfeiting opioids.
Another high-profile case involving opioids in Utah came last November when federal agents uncovered a massive drug dealing operation coming from a Cottonwood Heights home that included a "pill press" that had the ability to make thousands of fentanyl pills per hour. Aaron Michael Shamo was arrested and later charged with possession of fentanyl with intent to distribute in that case.
That's another predicament emergency responders face. Counterfeiting drugs is illegal, but not all opioids are illegal or even viewed as bad. Winder says that's likely due to the perception of the person handing out the opioids.
The prescription drug disconnect
Winder and Besser each agree there appears to be a disconnect somewhere in the community when it comes to opioid drugs.

"There's an atmosphere here in Utah that conventional street drugs like heroin, methamphetamine and cocaine are taboo but what comes in a bottle is OK," Besser said. "The sad thing is these two types of poison, heroin or prescription opioids — it's the same dead that you get when you overdose from these. … We have to change the paradigm here in Utah treating opioids just like heroin because it's just as lethal."

However, changing the paradigm is difficult when a trusted person such as a doctor is handing out prescriptions.

"It is starting in many incidents very innocent use of these prescription drugs because first of all they're being prescribed widely — I would even argue overprescribed — and in our culture many people view them because they are legitimately received, they take them," Winder said.

According to the Utah Department of Health, Utah ranked seventh in the U.S. for drug poisoning deaths from 2013 through 2015. On top of that, a report it released stated: "Most Utahns who die from a drug-related death suffer from chronic pain and take prescribed medications."

And the drugs are everywhere. The department stated nearly one-third of Utah adults aged 18 years or older had been prescribed at least one opioid in 2014. The over-prescription of opioids is a problem that has also led to addiction, officials said.

The national statistics show that prescription opioid deaths are problematic in all sorts of demographics, including ethnicity and age. For example, [PBS reported that in 2014](http://www.pbs.org/wgbh/frontline/article/how-bad-is-the-opioid-epidemic/) whites had 7.9 deaths from opioids per 100,000 people — nearly double the amount of heroin overdoses. For Native Americans, the differential was doubled the amount of heroin overdoses.

Other ethnicities also had a higher amount of prescription opioid deaths than heroin overdoses, though the numbers weren't as dramatically different.

In age, the largest percentage of heroin-related deaths came from the 25- to 34-age range and 45-54-year-olds were the leading age range in prescription opioid death. However, the numbers from ages 25 to 64 years were still higher than any of the heroin overdose age ranges.

The CDC said from 1999 to 2014, men were more likely to die from prescription drug, but that gap was closing.

"The face of who is addicted in our community is stunning for that reason," Winder adds. "Wives and kids and mothers, professionals — that to me is one of the issues that makes our particular so unfortunate."

The three most common prescription drugs overdosed on nationally are methadone, oxycodone and hydrocodone, the CDC said. The Utah Department of Health noted that 55 percent of prescription deaths involved oxycodone.

Fentanyl, the drug involved in the Cottonwood Heights case, is one of the more potent synthetic opioids that is commonly given to patients with higher amount of pain when it is prescribed. Its high potency makes it a prime drug for abusers as well and it's one of the fastest rising drugs in the U.S.

According to the CDC, many recent overdoses associated to fentanyl come from illegally-made versions of the drug and the number of fentanyl cases encountered by law enforcement nationally jumped from 5,343 in 2014 to 13,882 in 2015.

"It's similar to morphine but it's actually 50 to 100 times more potent than that so you can imagine with the potency going up, the potential abuse that goes on obviously increases," said Tyler Beckstrand, a certified social worker for Next Level Recovery.

Next Level Recovery specializes in discovering the root causes of substance abuse and treating persons addicted to various substances.

"Normally it is prescribed to manage pain," Beckstrand added. "A lot of people will be prescribed it after getting surgery or people with chronic pain that become tolerant to other opioids will actually be prescribed fentanyl as an opioid substitute to just help with that chronic pain."

In the Cottonwood Heights case, at least 95,000 pills were found, according to federal court documents.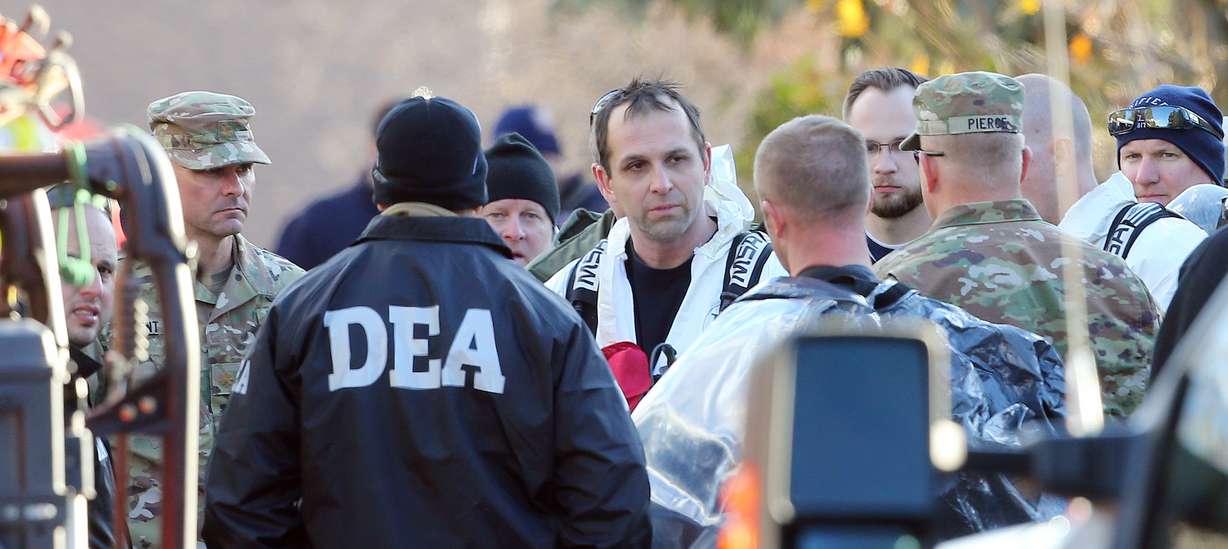 Besser couldn't speak many details of the case since it's still ongoing but said fentanyl's potency is troubling, especially to non-opioid users. He said two milligrams, which is roughly the size as two grains of table salt, is easily lethal to non-opioid users trying the drug for the first time.
"Each pill is a 50-50 chance that someone's going to die," he said. "It's Russian roulette. … It's a deadly gamble."
Searching for a solution
Winder recalls a situation in which he responded to a report of a woman overdosing, slumped over near an I-15 onramp in Midvale.
The woman, possibly in her teens or early 20s, still had a needle sticking out of her arm as she rocked back and forth in a seated position. Regardless, passing motorists stopped to hand her money even as she was overdosing.
It's an image that he says perfectly exemplifies how individuals are not correctly dealing with Utah's drug problems. He says, citing information gathered when making arrests, that the average panhandler is making $10 to $15 an hour in Salt Lake County, and the unfortunate part is most of that money goes right back into feeding drug habits.
"The solution isn't by enabling people. The solution is taking those kinds of dollars and putting them into something that is going to be productive," Winder said. "In a way, we're schizophrenic about our solutions here. We want to be helpful, we want to find these solutions, but we're doing it in the wrong ways."
With a problem affecting so many people across the state and not enough resources to fight the issue, there's certainly a debate on how Utah's opioid crisis should be attacked.
First, there are drugs like naloxone, which can be used to reverse the effects of an opioid overdose. Many emergency responders have begun to carry it in emergency situations.
"We've deployed it and we've believed it has saved lives with it," Wood said, but noted he had some concerns as well. "I don't want people to think it's OK, I can do whatever and they can bring me back because time is of the essence as well. If we don't get there in time, it's too late."
Another problem with Naloxone is the price. Evzio, the easiest version for the public to access, recently had its price increase 600 percent to more than $4,500. Meanwhile, Utah Naloxone has tried to help by handing out thousands of free kits of the antidote drug since it began.
It is believed the drug has saved hundreds of lives during Utah's growing opioid problem.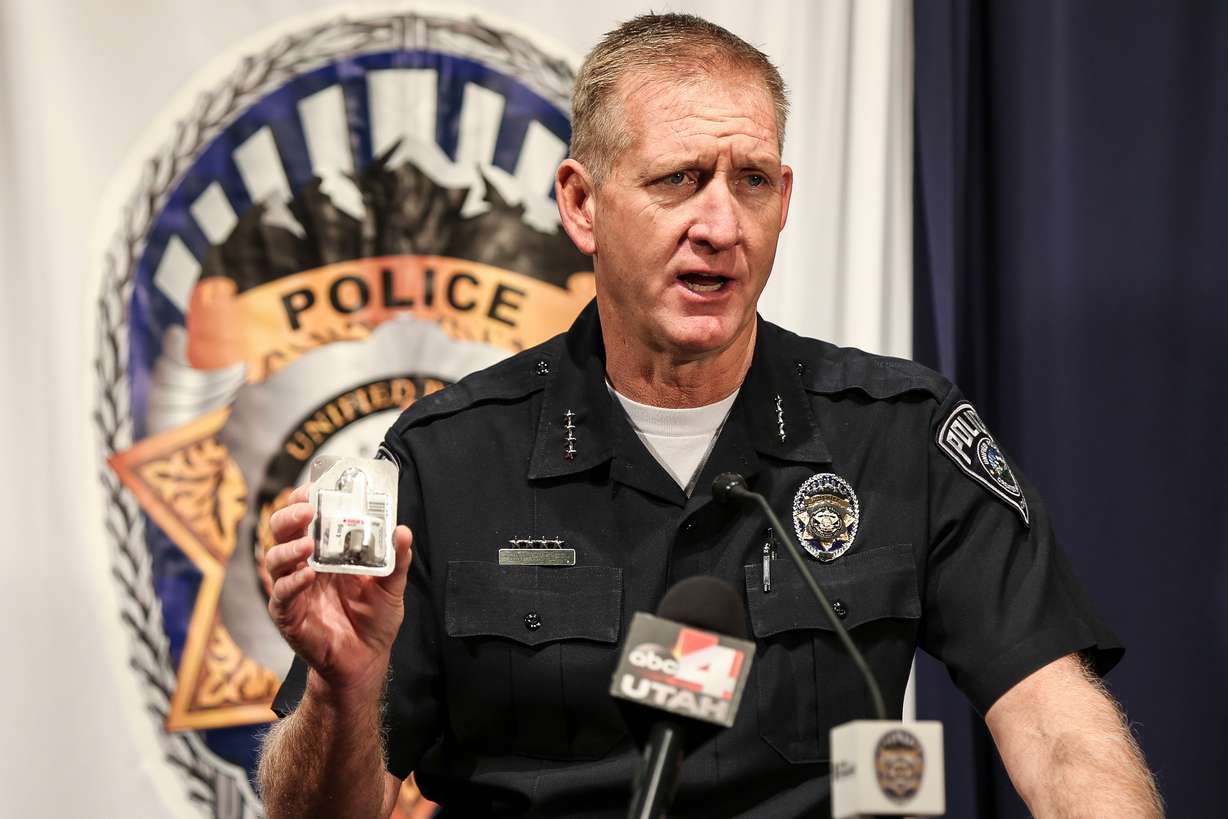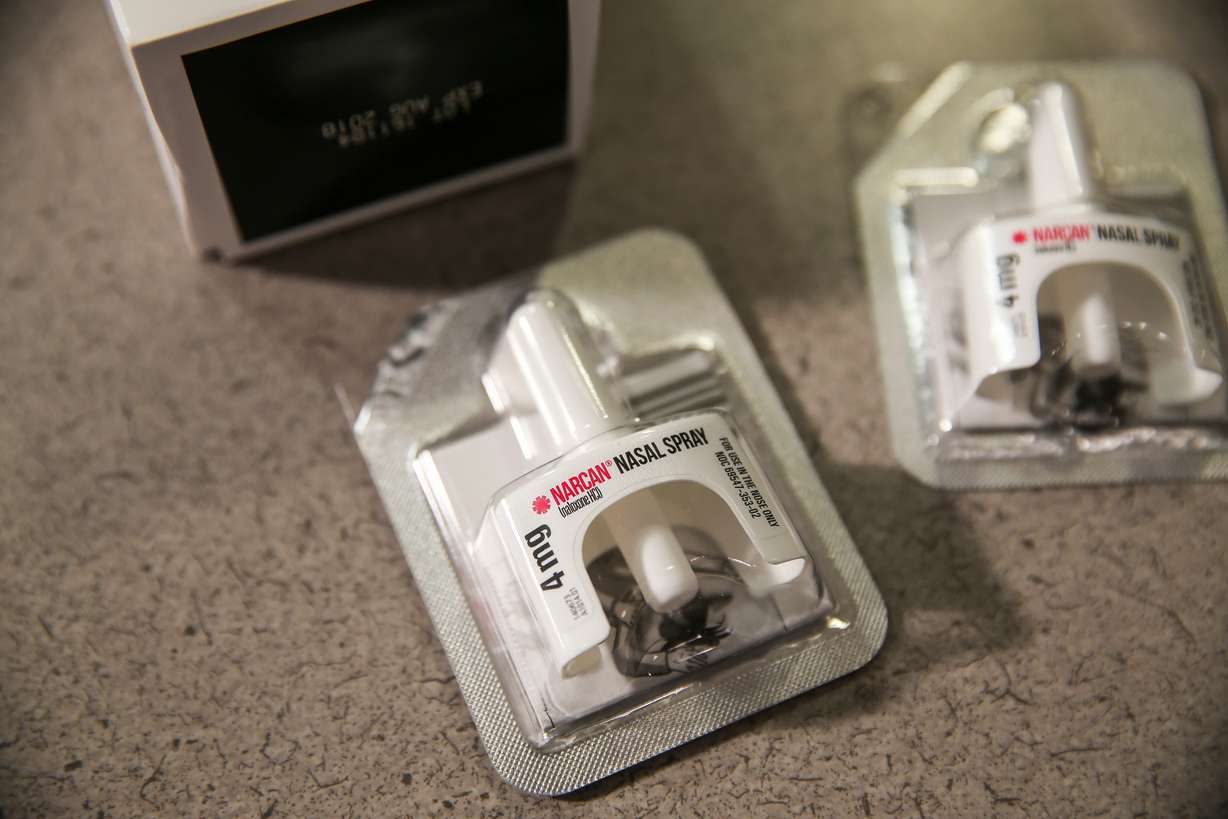 For law enforcement officials, the top objective is getting help for those struggling with addiction.
"It would be some form of treatment that people could afford to get," Wood said, regarding the situations he has seen. "It seems like the struggle is these folks are down on their luck, they have no job, they have nothing — all their energy goes to feeding their addiction and they can't afford to put themselves in treatment and our small community can't afford to pay for them. In the rural part of the state, we're limited on our resources."
Winder said jails are being filled with the wrong people — the users instead of those supplying the problem. He adds money is being wasted doing nothing instead of investing in solutions.
Besser estimated that recently opioid addiction cost about $78.5 billion nationally in 2013 due to increased healthcare cost, productivity loss and burden on criminal system. On top of that, Winder said Utah's current resources are overmatched by the problem at hand.
"We're jumping over dollars to save dimes," Winder said, regarding the money currently spent trying to fund fighting opioids. "There are significant resources that need to be devoted to this issue to see any real solutions. This idea that we can do with just existing is just naïve. It's like saying we're going to correct the educational deficit by never building another school or hiring a new teacher. It doesn't work like that.
"Yet when we talk to the general public about the need for more dollars, it's reflexive. They just say no. … We've got to have some treatment dollars, we've got to have some jail bed dollars and we've got to have some additional enforcement-related dollars."
Meanwhile, legislatures and groups have made their push during Utah's legislative session to make changes. On Feb. 9, the House Health and Human Services Committee gave a favorable recommendation for a bill looking to reduce risks of addiction to prescription pills by limiting the time span an opiate can be prescribed for certain patients.
HB50, which is sponsored by Rep. Ray Ward, R-Bountiful, who is also a physician, would require providers to check the controlled substance database for information about patients before writing a first-time prescription for a Schedule II or III opioid.
"This will go a long way to avoid leftover pills in the medicine cabinet," Ward said during the subcommittee meeting. "There are so many things they might discover (on the database). Once and a while they will discover that patient has been to many other providers and they really, really shouldn't provide that prescription."
HB146, sponsored by Rep. Stewart Barlow, R-Fruit Heights, would allow patients and their prescribers to opt to pick up and pay for a smaller number of pills to avoid having excess in the home for a similar reason.
"The goal is to try to keep bottles of pain medications that are nearly full out of the medicine cabinet, as is the habit of many of us. We just don't need them sitting around," Barlow said earlier this month about his bill. The bill has since passed through the Senate.
The Utah Department of Health launched a new awareness campaign last month called "Stop the Opidemic," seeking to bring an end to opioid misuse and addiction. Among other things, the campaign's goal is to educate Utahns on the dangers of all forms of opioids, the signs and symptoms of overdoses and the importance of having antidote medication on hand.
Then there's making sure to attack the root of the addiction, not those who are addicted.
Getting the right help
What causes addiction? That's a question that floats around at Next Level Recovery. And it's a question that can truly only be answered individually.
Not all addictions are the same and the same can be said about what fuels an individual's addiction. It's partially the reason why solutions to the addiction problem is so vexing.
"Sometimes people are looking to really escape painful emotions, a lot of people have trauma going on that they're trying to escape the memory of it or those painful feelings that go along with the trauma. A lot of people start out with curiosity," Beckstrand said.
Over at the Odyssey House, another treatment facility, the same types of individuals are coming in to seek help.
"There's an incredible community demand and outcry and the opioid epidemic is absolutely a community crisis that infiltrates every one of our homes, every one of our communities and really demands public attention and resources and action," said Christina Zidow, director of clinical operations at the Odyssey House.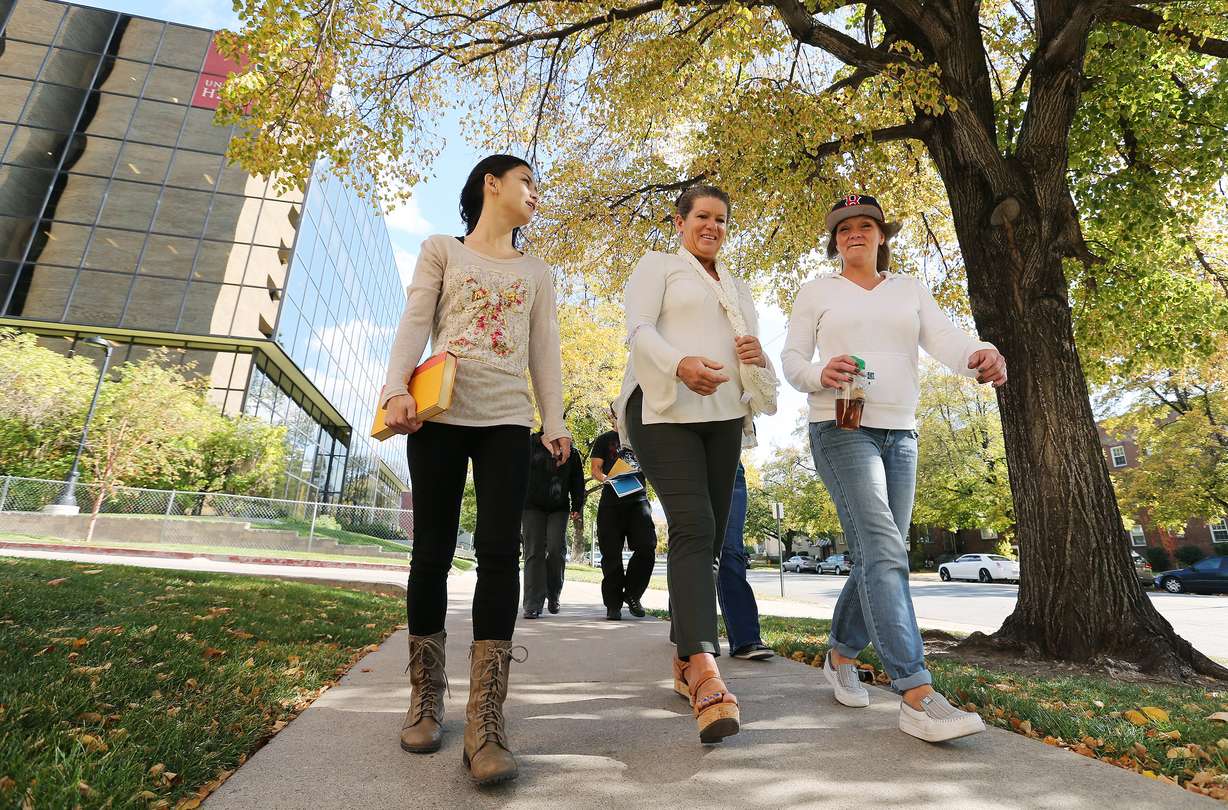 A part of fixing the problem is giving those addicted the right treatment. And then, it's up to the individual to actually want to make a difference. But forcing an individual to try overcome a habit on their own is something professionals believe won't work.
"A true addiction is nearly impossible — I would even go as far as to say it's impossible to get over without help," Beckstrand says.
But there is hope with the proper treatment. At her facility, Zidow said there is a 50 to 60 percent success rate depending on the length of treatment and the will of the individual. She added that external factors such as family or even legal involvement, especially with first-time patients.
For the most part, finding any underlining mental health problems or trauma that fuels an addiction is important in the success rate, she said.
However, there is typically a trait seen in those who do succeed.
"One of the greatest contributors to success is someone's resilience and so that's something that we don't think about very often," Zidow said. "We talk about the symptoms not being as bad as other symptoms, but what it really comes down to is someone being resilient and pretty darn tenacious about changing their lives.
"Oftentimes what we find is the clients that initially are the most difficult and really the fighters those guys are the ones that do the best because once you help them shift their energy to fighting for themselves instead of fighting against everyone else."
Trying to buck the trend
Of course, with a problem such as the opioid situation in Utah and across the U.S., there is no surefire solution.
"The conversation is complicated," Winder said.
Opioid addiction is found everywhere in Utah and the U.S. in all sorts of demographics. And among the difficulties that hinder the fight against opioids is the lack of resources.
"Being able to get somebody ready to get into treatment and then being able to have the space and the funding to allow them to engage immediately is nearly impossible in our public system," Zidow said. "The public system in the state is only meeting about 10 percent of the need and the demand for treatment services."
In rural Carbon County, where resources are especially slim, there's a community effort to help stop the problem. Wood said a care coalition has formed with hospitals, local businesses, clergy and citizens concerned with the county's opioid issue.
He said among the targeted objectives is educating the youth to not fall into opioid addictions, as well as education physicians. It's a program Wood said he's optimistic will work with the appropriate amount of time.
Creating a solution to a problem as complicated as the current opioid situation weighs on the minds of all sorts of individuals. However, about all sides agree though that awareness to the issue is a major step in the right direction — as long as it doesn't end there.
"Discussion of the issue is something that is paramount," Christensen said. "There needs to be more help for treatment; there needs to be a multi-factorial approach to this problem."
Contributing: Doug Wright, Peter Samore and Katie McKellar
×
Most recent Utah stories