Estimated read time: 1-2 minutes
This archived news story is available only for your personal, non-commercial use. Information in the story may be outdated or superseded by additional information. Reading or replaying the story in its archived form does not constitute a republication of the story.
A gas leak created a tense situation this morning on the east side of Salt Lake City. About 20 homes were evacuated as crews tried to find the leak and repair the line.
The rupture happened at about 10:30 a.m., and natural gas could be smelled for blocks. That's why homes were evacuated.
Questar workers closed a three-block radius as they began trying to find the source of the leak. Once it was found, they started opening manhole covers so the gas had someplace to go instead of getting into the sewer system. That was a big concern. So was the gas line itself.
A 16-inch line runs down 1300 East. If that line had been hit, it would have taken crews a long time to fix. However, they found it was only a smaller, 2-inch line that was damaged.
It looks like a contractor doing some underground digging struck the line, causing gas to leak. Crews repaired the line, allowing evacuated homeowners to return home in less than two hours.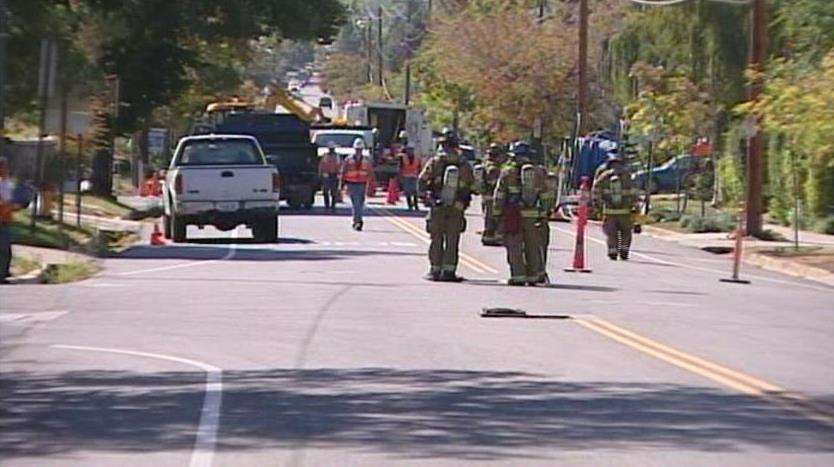 Resident George Starks said, "When I left this morning, I actually smelled the gas, but I had to go to my job, so I left. When I came back, the place was roped off."
Another homeowner, Bonnie Shaw, said, "It freaked me out because I wanted to save my cats." It turns out that her cats are OK.
Crews have fixed the damage to the gas line and replaced the broken part. Gas for the area has been turned on again.
E-mail: acabrero@ksl.com
E-mail: tcallan@ksl.com
×
Most recent Utah stories