Estimated read time: 2-3 minutes
This archived news story is available only for your personal, non-commercial use. Information in the story may be outdated or superseded by additional information. Reading or replaying the story in its archived form does not constitute a republication of the story.
SALT LAKE CITY — On Jan. 18, a group of 12 Utah friends, with two guides from Big Red Cats, went on a dream trip to British Columbia to do some skiing. Expert backcountry skiers — several with patrol experience, plus two doctors.
"The cat fits 12; it was a hand-picked group of 12," said survivor Creighton Green. "We had a pretty solid group."
The skiers, all friends and family, were on a weeklong snowcat skiing trip in the Selkirk Mountains, enjoying some of the best runs of their lives.
Everything was going great, until the afternoon. "All of a sudden I heard a loud 'whoompf,'" said skier Jason Bond.
The group, skiing buddy style, had just gathered when an avalanche struck.
"I heard Jason yelling as loud as he could 'Avalanche,'" Green said.
"The whole thing ripped out," Bond said.
The slab of snow gave way, and the avalanche was 75 yards wide.
"I was head over heels," said survivor Brandon Flitton. "Just a sea of white — head over heels going down."
Flitton bounced through the trees and landed on one.
"I was wrapped around it like a horseshoe. I could feel the compression of the snow on my back," Flitton said. "I was able to move my right arm a little bit and punch through the snow."
He feared he was the only survivor. The slide buried seven. Some thought the worst had occurred.
"Before the second slide hit, we thought everyone was dead," Bond said.
"That was the scariest part," Green said. "You think all of your friends are gone."
They shouted and tracked their friends' beacons. After 15 minutes, everyone was accounted for. Two had been completely buried and one was unconscious.
"The other one at the bottom was actually my brother," Flitton said. His brother was swept 500-600 yards by the snow.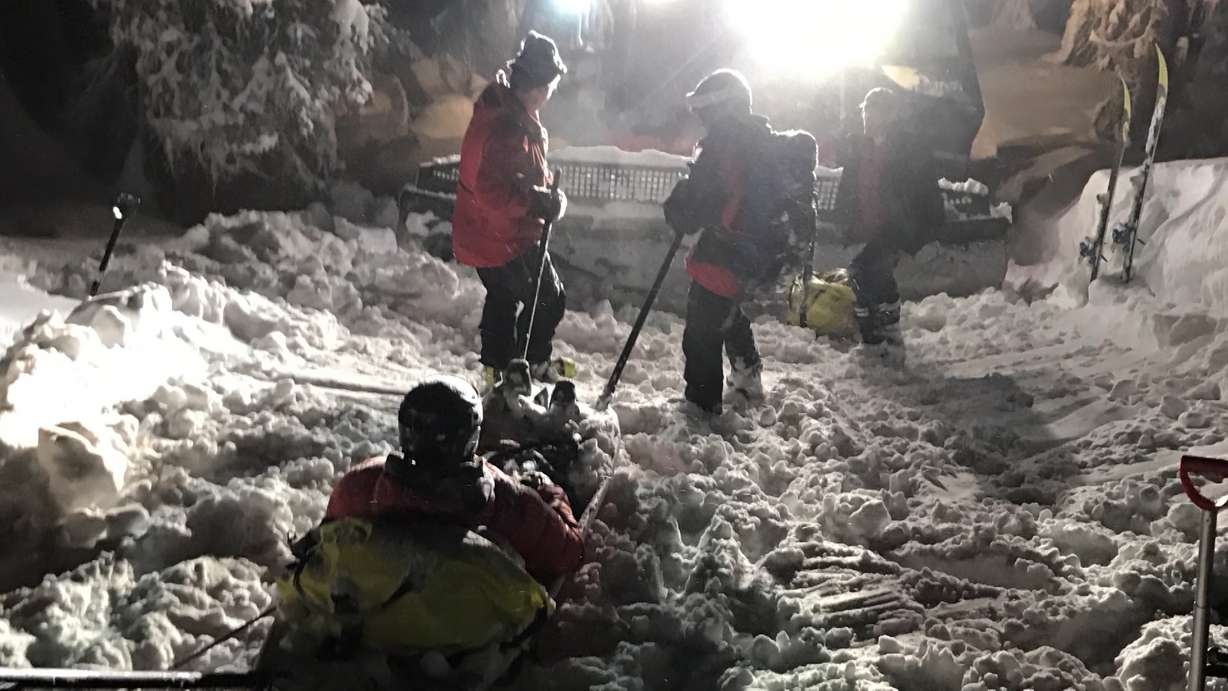 It took eight grueling hours and three toboggans to safely get everyone off the mountain. The skiers were thankful for extensive training with beacons, shovels and probes that included briefings with their guide just that morning.
"It's chaos," Bond said. "In order to be efficient and effective, the training has to be muscle memory."
The skier who was most seriously injured was found unconscious and was in intensive care awaiting surgery in Spokane. Another skier had a broken leg, while the rest were beaten up emotionally and physically.
The skiers said without their experienced guides, they would not have all come home alive. The skiers urge people who play in the backcountry to train like their lives depend on it.
"Are you skiing with guys that could save your life if they need to?" Green said.
Fortunately for the skiers, that was the case.
"There's a brotherhood that is pretty amazing between us, a bond in a friendship that is unlike anything else," Green said.
Contributing: Xoel Cardenas
×
Photos