Estimated read time: 5-6 minutes
This archived news story is available only for your personal, non-commercial use. Information in the story may be outdated or superseded by additional information. Reading or replaying the story in its archived form does not constitute a republication of the story.
SALT LAKE CITY — We've all been there. Sitting at the gate, ready to board a plane — and you're trapped.
But out on the ground, there's an entire team working around the clock to keep the runways clean and airplanes moving.
"Home in bed, nice and warm, and then the phone rings," said veteran driver Harvey Murphy, speaking from behind the wheel of his plow. "It usually rings about midnight, but this storm was a little later getting in than usual, so we got a little more sleep today."
This is controlled chaos, and Airfield Maintenance Manager Dusty Bills choreographs it all from behind a radio in his office. As many as 44 different vehicles are taking different paths across the airport at any given time.
Bills started his career as a plow driver in downtown Salt Lake City, but he said clearing snow from an airport is an entirely different beast.
"Downtown, each plow driver would have a certain plow route," he said. "Out here, it's very coordinated. There's certain methods that we use and we have to follow. It's very strict."
"Strict" doesn't even begin to describe it. Bills is governed by stacks of regulations from the FAA, which is very specific when it comes to keeping proper traction for aircraft. For example, his crews aren't allowed to use salt, which can corrode the planes.
"We actually use a combination of chemicals," he said. "Solids, liquids, potassium acetate, sodium formates and it's got to be approved through the FAA."
The regulations may be stringent, but making sure jets loaded with passengers don't slide off a runway is serious business — and sticking with standard snowplows doesn't cut it.
"We have some of the state-of-the-art equipment of any airport in the United States," Murphy said.
Murphy has been at this job for 37 years. His title right now is "Lead Plow," at the head of an entire team of vehicles — most of which you'd never see outside of an airport.
"In this runway element, we have six plows and brooms and we have two 5,000 ton an hour Oshkosh snow blowers," Murphy said.
It's hard to miss one of those snow blowers. Resembling steamrollers, they shoot arcs of snow far into the air.
"That would be the SnowBlast," Bills said. "They're very specialized for airport snow removal."
When it comes to size, you might think their job's a small one. But Murphy said the area they keep clean is massive.
"The amount of acreage of pavement we have here is tremendous," he said. "You have a small area, but it's almost all paved."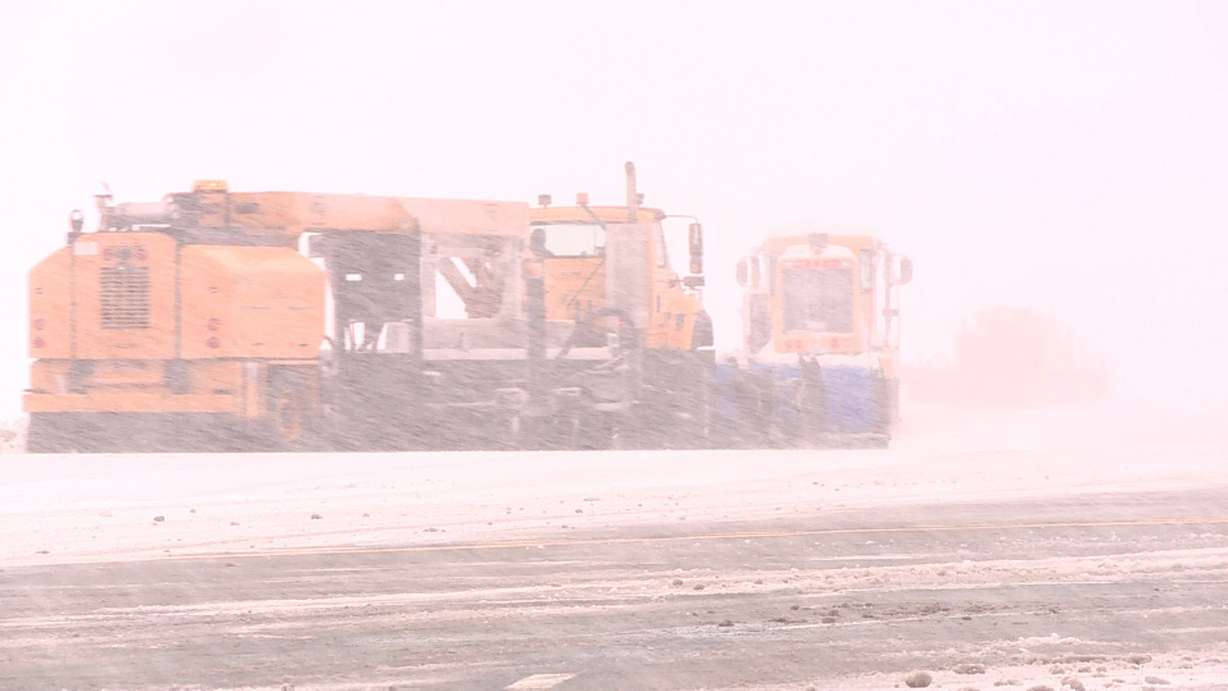 But you can't just eyeball a runway; you can't just guess when it comes to how clean it is.
Out on the airport pavement, the buck stops with one man. One man, juggling two separate radios from behind the wheel of a yellow Saab sedan, in a constant state of communication.
"He's coordinating with the tower, with us, with the airlines," Bills said.
One man, who drives what looks like a taxi, but he's no cab driver. Not only is he responsible for making sure snow removal vehicles and aircraft stay far apart from one another, he's the final word on whether or not a runway is safe.
"Multitask is an understatement, what he does," Bills said with a laugh.
Technically speaking, this man is more of a scientist, which is appropriate, since his name is Darwin: Darwin Pech, the operations duty manager.
"So we've been cleared to proceed down the runway," said Pech, while fiddling with a touchscreen mounted to his dashboard. "I've got my runway loaded, I've got 11,000 feet of a 12,000-foot runway that we're going to measure."
Pech's "taxi" is a bit of a transformer. A third wheel he lowers in the back measures the friction on the runway. Pech speaks in a lot of technical jargon, like "friction assessments" and "friction coefficiency," which are essential terms when the sole purpose of your job is keeping travelers safe.
"Point-6 and above is what we're aiming for," Pech said while cruising down the runway and pointing at his touchscreen. "Anything below a 0.4, we have to issue what we call 'NOTAMS,' or 'Notices to Airmen.' Anything below 0.2 is deemed unsafe."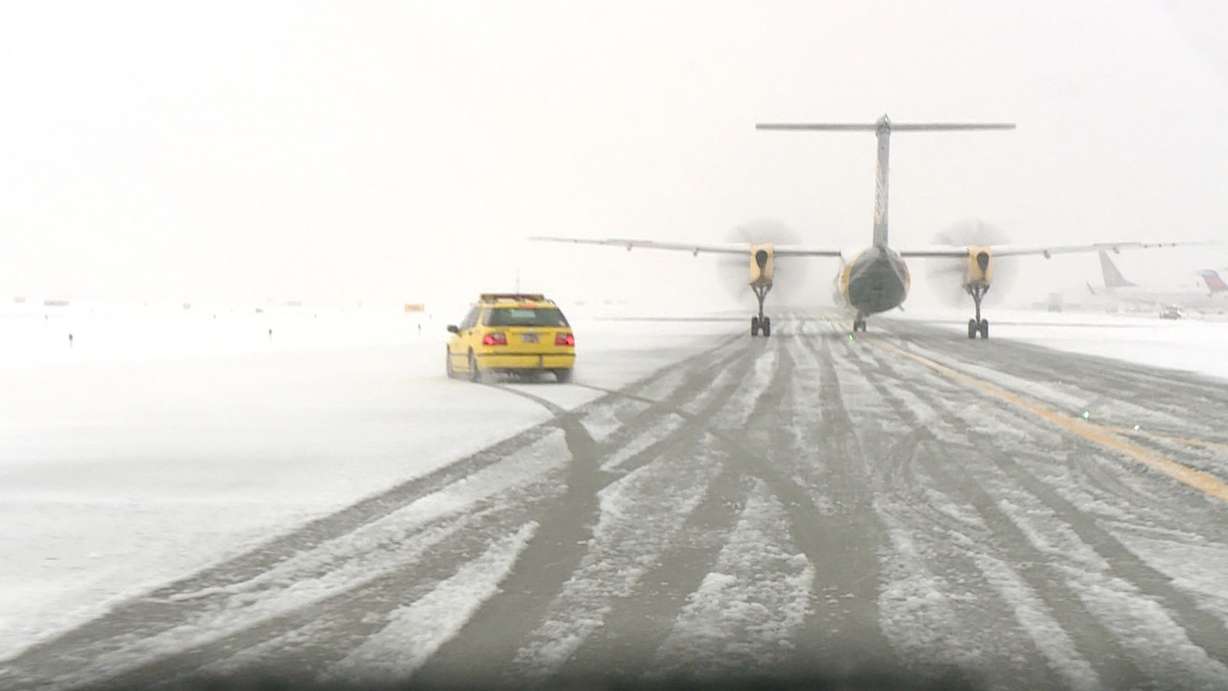 Pech drives a straight line, just left of the runway's center lights.
"The idea here is we're going to line up with what we consider to be the landing gear," he said. "It's about 10 feet off the center line."
When he reaches the end of the runway, his screen gives him an average of three different portions of a plane's path. Pech refers to them as "touchdown, midfield and roll out."
The numbers he sees aren't perfect, but none of them approach the "unsafe" standard of 0.2.
"The verdict on this runway is we're going to have to give it some attention," Pech said.
Whether they're testing the "friction coefficiency," leading a line of plows, or managing it all from a radio in an office, everyone here has one simple purpose.
"Safety of the traveling public," Bills said. "That's the main goal."
It's something every member of this team takes pride in.
"The best there is," said Murphy while adjusting the path of his plow. "The best snow removal anywhere in the United States — probably the world."
"Obviously we're biased," Bills said. "We're pretty good at what we do."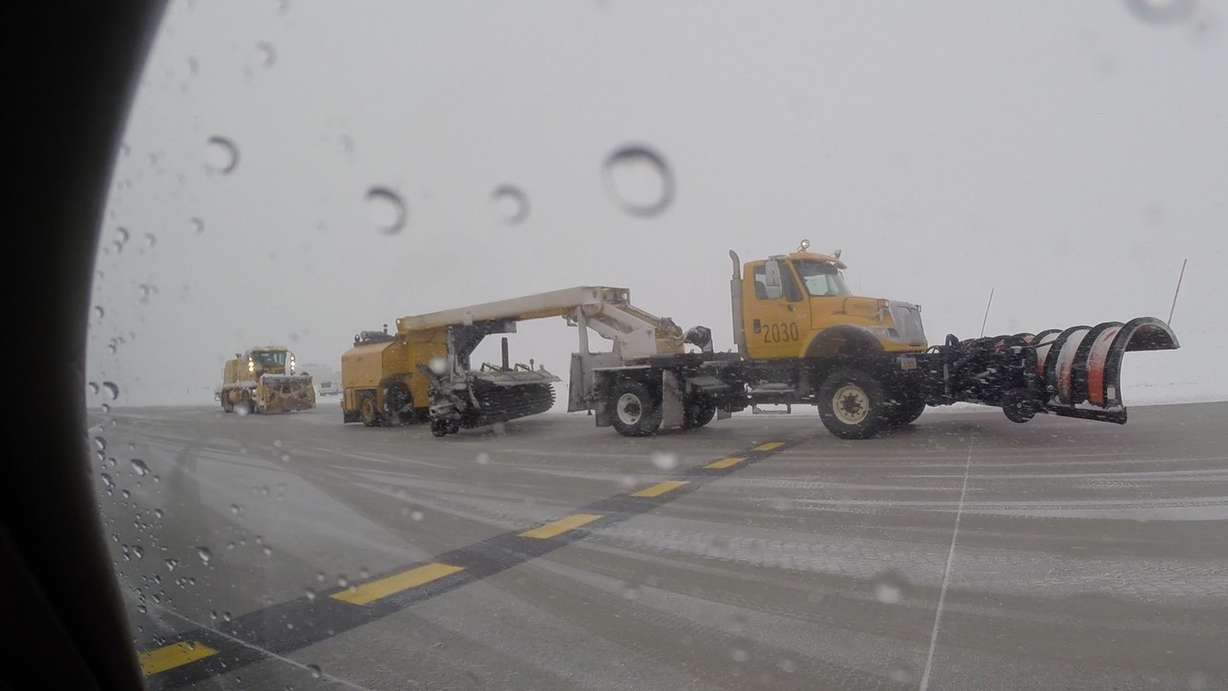 All bias aside, the team at Salt Lake International has received a lot of recognition, most notably, the Balchen Post Award.
"It's awarded annually to airports that receive the most snow and the fewest cancellations or diverts," Bills said. "Airports like Denver, Dulles, Reagan, JFK, they're all a part of that."
The Utah team has won it so many times, Bills can't even remember the exact number.
"You know I want to say 12, but I could be a little off on that," he said.
So when passengers are sitting at a gate, gazing out at a parked plane and wondering how long their delay will be, they can at least be certain of one thing: there's an army of people outside working 12-hour shifts, trying to get planes in the air.
"A satisfying day is when we keep the airport open, aircraft moving, without having to close it," Murphy said. "That's the best right there."
×
Photos