Estimated read time: 3-4 minutes
This archived news story is available only for your personal, non-commercial use. Information in the story may be outdated or superseded by additional information. Reading or replaying the story in its archived form does not constitute a republication of the story.
Editor's Note: The link to Andrew Hall's Facebook page and to the EastIdahoNews.com story contain graphic photos of his injury. POCATELLO – A Pocatello man is recovering after he claims an e-cigarette exploded in his face, causing significant injuries and damage in the room where he was vaping.
Andrew Hall posted graphic photos and wrote about his experience on his Facebook page Sunday. As of Wednesday morning, the post had been shared nearly 450,000 times.
"I'm currently in the ICU and doing well," he wrote. "I vape…I've been doing this for about a year now and assure you I did not do anything I wasn't supposed to … but it exploded in my face."
"I've lost at least 7 teeth, 2nd degree burns to face and neck and have been pulling chunks of plastic, teeth and foreign objects from mouth, throat and lips," Hall continued. "I was lucky and they're (sic) was a huge amount of damage to the room in my house I was in."
Hall's photos appear to show him sitting in a hospital room with a bloody mouth, missing teeth and a burn on his left cheek.
The next day, on Jan. 16, Hall posted photos of his e-cigarette and a bathroom showing major damage to the sink and burn marks on a wall.
Hall's story has been picked up by media organizations around the world, including the New York Post,The Sun and Fox News. His post has gotten more than 200,000 comments. Many express sympathy to Hall while others claim he made the story up.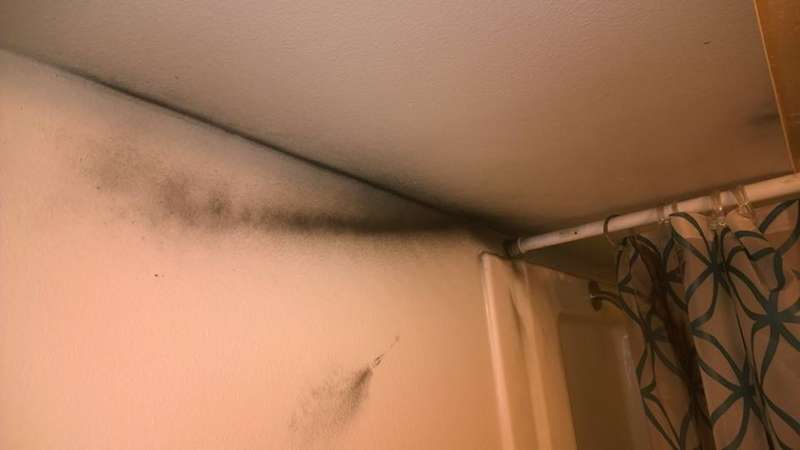 "Tell me for those that still think it's fake I would love to get your professional take now," Hall wrote. "These pics are from my bathroom where it exploded. The torch marks are on the wall and roof are continuations from my face. Also the explosion downward broke my sink."
EastIdahoNews.com has contacted Hall for an interview but our requests have not been answered.
Since e-cigs were first introduced in 2007, there have been several reports of them exploding. The products were unregulated until recently so there are few statistics on the exact number of explosions. A FEMA report found 25 incidents of e-cig explosions from 2009-2014, a relatively small number compared to the estimated 2.5 million people who use e-cigarettes.
One of the photos Hall posted is of the vape pen's exploded battery.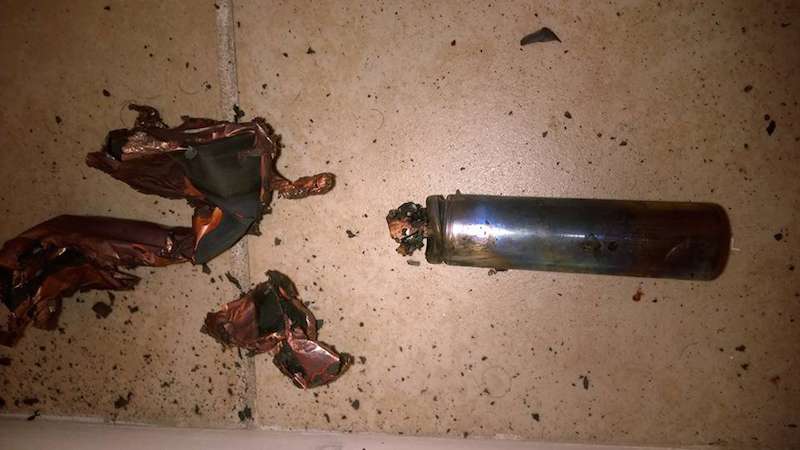 "The shape and construction of e-cigarettes can make them more likely than other products with lithium-ion batteries to behave like 'flaming rockets' when a battery fails," according to the U.S. Fire Administration.
Hall spent one night in the Intensive Care Unit at Portneuf Medical Center and was discharged on Monday, PMC Spokesman Todd Blackinton tells EastIdahoNews.com.
Hall wrote that he will no longer vape and thanked his friends for their support and prayers.
"A lot of you have shared with me similar accidents and I hope you and your loved ones recover soon," he posted. "Hopefully today I get to find out how soon I can get back to work and get some teeth back in my mouth as well."
×
Photos