This archived news story is available only for your personal, non-commercial use. Information in the story may be outdated or superseded by additional information. Reading or replaying the story in its archived form does not constitute a republication of the story.
UTAH COUNTY — Being the mother of twin boys, Kayli Shoff has her hands full with the terrible two's times two. But she never imagined her boys, Brock and Bowdy, would have had such a close call last week after trying to climb onto the drawers of the dresser in their bedroom.
"I usually hear everything," said Shoff. "I didn't hear a cry; didn't hear a big thud."
The video monitor shows the twin brothers last Thursday morning trying to climb on the drawers of the dresser when suddenly it toppled over and trapped Brock.
"We woke up and looked at the camera to see if they were still sleeping and saw it was down, but they were playing around, so we didn't know if it had landed on them," Shoff said.
Both boys are fine. As they reviewed the bedroom video camera, they were horrified at what they saw, and immediately secured the boys' dresser to the wall.
"Everybody needs to bolt your dressers to the wall. We just didn't think about it," Shoff said.
Shoff said she debated for a few days about sharing the dramatic video, but in the end felt responsible to help raise awareness about the dangers of unsecured dressers and motivate parents to secure them.
"We just want to spread awareness to this one accident that happened and hope it doesn't happen to any other families," she said.
While the video of the dresser falling over is hard to watch, it also captures little Bowdy trying to help his brother.
"Bowdy just came around and assess the situation thinking, 'I needed to help my twin brother. What do I do here?' He tried to lift it at first, then he pushed with all of his might and pushed (the dresser) off his brother," Shoff said. "I really believe in a twin bond. You always hear that and I believe these two have it."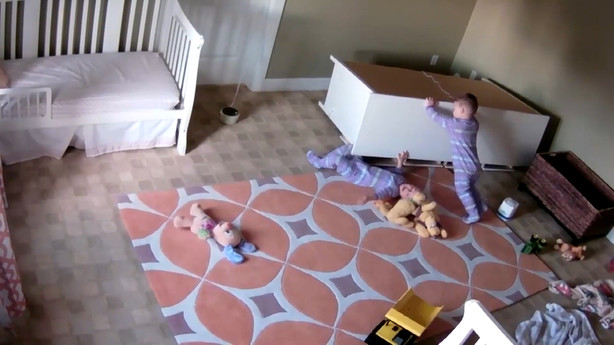 The hardware to secure a dresser is usually included in the package. If it's not, the kits can be purchased for just a few dollars at a hardware store. Some stores offer the kits free of charge.
Contributing: Xoel Cardenas
×
Photos