This archived news story is available only for your personal, non-commercial use. Information in the story may be outdated or superseded by additional information. Reading or replaying the story in its archived form does not constitute a republication of the story.
SANDY — Whether in the first game or last game of the regular season, Alta High football knows there is one school that consistently stands in the way of a Region 7 title.
The Hawks (3-0) will get the chance to face perennial power and reigning Class 4A runner-up Timpview (3-0) at home Friday at 7 p.m. MDT in the KSL Game Night Live game of the week.
"We've got to play them sometime. We're ready right now, and been practicing really good," Alta quarterback Will Dana said. "They're excellent in their program. They've always had a good program, and we know that. We've been practicing really well. It'll be fun."
The game, which will feature a half-hour pregame show on KSL TV at 6:30 p.m. MDT, will be streamed live on ksl.com and features one of the top running backs in 4A in Alta's Josh Davis. The senior has rushed for 264 yards and six touchdowns on 23 carries, and his 11.5 yards per carry ranks second in the state to East's Jaylen Warren.
"I'm having a lot of fun, just being there with my teammates," Davis said. "Having my players block for me is amazing."
Timpview is routinely the top class of the region, and this season appears to be no different despite a loss to East in last year's state championship game. But the Thunderbirds were picked to finish second in the preseason coaches' poll, giving them a chip on their shoulders large enough to power them to non-region wins over West and Taylorsville, as well as a 28-21 road victory over California power Helix.
"We're not No. 2 in our region," cornerback Morgan Anderson said. "I know that."
Safety Chaz Ah You knows Alta shouldn't be taken lightly, though — and the boost given to the Thunderbirds by the seeming slight by the coaches in the preseason should be enough to motivate anyone.
"Going against Alta, it's a really good team," Ah You said. "But we've been working hard, the coaches are getting after us, and I think we'll be good.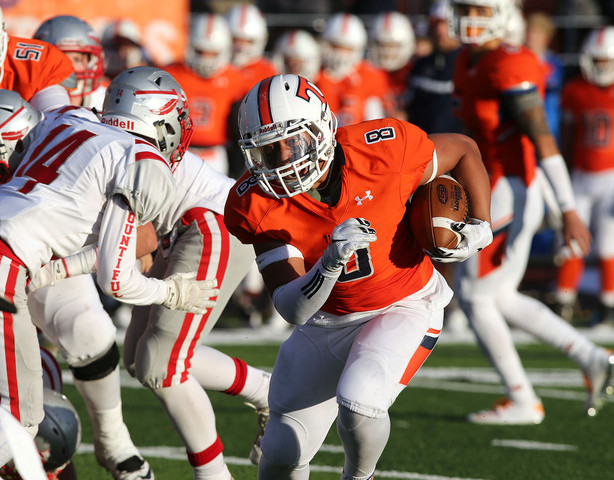 "We've got a little chip on our shoulder. We're coming out with a bit of a chip, and ready to show our region."
The Hawks were once regular title contenders in 5A before transitioning to 4A two years ago. But head coach Alema Te'o and new offensive coordinator Riley Jensen hope to have Alta competing for state titles soon enough in its new classification.
"It's changed it for the better," Davis said of Te'o's regime. "The coaching staff, I think, is the best one in the state. By far."
The addition of Jensen this offseason was critical for the Hawks, Te'o said. In his first season over the offense, Jensen helped turn a 2-9 squad in 2014 into an 8-4 team that included a 4-2 record in Region 7 last year.
The former Utah State signal caller is happy to be on the sidelines — and the Hawks are happy to have him.
"Riley is the best quarterback coach in the state of Utah and a guy who could coach at the next level," Te'o said. "I'm honored to have him on my staff."
Dana attributes the Hawks' early season success in wins over Taylorsville, Hillcrest and Dixie to chemistry with a group of players who have been together since grade school. Alta is hopeful that chemistry pays off when they face the three-time defending Region 7 champions.
"First and foremost, now it all counts," Te'o said. "For us, this is a region game that we have to get. All Timpview has done is win region championships and state championships; we want to be where they are at. In order for us to get to the top, we've got to beat the best.
"I think to move our program in the right direction, we've got to beat teams like Timpview."
×
Photos
Related Stories