Estimated read time: 3-4 minutes
This archived news story is available only for your personal, non-commercial use. Information in the story may be outdated or superseded by additional information. Reading or replaying the story in its archived form does not constitute a republication of the story.
OGDEN — The rivalry between Weber State University and Utah State University is about to get bloody.
Luckily, people all over the U.S. stand to benefit.
That's because the annual "blood battle" between the two northern Utah schools — in which students, faculty and staff compete to see who can collect the most blood — kicked off Monday.
Nationally, the American Red Cross has had a shortage of blood since July, according to Tammy Nakamura, spokeswoman for the Lewis and Clark Blood Services Region of the American Red Cross, which covers Utah, Montana, Idaho and Las Vegas.
"We've been faced with a situation through the summer that we're distributing blood faster to the hospitals than donations are coming in," said Nakamura, who added that the organization is struggling to keep a five-day supply of blood on the shelves.
Supplies often dip during the summer when students are not in school and people are on vacation. Students, she said, are one of the Red Cross' most stable source of donations.
In the student union at Weber State on Monday, students milled between tables advertising men's soccer tryouts and asking women to "Rush Delta." Some people made it past the booths to a third floor ballroom to donate blood.
Megan King, a North Ogden mother, said she started donating blood 12 years ago after watching her uncle struggle with health issues and undergo several transfusions.
"I often feel small in the world," King said. "And this is just something that I can help do."
She brought her son, 4-year-old Max, who watched wide-eyed as a worker poked a needle into his mom's arm. As blood pooled out of the crook of her elbow and into a bag, King remarked that she's a "good bleeder."
"Me and my father have a competition about who can finish the fastest," she joked.
Lauren Busby, a criminal justice major, said she saw the poster and decided it would be a worthy way to kill an hour on the first day of classes.
She's been donating blood regularly for about two years and uses the Blood Donor app to find out where drives are happening.
"It just makes me feel good knowing I'm helping," Busby said.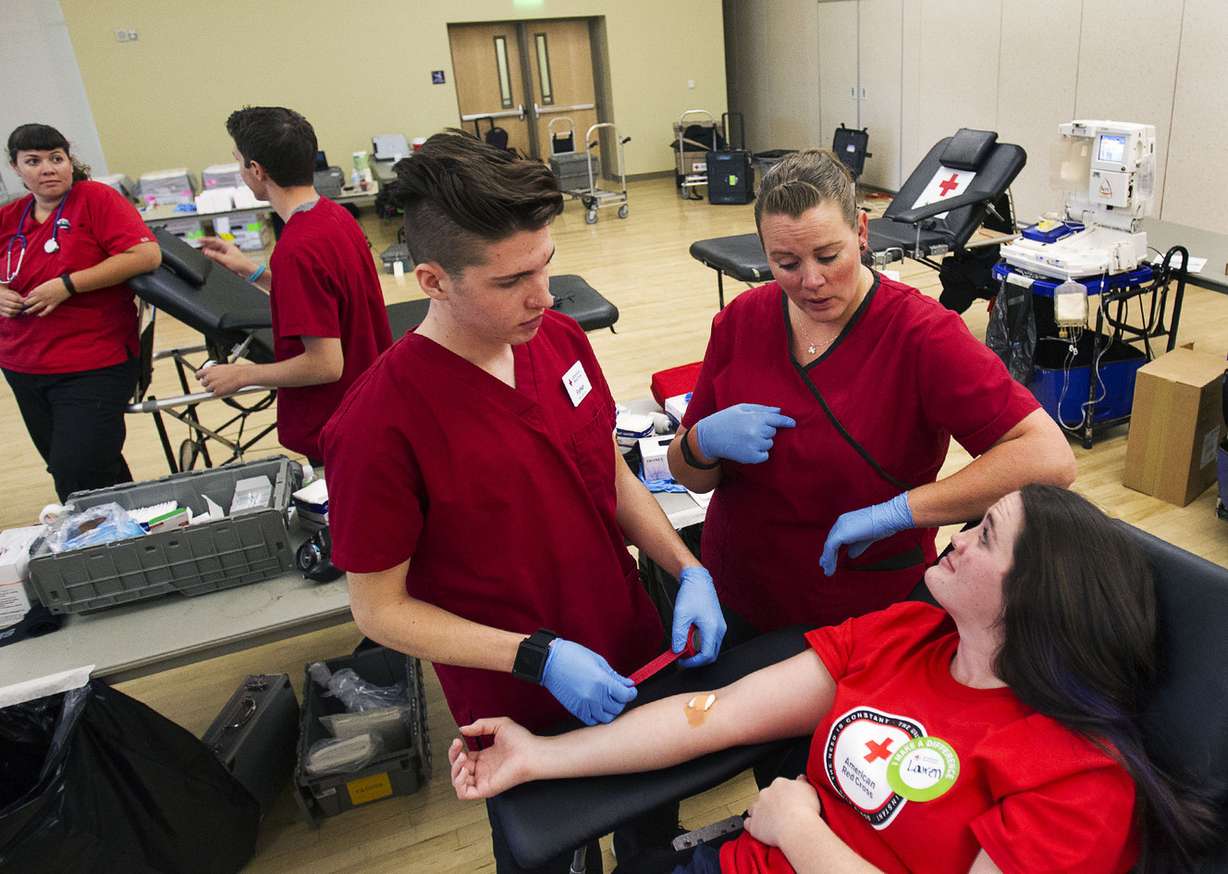 There is an extra layer of precaution for donors of late, evidenced by a flier at the check-in desk warning people to postpone their donation if they have recently traveled to a Zika-affected area.
With concerns about the mosquito-borne disease mounting, the Food and Drug Administration recommended last week that all donated blood should be screened for the Zika virus.
In a statement released Monday, Dr. Susan Stramer, vice president of scientific affairs for the American Red Cross, said the organization is "working to implement" the recommendation.
The Red Cross is conducting screening testing for Zika under an "investigational study" in several southeastern states, according to Stramer's statement. By September, the organization will expand testing to Arizona, California, New York, Oklahoma and Texas.
The organization no longer collects donations from south Florida.
The blood drive will continue for the rest of the week at both universities. WSU and USU kick off their football seasons with a game at 6 p.m. Thursday in Logan.
In Utah, individuals have to be at least 18 years old (or 16 with parental permission), weigh at least 110 pounds and generally be in good health to be eligible to donate blood.
Blood donations
Weber State University:
Now through Thursday, Sept. 1, 9:30 a.m. to 3 p.m., Student Union, Ballroom A, 2102 University Circle, Ogden Utah State University:
Now through Friday, Sept. 2, 9 a.m. to 3 p.m., Taggart Center, 850 E. 700 North, Logan
×
Photos
Most recent Utah stories