Estimated read time: 4-5 minutes
This archived news story is available only for your personal, non-commercial use. Information in the story may be outdated or superseded by additional information. Reading or replaying the story in its archived form does not constitute a republication of the story.
SALT LAKE CITY— Kirk is a senior living in a Salt Lake County Housing Authority apartment and recently used a computer for the first time. When working with youth volunteer Kenny at the Sorenson Multicultural Center, Kirk initially refused to touch a computer; he insisted on using his old flip phone.
Kenny taught Kirk on the flip phone, showing him how to send a text message and find bus schedules. Together, teen and senior worked together with volunteer coordinator Patricia Sotelo, finally getting Kirk to use the computer.
Kirk and Kenny are part of a recent pilot program called Cyber Seniors.
Cyber Seniors pairs seniors with teens in 8-week one-on-one individualized sessions where the teens teach the seniors basic digital literacy skills, social media, internet safety and more.
This program is coordinated in partnership with UServe Utah, EPIK Deliberate Digital, MyTech High, Brigham Young University and others with funding support from Google Fiber. Approximately 45 youth, seniors and adult volunteer coordinators participated this summer at locations in Salt Lake and Provo.
Wendy Mohlman, a volunteer coordinator, said she worked with a senior who found out she was a nurse.
The senior told Molhman about his health problems. He was getting swelling in his legs and it was very hard to move. Despite the pain, he was dedicated to the cyber seniors program and learning how to use the internet to follow the news.
---
"They're not just having a generational connection, but a multicultural connection." — Bethany Breck, Cyber Seniors Project Coordinator
---
Molhman said the senior told her, "If I can figure out the rest of the world, even if I'm stuck in my home, I'll be OK."
Technology can provide connection for seniors who may be isolated from family and friends.
Lexi Kaili, another volunteer coordinater told the story of a senior named Linda she worked with. Kaili and the youth volunteer showed Linda how to set up a Facebook account.
Once Linda was able to log in, she was thrilled. Kaili said that seeing her light up when seeing her grandchildren was very special.
Technology can help seniors in other ways besides connecting them to others. They're learning new skills and gaining a sense of accomplishment. The youth benefit too, teaching patience, empathy and helping them brush up on some of their technology skills as well.
Kaili said that after retirement, there's not many opportunities for seniors to learn about technology, and medical issues and lack of transportation can limit them more. While younger people have grown up with technology, to others it may be all new.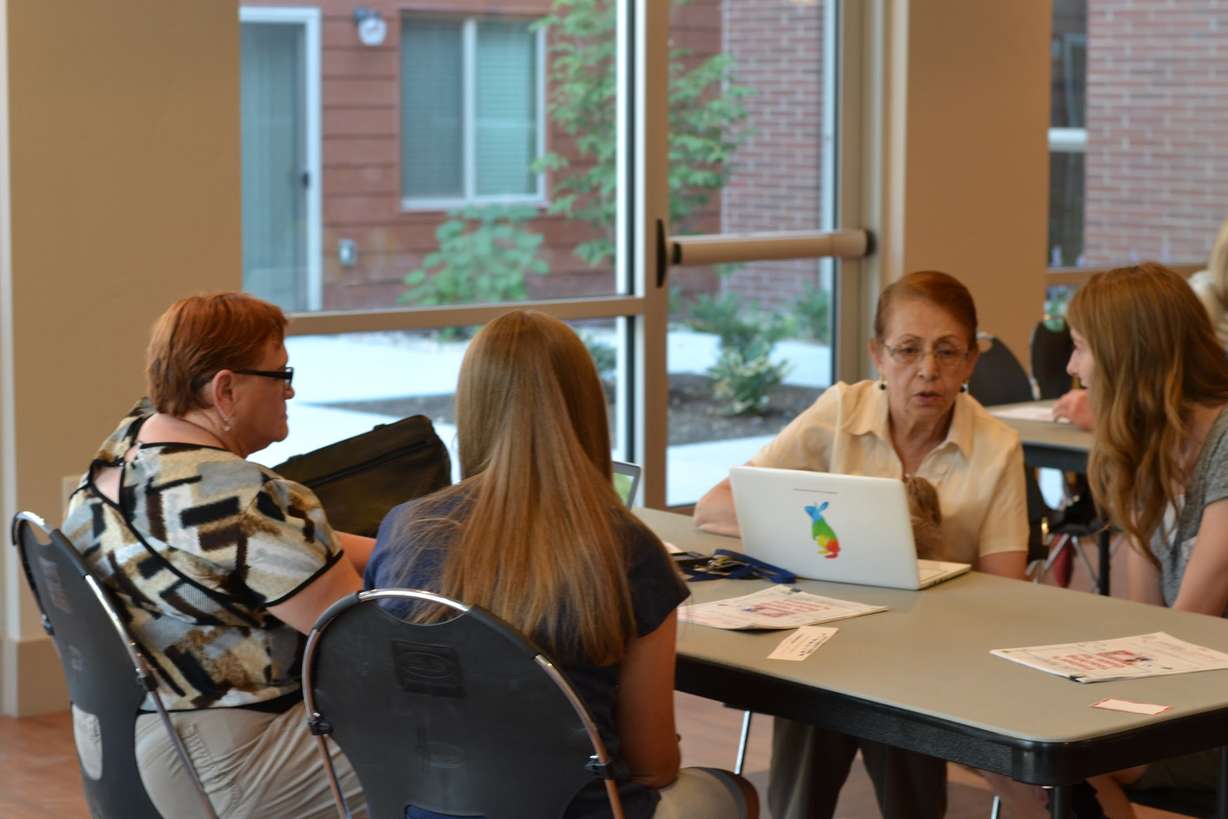 Mukund Raj, a volunteer coordinator with the Salt Lake program said the seniors would frequently ask him how he had so much knowledge about technology and social media.
In the spring, the partnership will expand to locations with Salt Lake County Aging and Adult Services. In addition, Google Fiber hopes to provide more in-depth classes.
Near the end of the Salt Lake program, a senior shuffled in his walker up to his youth volunteer Lanny and said, "You make my day. I love coming here." He took his hands off the walker and threw his arms around Lanny.
Bethany Breck, the Cyber Seniors Project Coordinator, said that frequently the seniors would show up half an hour early, excited to see the youth.
Both the seniors and the youth were separated not only by age, but diverse backgrounds.
"They're not just having a generational connection, but a multicultural connection," Breck said.
To learn more about Cyber Seniors or to get involved, contact Anna Decker at annadecker@utah.gov.
---
×
Photos