This archived news story is available only for your personal, non-commercial use. Information in the story may be outdated or superseded by additional information. Reading or replaying the story in its archived form does not constitute a republication of the story.
SALT LAKE CITY — What weighs more than a hippopotamus and equals the weight of eight grand pianos?
The mass of expired or unused prescription drugs collected by Intermountain Healthcare as part of the Use Only As Directed drop box campaign.
Over 6,400 pounds of medications were collected statewide during the campaign's first 16 months. Health officials said Wednesday the campaign has been a success.
"We're happy that (people) are understanding that these are dangerous medications to have in their homes. They're not just leftovers to throw in the cupboard or to hold onto," said Angela Stander, prescription drug overdose coordinator for the Utah Department of Health.
Hundreds of secure medical drop boxes are located at pharmacies, police stations and even city halls around Utah. Anyone can place unused or expired medications into the bins; the drugs are then safely destroyed.
"When you safely dispose of prescription medication, it reduces the impact on the environment and lessens the opportunity for misuse, abuse and theft," Stander said.
There are many reasons why people hang on to expired prescriptions, she said.
They may not realize how dangerous unused or expired medications are, and since some medications are expensive, people may want to keep prescriptions for when they need might them again.
Stander said that is a dangerous habit to develop.
Utah ranks fourth highest in the nation for drug overdose deaths, according to a 2016 report from the Utah Department of Health.
In 2014, 10 people died every week in Utah as a result of a poisoning, according to the department's report. Six out of 10 were a direct result of overdosing on prescription opioids, the report states.
"These are the kinds of medication you want to keep out of reach and store very safely, but also get rid of as soon as possible and stop using as soon as possible," Stander said. "Seventy-five percent of people who have reported misusing or abusing these types of drugs got them from a family member or friend, whether that's by sharing or theft."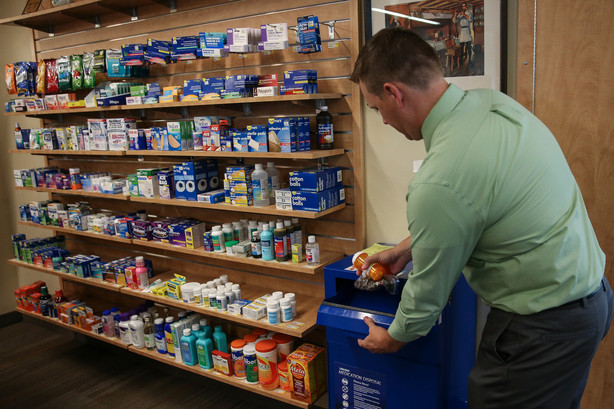 Flushing medications down the toilet has been an unconventional way to dispose of expired prescriptions, but Stander said this method can potentially send the toxins and substances into water supplies.
"We've been pushing a lot to raise awareness to the public," she said about the drop box campaign. "There is an option, there is a way to get rid of these medications."
The medications placed in the bins are not handled directly by Intermountain Healthcare. Instead, a reverse distributor collects the prescriptions, which are then safely incinerated.
"If it's not something that you're actively taking, the best thing to do is just to get rid of it," said Buck Stanford, director of pharmacy operations at Intermountain Healthcare.
Prescription drugs are not the only medications with expiration dates, Stanford said. Over-the-counter medication also expires and becomes harmful as the drugs age.
"Medications are powerful substances," he said. "They have the power to heal. They also have the power to hurt, so if they're not either given to the patient who's prescribed or if (patients) happen to take too much, they can certainly be harmful."
As part of the campaign, Intermountain Healthcare is also focusing on educating their patients and physicians who prescribe the medications.
"Our main goal was just to make sure we showed an impact to patient safety," Standford said. "Until we can really showcase that we can stop this dangerous trend, we are going to continue this effort." Email: astilson@deseretnews.com
×
Photos