Estimated read time: 5-6 minutes
This archived news story is available only for your personal, non-commercial use. Information in the story may be outdated or superseded by additional information. Reading or replaying the story in its archived form does not constitute a republication of the story.
SALT LAKE CITY — After giving birth prematurely, Nichole Paul spent nine weeks at home grading papers, creating lesson plans and responding to students' emails while she took care of her newborn son.
The high school English teacher's 18 personal and sick days ran out quickly, and she spent the next two months working unpaid while she cared for her baby.
Paul recalls recovering in a hospital room just days after her cesarean section delivery, wondering when and how she could go back to work. Her husband picked up extra shifts to supplement the family's income, but it wasn't enough.
With the financial stress on her family, Paul said she became frustrated by the lack of state laws guaranteeing job protection or leave for new or expecting parents.
"It's an important life event, and we shouldn't have to worry how to pay our bills," the Draper woman said.
According to a recent study by the National Partnership for Women and Families, Utah earned a C- for its policies regarding paid leave and other workplace rights for expecting and new parents.
More than 51,160 live births were reported in Utah in 2014 — 17.4 births for every 1,000 Utah residents. The national average that year was 12.5 births per 1,000 population.
But how Utah lawmakers are supporting new parents is alarming, according to the recent study titled "Expecting Better: A State-by-State Analysis of Laws That Help Expecting and New Parents."
The study compares state laws and regulations governing paid leave and other workplace rights for expecting and new parents with protections provided by the federal Family Medical Leave Act.
According to the study, Utah workers receive no additional job protection or paid leave beyond FMLA, which only entitles working parents up to 12 weeks of unpaid medical leave.
"Despite some meaningful progress, too many working families in this country struggle at the very time they should be focused on giving children their best possible starts in life," Debra L. Ness, president of the National Partnership for Women and Families, said in a statement.
"At this time when women are both caregivers and breadwinners, and when voters want and need supportive workplace policies, too many lawmakers are letting them down. America's families expect and deserve much better," she said.
Paul says her two months of unpaid leave were not sufficient to care for her child. The first-time mother was forced to pump breast milk at work and meet her baby at day care during her breaks to feed him regularly.
"I wish that there was more of a flexibility with our schedules because that first year of life is so important — developmentally, socially and emotionally — for the mother and the child to develop that relationship," Paul said.
"I wish that I had more time to develop that relationship with him when he was just a little baby," she said.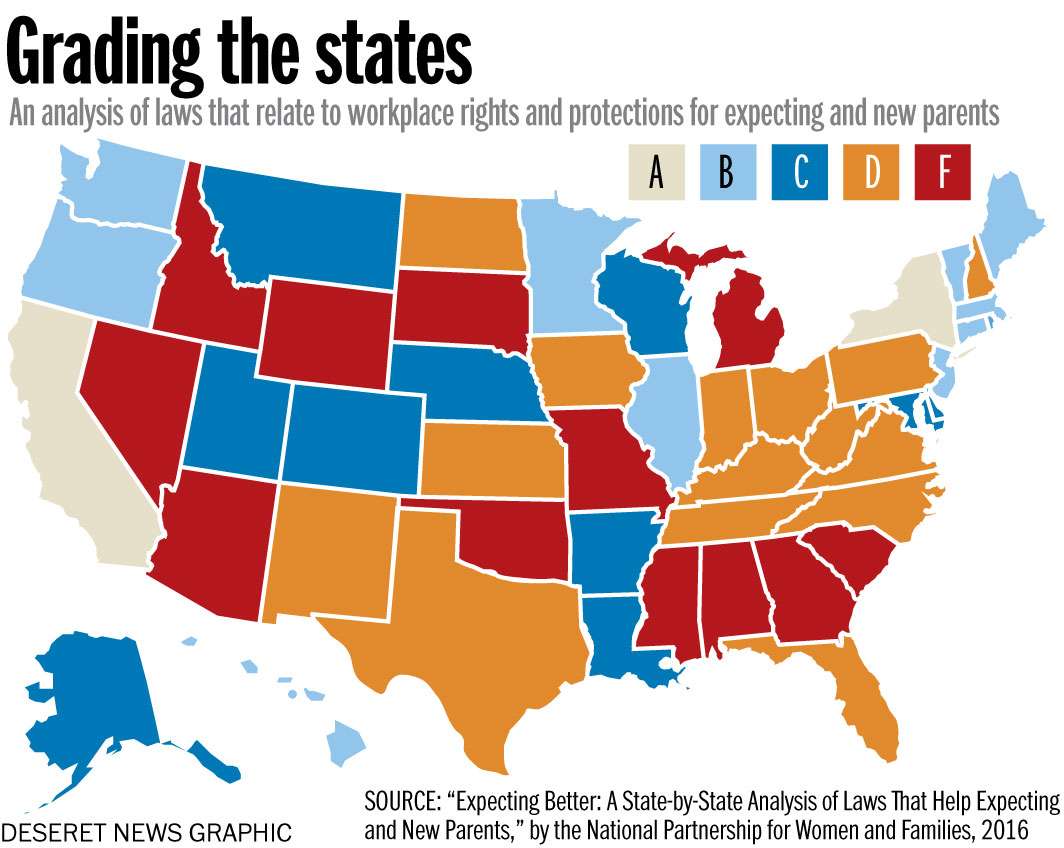 Earlier this year, Sen. Todd Weiler, R-Woods Cross, sponsored SB59 to provide additional protections for pregnant and breast-feeding women in the workplace.
The bill, approved in the Utah Legislature and signed into law by the governor, requires employers to provide "reasonable accommodations" for those who request it, unless it creates "undue hardship" on the business. It also prohibits employers from terminating or denying employment opportunities for employees who need these accommodations.
Rep. Angela Romero, D-Salt Lake City, said even with the new legislation, Utah deserves a C- in its support of new parents, but she's hoping to boost those policies so they're worthy of a better grade in the near future.
Romero sponsored HB188 in the 2016 Legislature, but it failed to advance out of a legislative committee. Romero plans to bring back the bill, which calls for six weeks of paid parental leave for state employees. It would also allow parents going through the adoption process the same benefits.
Romero said her goal is to maintain quality state employees so pregnant or postpartum women don't have to quit their jobs or endure health complications by going back to work too soon.
"Many times there are people who are not ready to go back into the workforce, but they have to in order to make ends meet," she said.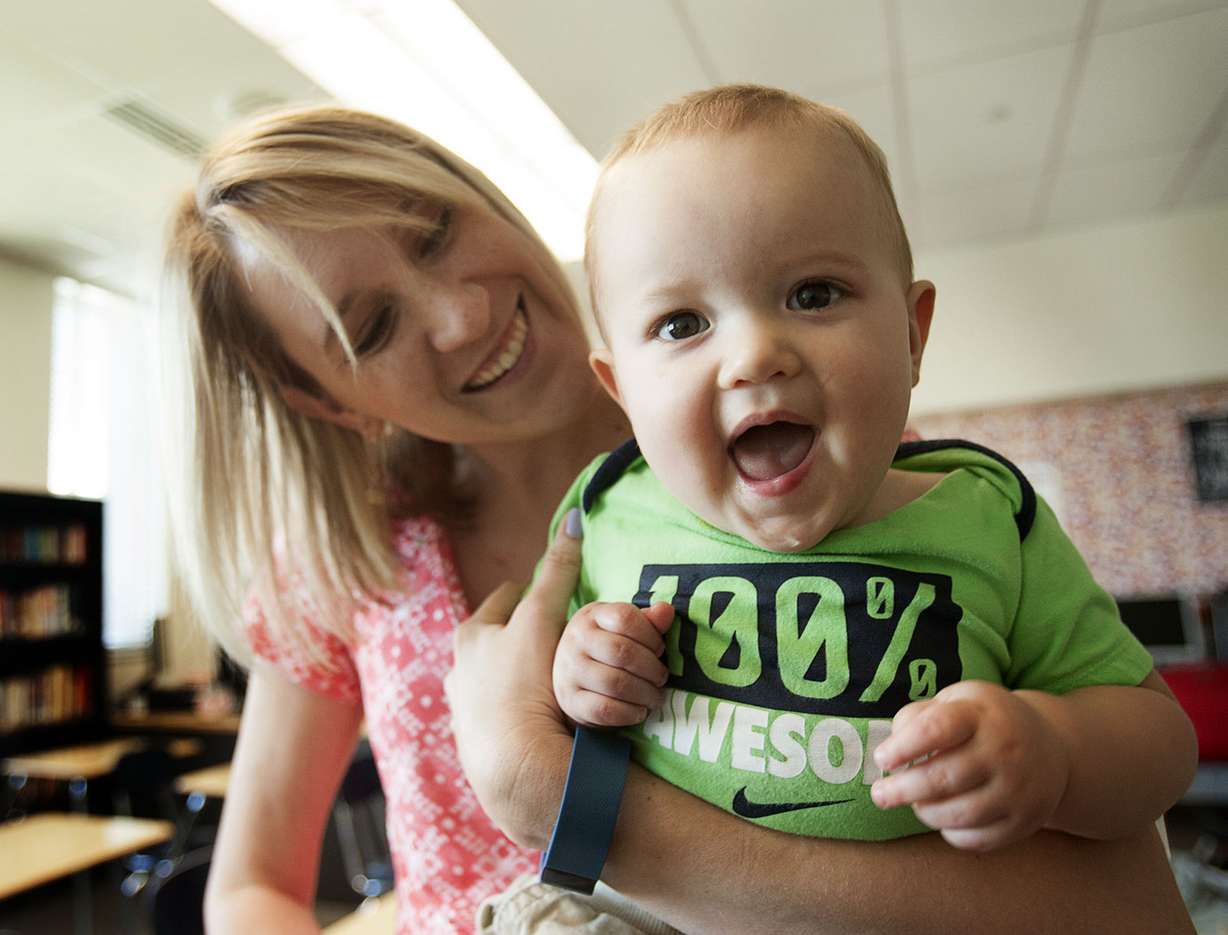 Romero said she believes the passing of the paid leave bill would be a boost to the economy by helping to keep families out of debt and allowing women a chance to rise above the current gender gap.
Failure to allow paid leave, she said, could be hurting women who want to advance in their company.
Current family structures are different today than they used to be, Romero said, and discriminating against women who require maternal medical leave is "outdated" and "definitely has bias."
"I think we need to re-evaluate how we view work life and family structure," she said.
Jessie Mandle, health policy analyst at Voices for Utah Children, said although Utah has some legislation to help new and expecting parents, she hopes lawmakers can do more.
"We've made some great progress," she said, "but we don't have policies that go far enough in the workplace to help working families."
Mandle noted the recent legislative support of breast-feeding accommodations in the workplace, saying it's "good for the health of the mother and for the child."
"We want to see more polices that support working families, support working mothers, that close the gender gap, that support the health of the mom and the baby," she said.
According to the National Partnership for Women and Families study, the only state to earn an A is California, which allows six weeks of paid medical leave, up to four months of pregnancy-related disability leave, and other workplace rights for mothers. Email: ahobbs@deseretnews.com
×
Photos
Most recent Utah stories