Estimated read time: 3-4 minutes
This archived news story is available only for your personal, non-commercial use. Information in the story may be outdated or superseded by additional information. Reading or replaying the story in its archived form does not constitute a republication of the story.
SALT LAKE CITY — As people across the state celebrate Pioneer Day, KSL-TV's Dave McCann sat down with Elder M. Russell Ballard, a member of the Quorum of the Twelve Apostles of The Church of Jesus Christ of Latter-day Saints, to discuss pioneer heritage in Utah.
McCann: If you could have 30 seconds with all those watching and reading on KSL, what would you want them to know about the pioneers?
Elder Ballard: I think everyone needs to appreciate what the pioneers, our pioneers, the Mormon pioneers, did in blazing the trail under terrible circumstances. It's a great time to pause for everyone, all religions, and just ponder and think in gratitude for those who were willing to blaze the trail and come out and settle this valley.
**McCann:** Recently, my kids and I flew from Chicago to Salt Lake in three hours. They served us drinks, pretzels, and we landed with air conditioning. How can I expect them to appreciate the pioneers? What can we do?
Elder Ballard: One thing you can do is read some of their stories. For example, my great-grandfather, Henry Ballard, was a convert of the church at 17 years of age in England. He made his way here. He made a contract with the Snow family to drive a herd of sheep across the plains. When he came in through this valley, his clothes were so tattered he hid all day because he wasn't totally clothed. Then at night, he saw the lights on in the cabin and he prayed whoever answered the door would be a man and he begged for clothes to be able to come in to the Salt Lake Valley.
I just think reading history of our ancestors that came in here, regardless of what religion they may have been believing in, is a great way to come very quickly to an appreciation and affection of our pioneer heritage.
It's not a Mormon story. It's a pioneer story. It's a story of the pioneer movement into the West.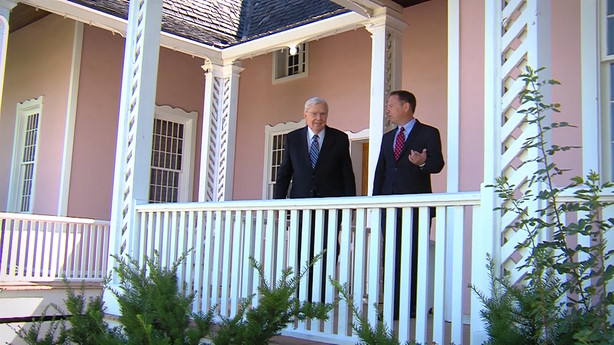 **McCann:** Do you think Brigham Young would come and look over the valley today and still say, "This is the place"?
Elder Ballard: I think absolutely. I think he probably saw it as to what it would become.
You remember there was a great move. A lot of people wanted to go to California and Brigham Young said if you stay here, there is more wealth in the mountains of Utah than in all of California. And I guess according to the most recent statements, Utah is one of the most prosperous states right now in the entire union, so I think Brigham Young is smiling.
**McCann:** Considering all the calamities, what lessons can we learn from the pioneers that will help us from freaking out here in 2016.
Elder Ballard: Well, I think the most important thing anyone can learn is the spiritual inner person being at peace. The world can fall apart; the world can have lots of troubles. But if an individual is at peace within themselves, if we just be good people and try to be nice to each other and help each other, then inner peace will see us through whatever may be ahead of us.
Elder Ballard will be the grand marshal for the Days of '47 Parade on Monday morning in Salt Lake City.
×
Photos