Estimated read time: 4-5 minutes
This archived news story is available only for your personal, non-commercial use. Information in the story may be outdated or superseded by additional information. Reading or replaying the story in its archived form does not constitute a republication of the story.
DRAPER — Few career changes happen for people at age 42, especially when extra schooling is required.
That's why Marc Sanderson knew that going back to college for four-plus years wasn't a viable option when he retired from a 20-year career as a firefighter and fire chief in Pleasant Grove. He needed an accelerated pathway into a profitable occupation.
That pathway turned out to be just five semesters before he became a registered nurse.
"As a firefighter paramedic, nursing was the perfect segue into a second career," Sanderson said.
Sanderson graduated from Ameritech College of Healthcare, a Draper-based private college that produces about 150 graduates every year. For many of them, the transition into a career as a nurse is as short as 18 months.
"What Ameritech provided was a quicker pace, an opportunity to earn my RN and get out in the field working. I didn't have the desire or the ability to attend one of the traditional schools," Sanderson said. "I needed a program that could get me in the field and get me earning a wage."
Sanderson is now the director of emergency services at Mountain Point Medical Center in Lehi and is completing an online bachelor's degree from Ameritech.
Ameritech's nursing program is 10 years old this year. It's geared toward nontraditional students who are seeking new options without having to completely start over in school.
Most students there complete an associate degree in nursing in three condensed semesters. Still, more than 95 percent of Ameritech graduates pass the nursing certification exam on the first attempt, compared with the Utah average of 85 percent and the national average of 84 percent, according to the college's CEO, Dr. Julie Aiken.
"There are alternatives out there for nursing education that are just as academically sound as the university systems," Aiken said.
Alternative routes into the health care profession are becoming crucial, Aiken said, especially with a shortage of nurses on the horizon. Some 3 million people are currently registered nurses, but by 2022, the U.S. could be facing a shortage of about 1.2 million nurses, she said, citing data from the U.S. Bureau of Labor Statistics.
It's a trend that's on the heels of an aging baby boomer population, many of whom are entering retirement, as well as relying more on health care for chronic illness. The average nurse is in their 50s, Aiken said.
"We are not even coming close to educating the number of nurses in the nation that will be retiring, as well as the increased needs due to the aging population," she said.
As nimble as alternative programs such as Ameritech are for students, they're not without a cost. The average Ameritech student is 29 years old and enrolls with about 12 to 15 credits already completed. For them, tuition comes to about $40,000 for the three semesters.
It's a hefty bill compared with some public institutions offering associate nursing degrees. Weber State University's yearly resident tuition is $4,611, with nursing program fees that total about $2,400.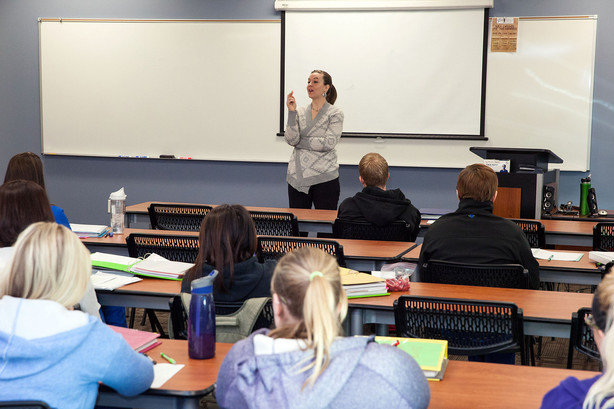 Salt Lake Community College's yearly resident tuition is about $3,689 for a full course load, as well as about $1,750 in nursing course fees. The college also introduced a program this year intended to cover tuition for students who are eligible for federal financial aid.
Sanderson, however, said getting into a job earlier makes Ameritech's program a worthwhile investment.
"I'm 100 grand ahead in two years' wages over the student that's still in school," he said. "It's the same education, it's just faster. But you have to be more disciplined."
The cost and pace of the program also contribute to a learning environment where other students bring "significant dedication," he said.
In the 10 years since Ameritech's nursing program began, Aiken said the message of alternative pathways into medical careers has grown in Utah. But it's a message that still needs sharing.
"We've been able to help increase the public's awareness of other alternatives to nursing education, to help adults get through this program and help supply the demand that we're going to have out there," she said.
Even with younger students, the college has proven promising. Between Sanderson's four sons and two daughters-in-law, five of them are either graduates, current students or future students of Ameritech.
It's another result of Sanderson's career change that he's happy about.
"I thought I'd have a houseful of firemen, but I've got three of my boys that are doing all their paperwork to get into the Ameritech program," he said. "So I'm going to have a house full of nurses, which is kind of cool."
Ameritech will hold a celebration to commemorate its 10th year anniversary at Rio Tinto Stadium on Aug. 1.
×
Photos