Estimated read time: 5-6 minutes
This archived news story is available only for your personal, non-commercial use. Information in the story may be outdated or superseded by additional information. Reading or replaying the story in its archived form does not constitute a republication of the story.
WEST JORDAN — It was few weeks into Paige Furbush's first year as a special education teacher when Brooklyn rolled in.
The 4-year-old girl with wispy blonde hair came with a 7-inch thick file detailing the numerous medical challenges she'd already faced in her short life — including two brain tumors as an infant that left her almost completely deaf and blind.
To Furbush's surprise, as soon as Brooklyn's parents unhooked her from the stroller, "she just took off," Furbush said.
"Going, going, going, circles around the room, pulling something and throwing something, pulling something and throwing something," Furbush laughed.
For Brooklyn, the world extends as far as her hands.
That makes Brooklyn both highly active and highly injury-prone, particularly at night, when seizures wrack her brain and she begins to stumble around her bed.
For nearly a year, Brooklyn's parents have been waging a battle with their insurance company to pay for a secure medical bed, said mom Shelby Morris. But each appeal has been met with a denial.
On Thursday, as Brooklyn cruises around the family's modest living room with her twin sister, Zoe, and older brother, Aiden, Morris described her frustration.
"I applied and applied and applied," she said. "I've been doing this since last August. They still don't care."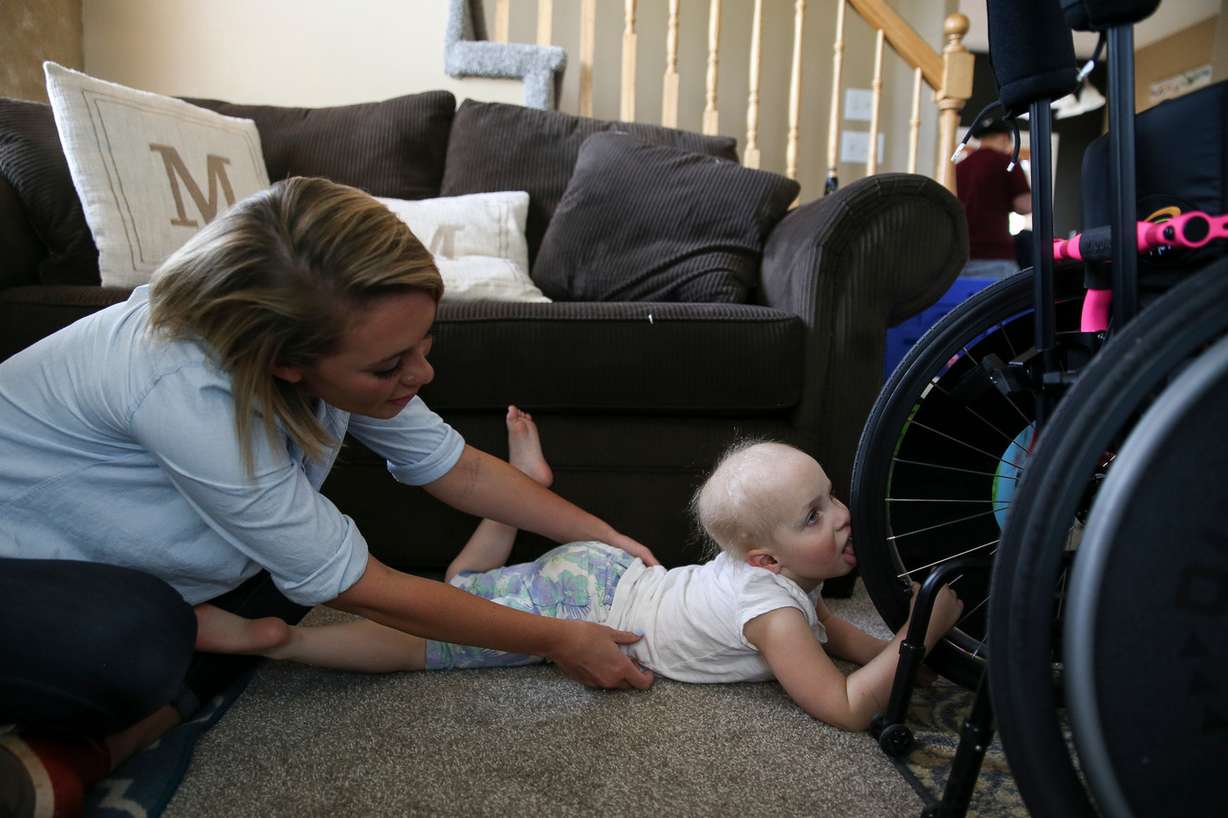 Morris and her husband, both in their early 30s, are the parents of three children with special needs — all 6 or younger.
But Brooklyn by far is the child with the most challenges.
She is intuitive and good-natured, determined and independent. She loves loud noises because she can feel the vibrations and sips of soda because she can taste the carbonation. She is nonverbal, but she has clear gray-blue eyes and a perfect cartoon giggle.
Taking care of her, which Morris does full time, often feels like trying to restrain a little tornado. Brooklyn pulls up air conditioning vents and tugs at windows. She tests objects, including insulation and duct tape, by putting them in her mouth. She topples over chairs and into walls.
As a toddler, Morris said, Brooklyn would crawl out of her crib and fall to the ground.
After her parents rigged up an enclosed trampoline with pool noodles to serve as a bed, Brooklyn ripped the netting and tried to eat the pool noodles.
When they replaced the trampoline with one with stronger netting, Brooklyn discovered she could weasel her way out through the springs — then got stuck around her neck.
One night, Morris found Brooklyn crying and screaming, trapped underneath the trampoline after pulling down a heavy dresser.
Morris doesn't sleep much anymore, if it all.
"It's hard to go to bed and just hope your kid doesn't pass away," Morris said. "I go to bed between 2 and 3 in the morning. … You just hope that it's going to be OK."
Few people understand Morris' situation better than Furbush.
Furbush became a special education teacher because of her little sister, who was born with a congenital brain defect not too unlike Brooklyn's brain tumors. The family made constant trips to doctors and therapists and ERs. When Furbush was 7, her sister died.
Having a sibling with special needs "changes the whole family dynamic," Furbush said. "You kind of take on every day as a team."
After watching the Morrises get denied by their insurance company for the better part of a school year, Furbush decided to take matters into her own hands.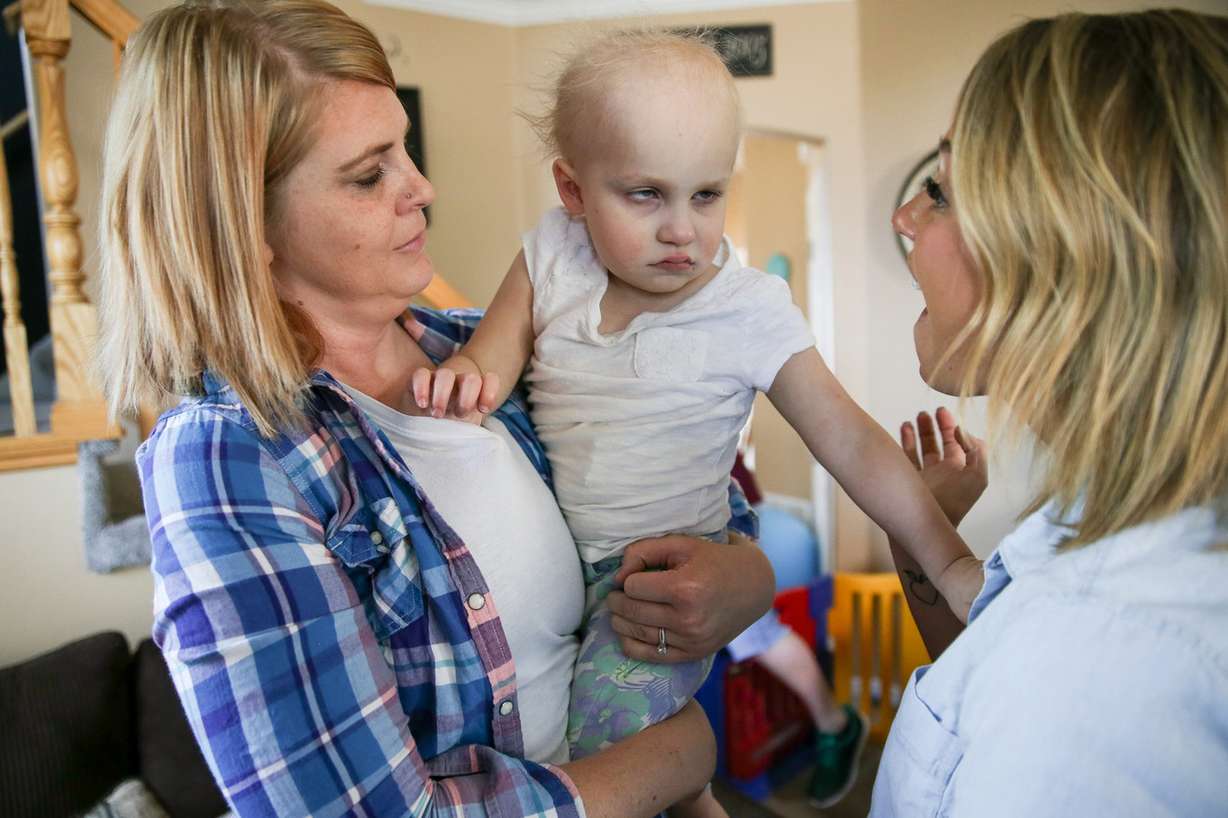 Sick of "sitting here and sympathetically nodding my head," the special education teacher started a GoFundMe page for Brooklyn that has raised $1,280 of the $10,000 the Morris family needs for the medical bed.
"It's a basic human right to have a safe place to sleep," Furbush said. "Shelby doesn't sleep. She can't, because she's in constant fear. … Honestly, I feel like this is the least I can do. I wish I could give them $10,000 and buy the bed for them."
The manufacturer of the medical bed, which looks like a large crib with tall bars, originally quoted a price of $25,000 before they agreed to discount it for the family, Morris said.
On Thursday, as Furbush played with Brooklyn and her siblings, Morris thanked Furbush with tears in her eyes.
At previous schools, Brooklyn was "shoved into the corner a lot, kind of like a lost cause," Morris said. "Like, 'Well, you just go play over there and we'll teach these other kids.'"
But Furbush "looks at Brooklyn and sees her as I do," Morris said. "I think Paige saw us and saw her family. She sees us crying, she sees how hard it is and she sees our other kids.
"I would come to school and say, 'Gosh, this is hard,' and 'Sorry, we're late' and 'This happened today,'" Morris continued. "And she just gets it."
Until the Morris family finds a bed, they are continuing to employ creative solutions for almost every hazard in Brooklyn's room.
Currently, Brooklyn is sleeping on a mattress on the ground. But even that is far from ideal because Brooklyn will get up at night and knock into walls.
Morris has removed every picture frame, decoration and piece of furniture until they can find a bed that will keep Brooklyn safely inside.
"It feels really institutional to me," Morris said. "That's what's so depressing."
For Furbush, she believes one of the most important parts of her job is advocating for her students and their families.
"As a parent of a child with special needs, it can be the most isolating feeling in the world," Furbush said. "Your life looks so different from other people's, and a lot of the time I know that Shelby feels this way and I feel this way."
She added: "Every parent deserves to know my baby is going to be safe when I put her down for bed tonight."
×
Photos