Estimated read time: 5-6 minutes
This archived news story is available only for your personal, non-commercial use. Information in the story may be outdated or superseded by additional information. Reading or replaying the story in its archived form does not constitute a republication of the story.
OGDEN — It's a part of Utah history that lives mostly through rumors: the existence of a seedy underground world, buried beneath the streets of Ogden's historic district. Rumors of secret tunnels, and what they were used for, have circulated for decades. Many people swear they exist. Others say they're just folklore.
"All kind of nefarious things have gone on here in the last 100 years," said Scott Van Leeuwen, owner of The Gift House.
From prostitution and prohibition, to drug smugglers and Al Capone, one thing is certain, Ogden was a town you didn't mess with in the early 1900s.
"The rumor is that Al Capone came into Ogden on the train," said Sarah Singh. "He said this is too rough of a town for me, and turned around and went back on the train."
If you believe the lore, what was happening above ground was only half the story. People say an intricate tunnel system was used to hide opium dens, gambling, alcohol and prostitution. Some even say the tunnels were used to transport dead bodies.
Most people who believe in the tunnels claim they were under historic 25th Street and ran from Union Station to the Ben Lomond Hotel. But some say they spread beyond that and branched out all over the city, including under Ogden High.
So the KSL Investigators went where most people never do and found out there are definitely tunnels under the school ... seven to be exact. The tunnels are rarely used and infrared cameras show how dark and deserted they are.
Aaron Tonks is the head custodian at Ogden High. What he has to say will be disappointing to many believers.
"I've been in every single tunnel, on my hands, on my knees, in the water," said Tonks. "I know they do not go anywhere else other than under the building."
Tonks says the tunnels were built for maintenance and definitely do not connect to a citywide underground.
But there's still the matter of tunnels beneath 25th Street. Five businesses along the historic street took KSL down into the depths to show us that tunnels really did exist. Every opening is now either boarded up, bricked over, cemented in or filled with concrete. Basically, you're not getting through and neither were we, but that doesn't mean the tunnels weren't once there.
Carrie Vondrus owns Endless Indulgence on 25th Street. A long time ago, it was a hotel and brothel. Vondrus claims her shop is still haunted by prostitutes and a ghost named "James."
"He walks throughout all underneath 25th Street and goes from tunnel to tunnel wherever he wants to go to," explained Vondrus.
She is a believer in the tunnels and says her bricked up tunnel entrance connects to a neighboring bar, just like a pawn shop on the other side of the bar called The Gift House.
"And that ... is the tunnel door that goes to the buildings next door," said Leeuwen, showing KSL his boarded up tunnel entrance.
Leeuwen has what appears to be a tunnel entrance, but he believes instead of an intricate tunnel system, it was just a series of connecting basements.
"If you were selling whiskey illegally in the end building, you could get it over to my building in a matter of minutes," said Leeuwen.
Sarah Singh agrees with that theory. She's the curator of Special Collections at Weber State University and an expert when it comes to Ogden history. In all her years of study, she has never found evidence of the existence of tunnels.
"I don't think there were these secret tunnels under 25th Street," said Singh. "I think the tunnels people think about are actually connected basements. I think you could go from one end of a block to the other, but you couldn't cross the streets."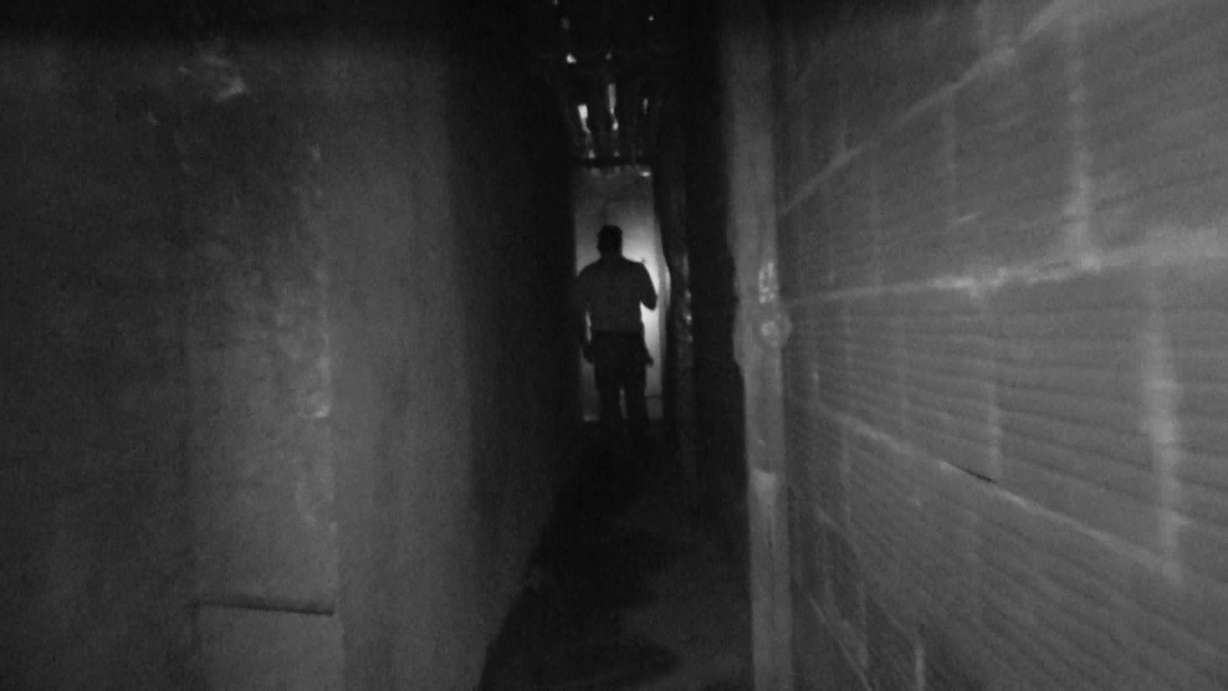 Makes sense, unless you visit a shop called Making Scents. Larry Baird owns the shop. He has two sealed entrances in his basement. One goes towards Electric Alley behind 25th Street, but the other appears to go east.
"You can see it's cemented in?" said Baird. "I believe it's cemented because it does go to the federal building."
Making Scents is on a corner, and that cemented tunnel entrance doesn't appear to connect to a business, but instead looks as if it leads underneath the street. Baird also said he recently spoke with an 82-year-old former police officer who's actually been in the tunnels.
"One of his jobs was that he had to help pull out the bodies that were in the tunnels," said Baird. "He said he could walk from Washington to Wall and never be seen."
Baird said the man died a couple weeks after speaking with him about the tunnels.
Evidence the tunnel entrances went under the street can also be found in a bar called The Lighthouse and another bar called Brewskies. But Brewskies has something a little extra ... remains of what appears to be an ornate store front in the basement.
"This is a pretty good sized passageway," said Dan Smith, as he led KSL through Brewskies' basement. "We've got a doorway here with some old mouldings and then windows on both sides."
Video of the detailed storefront makes it difficult to explain away as a service entrance, and seeming evidence that a hidden world existed underground.
Oh, and one more thing.
"This seems to be a hidden little secret that was down here," said Brett Turner, owner of The Parlour.
One more business, one more tunnel entrance, one more buried storefront.
"The interesting thing is, is that there was no street access to this," said Turner, showing KSL an ornate storefront in his basement. "Which leads us to believe that there was some sort of way that you could access it from underground."
We should also mention, The Parlour isn't on 25th Street at all. It's blocks away from the historic district, but still seems to contain evidence that tunnels could take you there.
"I don't know," said Turner. "For now I guess we'll just have to wonder."
KSL also talked to Ogden's city planner about the tunnels. He said the city did major reconstruction on 25th Street between 1979 and 1980 from Wall Avenue to Grant. They tore up the street and found no sign of tunnels.
×
Photos
Most recent Utah stories