Estimated read time: 2-3 minutes
This archived news story is available only for your personal, non-commercial use. Information in the story may be outdated or superseded by additional information. Reading or replaying the story in its archived form does not constitute a republication of the story.
OREM — For the last 60 years, Orem resident Judy Stuart has been writing to an Australian woman she's only met twice.
The two became pen pals when Stuart was in 4-H in Junior High, and they have stayed close friends in spite of the distance that separates them. This September, Betty Malloy will travel to Utah, and the women will celebrate their 75th birthdays together.
Years ago, Malloy and her family came to the United States and spent time traveling with Stuart and her children. Stuart said it was fabulous meeting her in person. Then in 2002, Stuart visited Malloy at her home on Phillip Island. When they are together, it feels as if they know each other really well.
Stuart said Malloy has saved all her letters.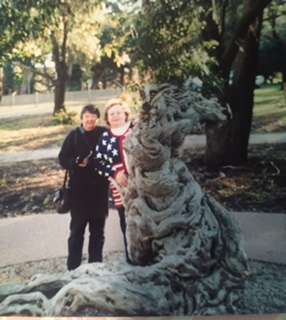 "She's got my whole life over there … like a journal almost, because we used to write all the time and then now email," Stuart said. "So yes, we were teenagers together, we got married not too far apart in time, she had three children and then I had three children so we raised our children together."
Stuart said Malloy has been "so consistent and so faithful as a friend." In the time they have known each other, Stuart has been divorced and widowed and Malloy has continued to write, she said.
Having a pen pal has increased Stuart's appreciation for other cultures and other people, she said.
"I've done a lot of traveling as well, but it all started with her and my exposure to her perspective and the beauty and reality of a world that's just totally different from my own world," Stuart said. "... Overall, that really has impacted the way I see other people, the way I relate to other people, it was kind of the foundation for other cultural awareness that I've gained."
×
Photos
Most recent Utah stories