Estimated read time: 2-3 minutes
This archived news story is available only for your personal, non-commercial use. Information in the story may be outdated or superseded by additional information. Reading or replaying the story in its archived form does not constitute a republication of the story.
Did you know in China you should not wear a green hat if you are a man? And when you're done eating, never stick your chopsticks vertically in a bowl of rice. These are some cultural faux pas that many Olympic athletes were trained on before they went to China.
"Like all athletes, I love to eat. So I ate everything on my plate, and I didn't realize until afterwards that that was offensive to the Chinese," Olympian Steven Lopez said.
Finishing your meal in China implies the hosts did not serve you enough food.
Also when dining, put down the chopsticks when you talk. "While I'm talking, I have the chopsticks in my hand, and I'm talking. And I learned that's another thing you just don't do," Lopez said.
The Beijing Organizing Committee has laid down a few no-nos of their own: Athletes and spectators have been advised not to hold any political rallies or demonstrations while in China.
Also, the International Olympic Committee has warned athletes to obey the various rules in place, reminding them they are guests of China.
Another big faux pas we learned from Josh McAdams, former BYU runner competing in the 3,000 meter steeplechase. "Feet are very dirty, so you don't point with your feet. Don't sit with your feet, you don't sit cross-legged. When you're sitting on the floor, you don't usually sit Indian-style," he said.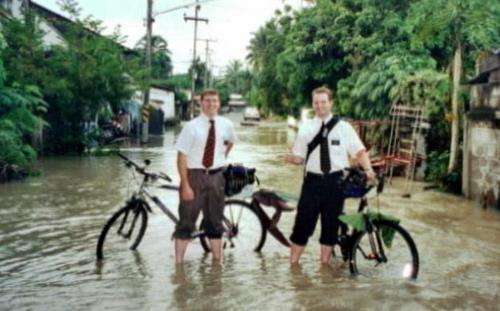 McAdams learned that serving a mission for The Church of Jesus Christ of Latter-day Saints in Thailand. He says the two years spent there taught him a lot about the Asian culture.
"You don't touch shoulders or heads, and Buddhist statues you treat as sacred, like you would the cross," McAdams said.
Another Utah group that visited Beijing recently was told not to get to close the locals. "You're not supposed to hug people, at least we were told," said Christopher Quinn, from Westminster College.
The Westminster Chamber Choir just got back from performing during the Cultural Olympics in Beijing. Choir members didn't have any problems picking up on the culture, but they were a little taken back by the toilets. "There's a hole in the ground, pretty much!" Quinn said.
The choir members say with their fair skin and light hair, they were treated like celebrities. "A lot of the Chinese wanted to have their pictures taken with us," Quinn said.
So, just remember: don't point your feet at anyone, don't touch them, keep the chopsticks down, don't clean your plate and pack our own toilet paper.
By the way, when a man wears a green hat in China it means his wife commits adultery. And chopsticks standing vertically are a symbol of death.
E-mail: abutterfield@ksl.com
×
Most recent Utah stories