Estimated read time: 4-5 minutes
This archived news story is available only for your personal, non-commercial use. Information in the story may be outdated or superseded by additional information. Reading or replaying the story in its archived form does not constitute a republication of the story.
SALT LAKE CITY — In the hours it took a Salt Lake City Police Department patrol officer to head to a call of a suspicious vehicle near 700 South and 500 East, chances are the vehicle and the person who reported it were long gone.
You see, it took a patrol officer more than five hours to head to the area. And that's not unusual.
KSL Investigators reviewed hundreds of calls for service to the Salt Lake City Police Department dating back to last summer and found calls that aren't considered top priority – such as a shooting, a robbery, or a child kidnapping – may hold for hours until a patrol officer is available to respond.
For example – theft calls can wait 2-3 hours or longer. Reports of vandalism might not get police attention for five hours or more. Callers who report suspicious people and cars in their neighborhoods may be left wondering if an officer will ever show up.
Belen Almada was surprised to wait an hour when she was in a car accident that injured her friend.
"They took long enough that the guy that hit us was able to leave and then come back," Almada said.
An Understaffed Patrol Division
The problem isn't necessarily a lack of police officers, rather the way the Salt Lake City Police Department has allocated its resources.
KSL Investigators found that only 30% of the force is assigned to patrol the streets of Salt Lake City – all 110 square miles of it.
This means there are approximately 125 officers currently assigned to patrol the streets of Salt Lake City. They're divided among day, afternoon, and graveyard shifts, spread across each day of the week, and dispersed to all corners of the city. With vacation and sick leave, some days there have been as few as 15 patrol officers on duty at one time, for the entire city. And KSL Investigators documented days where the entire west side of the city was patrolled by only 4 officers.
With few patrol officers available, and higher priority calls coming in, non-emergency calls get pushed down the list.
It's an issue that concerns the Salt Lake Police Association, which represents 350 officers.
"I've seen calls wait until tomorrow," said Michael Millard, president of the association. "It's too late now to go to people's houses or call them and so we have to wait until tomorrow when they wake up to follow up on their phone call."
Millard said 2, 3, 4 hour response times are not unusual and that patrol officers run from "call to call to call to call."
This type of policing leaves no time for officers to proactively watch for criminal activity or focus on getting to know residents and business owners in neighborhoods they patrol.
"I think the public would like to have more people working their area," Millard noted.
New Police Chief Promises Big Changes
Newly-appointed chief of police, Mike Brown, told KSL this is not an effective way to patrol the city and he's making changes.
"When you talk about the officers on the street, the number is about 125," Brown confirmed.
He said that any given shift there is an average of about 18 to 20 patrol officers on duty.
"It's not enough, it's not enough. No, I'm telling you it's not enough," Brown said.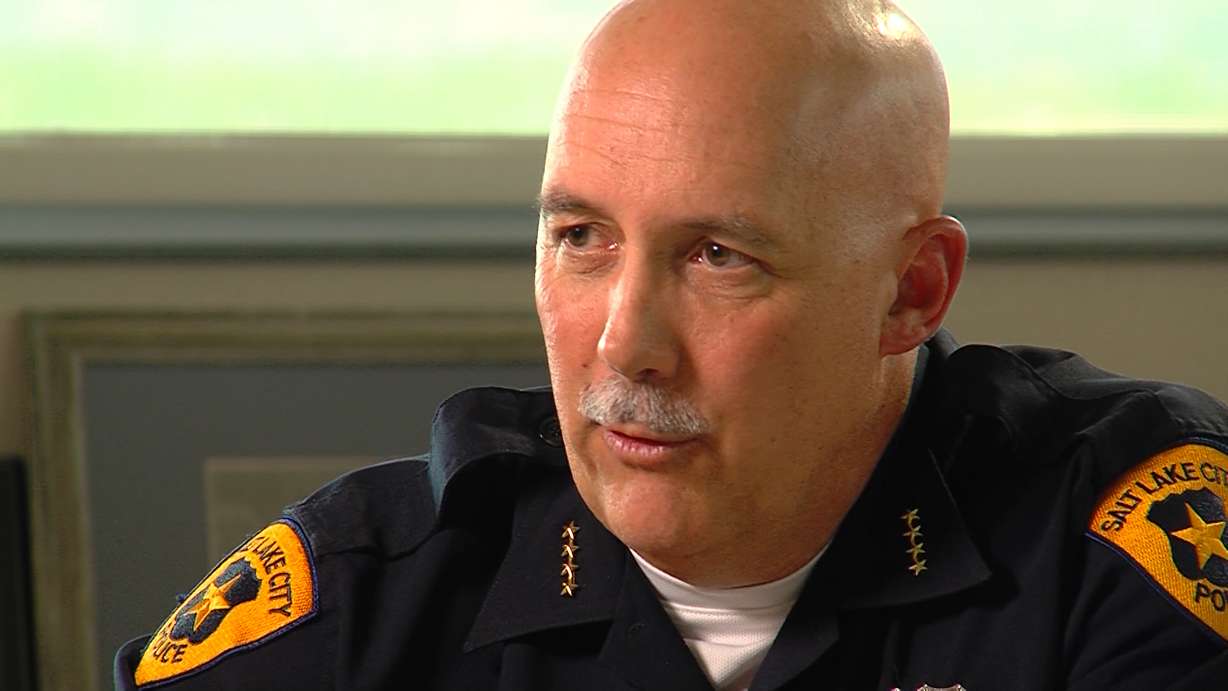 Brown said he recognized the problem when he became interim chief last summer and put the wheels in motion to enhance patrol staffing levels by speeding up the hiring process to fill vacancies on the force. But as of this spring, there were still concerns that the number of patrol officers is lacking and more needs to be done.
Brown said other units – such as the department's bicycle or motorcycle squad – can assist patrol officers, but that in the coming months he's permanently beefing up his patrol division to add dozens of additional officers.
"55 officers will be joining our ranks and a large majority of those will go to patrol," Brown said.
In the meantime, Brown is filling the void with more than 50 overtime shifts a week, funded with grant money and attrition savings.
On top of this, Brown has created a call center where officers who are assigned to light duty answer hundreds of telephone calls from residents. These calls were once handled by patrol officers.
Brown said he wants to bring staffing levels to the point where patrol officers are freed up to spend 30% of their shifts proactively policing to prevent crime, instead of going from "call to call to call to call."
He believes this approach will significantly cut response times for lower priority calls from hours to minutes.
"Absolutely minutes," Brown said.
Contributing: Emiley Morgan
×
Photos
Most recent Utah stories