OREM — Coming in ahead of mega hip-hop stars Drake, J. Cole and Kendrick Lamar on the iTunes top hip-hop/rap album chart is an artist with a unique name and local ties: Jamesthemormon. His six-track EP "I'm Not a Rapper" dropped April 17 and has been climbing the charts and landed at No. 3 by 5:30 p.m. Wednesday.
James Curran, a 29-year-old Utahn who grew up internationally, spending time in Russia, China and Uzbekistan, said he had a "crazy feeling" Tuesday night when he looked at iTunes and saw that his album had moved into the top 30 out of all hip-hop albums.
"I literally couldn't believe what I was seeing," Curran said. "So I'm here, and I'm in front of Drake, so that means I'm number 30 in the world. I called my friends for them to, like, verify that I'm not insane and they're like, yeah, this is happening. They were all freaking out."
The EP took six months to make, said Curran, who said he has been writing and recording since he was 17.
Though Curran doesn't shy away from his LDS faith — as evidenced by his moniker — he said he wants to just make good music that "looks and feels like any other rap album."
"I want the same vibe that people go to get a Drake album or Lil' Wayne," Curran said. "I want them to walk away uplifted without even realizing it."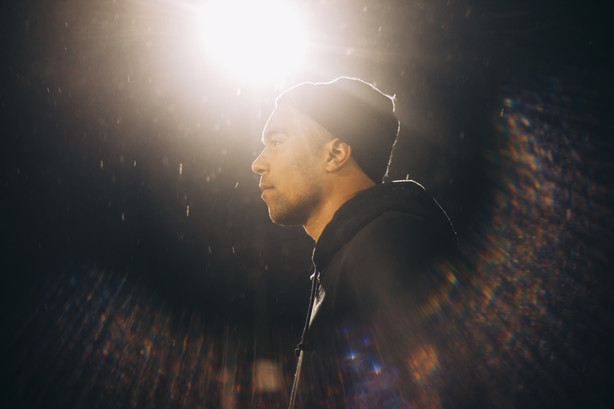 Curran served a mission for The Church of Jesus Christ of Latter-day Saints at 23, opening up a Russian-speaking mission in Washington state, even though serving wasn't something he imagined for himself.
"I was not going on a mission," he said. "I was not about the church. I didn't believe or not believe, I just was apathetic."
He ended up serving because he felt like it "was a good thing" and wanted to change his life.
"In my mind, a mission was helping people," he said. "I didn't have any real understanding of the doctrine."
That all changed when he was in the Missionary Training Center and a woman bore her testimony of the gospel, and it all clicked for Curran and he thought, "It's all true, and it's the most important thing on this earth."
Stay true to who you are cause nothing is impossible.

— James The Mormon (@jamesthemormon) April 27, 2016
After returning home, Curran wanted people to know what mattered to him, and he changed all of his social media names to "Jamesthemormon."
"I made a pact that there wouldn't be another human on the earth that didn't know what I believed or what I stood for," he said.
When Curran started making rap videos for fun and posting them on social media, the name stuck, "and it snowballed into what it is now," he said.
Getting Kalani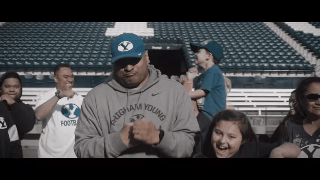 Curran recently made a video— which was filmed and edited by Cameron Gade — for the album's first track, "Motivation," which features BYU football coach Kalani Sitake.
Curran — a huge BYU fan — said he thought of Sitake immediately when developing a concept for the video, and luckily for him, he and Sitake had a common contact: their barber.
"Kalani goes to him for haircuts," Curran said. "I asked him, I was like, 'Hey, I want to do this. Do you think he would be down?"
His barber put the two in touch, and Curran said Sitake seemed prepared to let Curran down easy, but soon found out that Sitake's cousin Junior Maile was a co-collaborator on the song so he listened to the pitch. After hearing "Motivation" and "I Will Never Stop," Sitake stood up, gave Curran a $20 bill and said he wanted an advanced copy of "I'm Not a Rapper" and agreed to do the video.
The video took about two months to film and produce and was done around the Orem area. It includes a cameo from Al Carraway, also known as "The Tattooed Mormon."
Hi, my album is ranked higher than @Adele in the world. K bye. pic.twitter.com/fZ8yee95za

— James The Mormon (@jamesthemormon) April 27, 2016
Motivation
Curran's personal motivation is ambitious.
"My motivation for doing this is because I truly feel like I've been asked to present the church in a more relevant way so that people can feel comfortable and open-minded," he said. "I feel like there's a very negative stereotype around the church."
Curran said it's important for him to have people of color in his music and videos while making great music that just happens to be clean.
"(I want to) to create teaching opportunities and, as a side goal, I would love if I could tell my children one day that I had the No. 1 one rap album in the world," an emotional Curran said.
"I'm Not a Rapper" is available on iTunes for $4.99 and streaming on Spotify. Curran said that if people can leave a positive review on iTunes, it helps the album's rankings.
Fifty percent of the album's profits are being donated to the LDS missionary fund.
"I feel like if we can all come together and do something like this, that could really move the church forward."
×
Photos