Estimated read time: 3-4 minutes
This archived news story is available only for your personal, non-commercial use. Information in the story may be outdated or superseded by additional information. Reading or replaying the story in its archived form does not constitute a republication of the story.
Team coverageToday marks the beginning of a much-heralded, major experiment moving Utah state employees, and the buildings they work in, to a four-day work week. But will it actually save energy and money?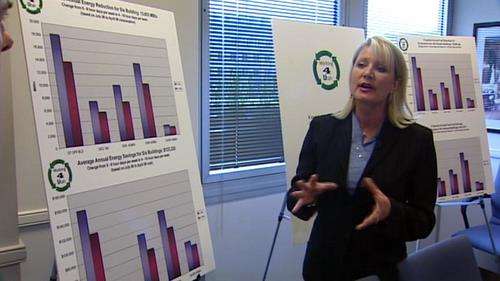 When Gov. Jon Huntsman announced the implementation of a four-day workweek for state employees, government leaders in West Valley said, "Go for it!" They initiated a four-day schedule years ago.
"I would say there's absolutely going to be savings on energy costs. He has the ability to shut those buildings down and completely go dark," said Paul Isaac, assistant city manager for West Valley.
The state owns more than 2,000 buildings, and nearly 900 can be fully or partially shut down Fridays. Officials estimate that will save at least $3 million annually.
West Valley managers found in four main buildings affected, they saved $32,000 a year. That's more than $200,000 total over eight years. "Some people may think it's not very much, but every little bit adds up," said Jake Arslanian, facilities manager for West Valley.
State administrators gave us a tour, showing off chillers, pumping over 1,400 gallons a minute of cooled water, and massive boilers. Each uses lots of power, which will be saved when they can be shut down Fridays.
"I'm for it. I think there's going to be a lot of money saved. And for my schedule, it works out really well," said Willie Shiftlett, maintenance worker at the State Capitol Central Plant.
"Not so fast" says Stanford professor Gil Masters, an expert on energy used in buildings. He says lighting, a major energy user, won't change much. And though heating and cooling may vary from season to season, he says "you're running your building for 40 hours either way."
"I'm unconvinced that the net effect is going to be significant in terms of energy savings," Masters said.
But state leaders predict they'll save many millions of dollars. "We' re going to have to figure it out building by building. But on average, for the buildings that are participating, we believe we can reduce the energy usage by 20 percent," said Kim Hood, executive director of the Utah Department of Administrative Services.
West Valley says it's seeing similar savings. City officials there estimate the buildings on the four-day workweek are saving almost 13 percent on energy costs each year.
Masters says in terms of carbon emissions, air quality, fuel savings and traffic there may well be savings. He says a comprehensive study of the four-day workweek is essential and should give plenty of real-world data.
State officials say they will be doing extensive studies now that the plan is underway.
For the public, if you're planning to walk in your car taxes on the last day of the month, you'd better hope that's not on a Friday. The offices of the Department of Environmental Quality will also be closed, but they will still provide the air quality alerts 24 hours a day, seven days a week.
The Utah Department of Transportation still will plow snow on Fridays, and you can buy at state liquor stores on Fridays, too.
For a complete list of office hours, see the related link on this page.
E-mail: jdaley@ksl.com
E-mail: aadams@ksl.com
E-mail: rjeppesen@ksl.com
×
Related links
Most recent Utah stories