Estimated read time: 2-3 minutes
This archived news story is available only for your personal, non-commercial use. Information in the story may be outdated or superseded by additional information. Reading or replaying the story in its archived form does not constitute a republication of the story.
ST. GEORGE — The McInnes family of Eagle Mountain has reason to celebrate this weekend after a very scary situation involving their dog.
Toby, a 1-year-old English Sheepdog poodle, leapt off a cliff at Gooseberry Mesa in Washington County Thursday afternoon and fell roughly 300 feet.
"The boys were right there with me; they saw him jump," said Ben McInnes, Toby's owner.
He thinks Toby may have seen something during their trail ride, prompting him to leap off the cliff.
"For a split second you hope that he landed on something, but I knew there was nothing over there," Ben McInnes said. "It was awful. You could hear him sliding and bouncing and yelping."
The McInnes family did the only thing they could think of and called search and rescue.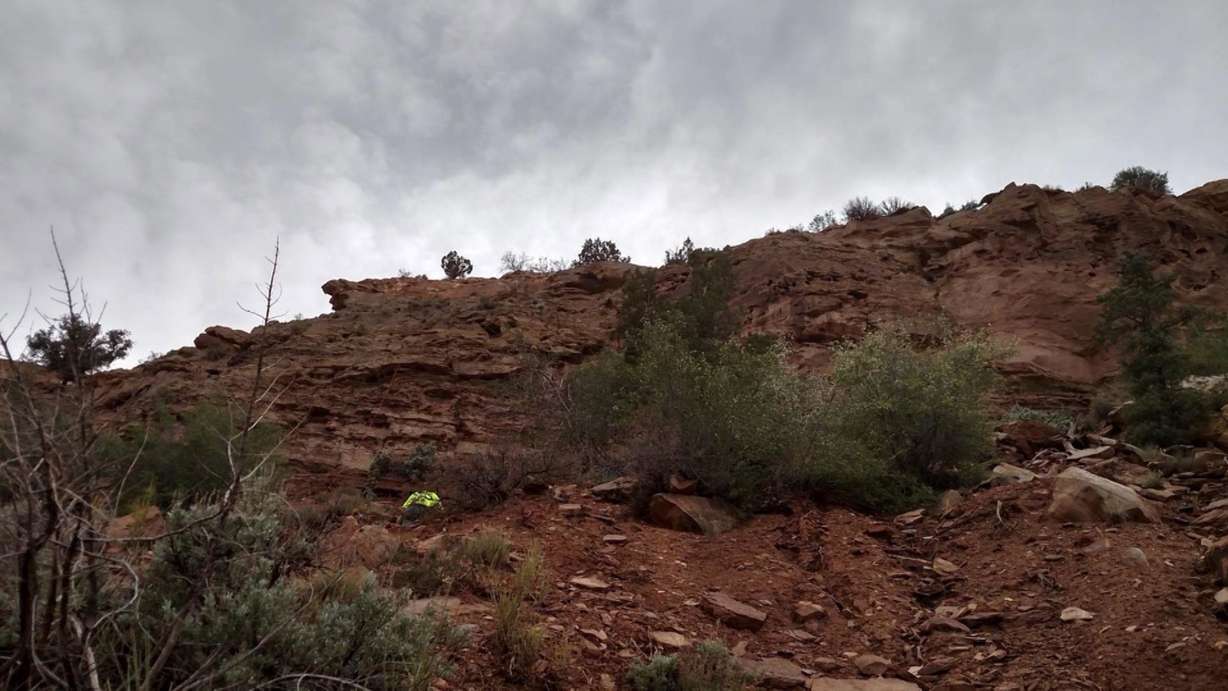 "When those things happen, we try and help them out. … It's not something we normally do, just going to rescue a dog, but it's just the complication of: If we don't, who else is going to try and get down to him?" said deputy Darrell Cashin, with the Washington County Sheriff's Office.
Cashin said rescuers worried any family members or bystanders who tried to reach Toby could be hurt in the process, and they wanted to prevent that.
"It was just the right thing to do," Cashin said.
It's estimated Toby fell 150 vertical feet, and then tumbled another 150 feet down the mountain. Mike Thomas was the first responder to reach the dog, and then carried the 75-pound animal up a very steep incline.
"When I made the 911 call, the dispatcher couldn't guarantee anything, that they would come and rescue," Meg McInnes said. "So, we sat out on the ledge and waited for about an hour before we got a call from deputy Cashin that said, 'I have five guys en route.' And it's because of their measures that (Toby's) still here, for sure."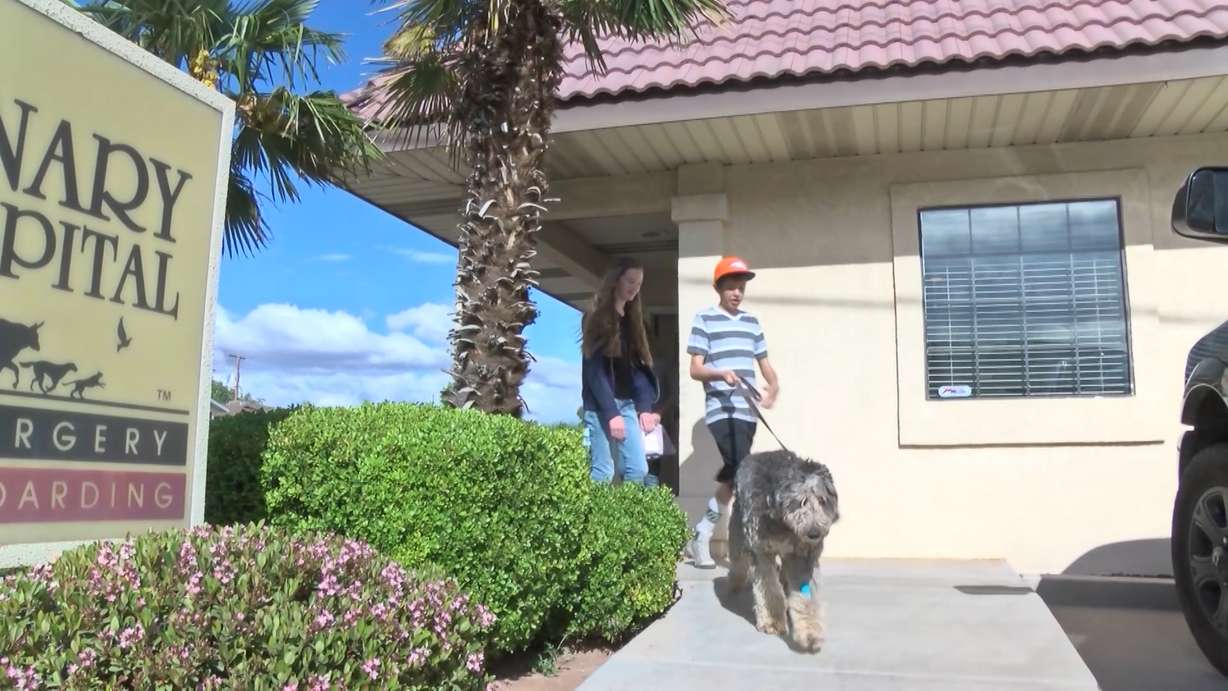 "When they were reunited, that was our payment. That was our payoff for that," Cashin said.
Toby suffered injuries to his head, brain and eyes, as well as several scrapes and sore muscles.
"I've been doing this for 25 years, and I've had patients fall 20 feet and die. … I've never had one do what Toby did and survive," said Dr. Kelly Houston, a veterinarian at the St. George Regional Veterinary Hospital.
The McInneses said they are grateful for the search and rescue team and feel lucky to be taking Toby home.
Contributing: Keith McCord
×
Photos
Most recent Utah stories