This archived news story is available only for your personal, non-commercial use. Information in the story may be outdated or superseded by additional information. Reading or replaying the story in its archived form does not constitute a republication of the story.
It was quite an ordeal in the Southern Utah wilderness for a convoy of almost two dozen tourists from California. Sheriff's deputies rescued 23 men, women and children after a frightening experience. They were lost and stranded in a rugged area of Kane County.
The group was saved from disaster because it wound up in a place where cell phones actually worked. That's a rarity in that part of Utah.
What got the group in trouble, according to the sheriff, was a foolish reliance on another electronic device, a GPS unit.
The Californians ventured into one of the roughest and most remote landscapes in the United States. They believed their GPS unit would lead them back to a paved highway. They wound up desperately calling relatives in California in the middle of the night.
One relative, Esther Lahiji, said, "They ran out of gas and they lost their way. It was dark at night. And thank God they could charge their cell phones in their cars."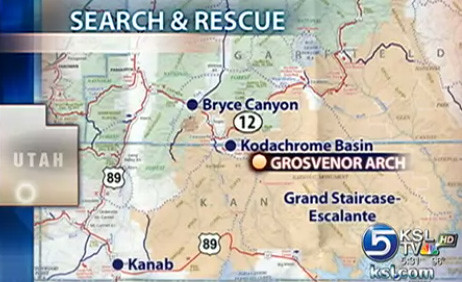 The convoy of four vehicles, containing 13 adults and 10 children, had visited Bryce Canyon and Kodachrome Basin. But it left pavement to visit Grosvenor Arch. Using a GPS unit, they tried to reconnect to a paved road far to the south. But they got lost in a network of dirt roads, which Kane County Sheriff Lamont Smith says often lead nowhere.
"Those little spurs, those little dirt sandy spurs go out to the cliffs and dead-end," he said.
With one vehicle stuck in sand and others running out of gas, they couldn't go back. And heat was an issue, especially for the children.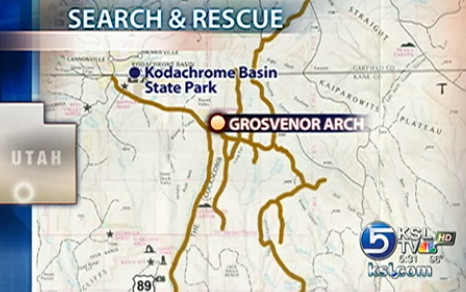 One of the stranded Californians, Edwin Saghian, said, "They were all sick, and they were all throwing up. You know, sick with the fever, stomach flues and everything like that. So it wasn't pleasant at all."
After they called for help by cell phone, rescuers delivered food, water and gasoline and escorted them out.
Sheriff Smith says tourists just shouldn't rely on a GPS unit in such rugged country.
"If you go off the pavement, you either need to ask the locals where the road goes or which roads to take, or else just stay on the paved roads, because a lot of these roads just don't go anywhere," he said.
Everyone is now OK with some important lessons learned. After the big scare, their vacation continues.
The sheriff says rescues in his county have doubled or tripled in the decade since President Clinton created the Grand Staircase-Escalante National Monument. He says far too many of them are triggered by people who think a GPS unit and a cell phone are all they need to get by.
E-mail: hollenhorst@ksl.com
×