Estimated read time: 4-5 minutes
This archived news story is available only for your personal, non-commercial use. Information in the story may be outdated or superseded by additional information. Reading or replaying the story in its archived form does not constitute a republication of the story.
SALT LAKE CITY — The world may be overflowing with a glut of oil, but that has not stopped an Estonia company from pursuing what would be the United States' first commercial production of oil shale in a remote section of Utah.
After three years of preparation, the Bureau of Land Management on Thursday released a draft environmental review of a proposed right of way for a utility corridor necessary for Enefit's planned South Project 40 miles south of Vernal.
None of the oil shale that would be mined and processed for a potential 50,000-barrels-a-day operation would come from federal land. But overhead power lines, road upgrades and a trio of other utility lines for natural gas, oil product and water would impact some federal land. BLM officials say about 256 acres would be impacted over the corridor's construction period — and then reclaimed — while 728 acres of federal, state and private land would be impacted in some way by the corridor itself.
Mining of the actual shale would take place on between 7,000 and 9,000 acres of private property and land owned by the state.
"We have worked closely and cooperated fully with the BLM and other federal, state and local agencies since the environmental review process began in late 2012," Enefit American Oil's chief executive officer, Rikki Hrenko-Browning, said. "Many issues and concerns were identified during the process, and we believe they have been sufficiently addressed to advance approval of the (action) to allow the utility corridor.
Utah's oil shale
The richest, most concentrated oil shale deposits are found in the Green River Formation in western Colorado, southeastern Utah and southern Wyoming.
Geologists suspect America's oil shale deposits could produce 6 trillion barrels of oil equivalent, but the majority of the shale is in formations that are hard to access and difficult to extract in an economically viable way.
Enefit American Oil's parent company in Estonia is the world's largest producer of oil and electricity from oil shale and supplies 90 percent of the country's power. Company officials are proceeding with the environmental review stage of their project, refining cost projections and the actual production process and design.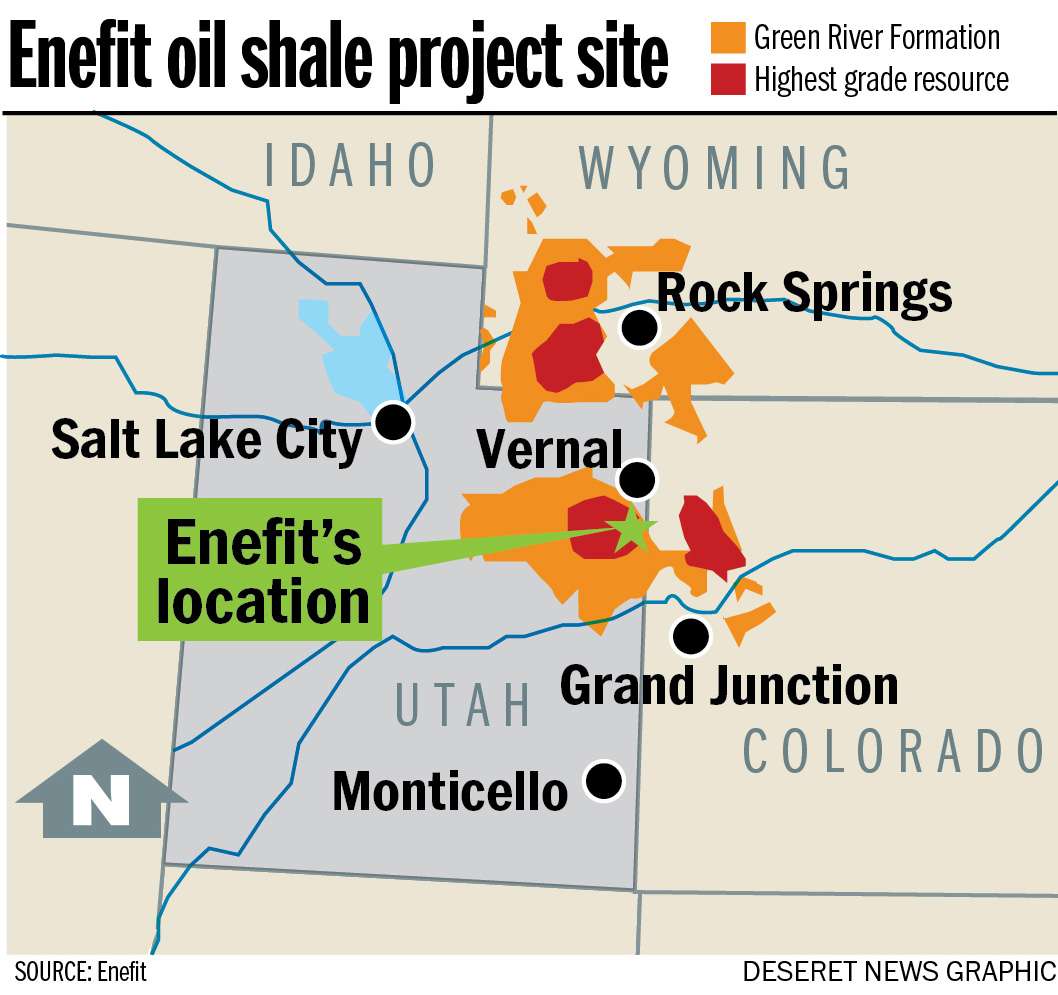 Hrenko-Browning said there's been no doubt that Enefit has been impacted by the struggling oil economy — creating a timeline for production that remains uncertain — but the company is not diverting from the permit process.
"Certainly we have slowed down, and certainly we have a lot of permits ahead of us still," she said, adding regardless, "We are committed to the long-term development of this project."
The Uinta Basin has been hit particularly hard by the free-falling oil economy, experiencing unemployment rates double that of the state's and an steady exodus of skilled workers to the Wasatch Front or elsewhere looking for jobs.
In a two part-series in February, the Deseret News explored the impacts of the slumping oil economy on the region.
In the utility corridor needed for the Uinta Basin project, the BLM is proposing to approve a 19-mile water supply line, 9 miles of a natural gas pipeline, 30 miles of overhead power lines and allowing Enefit to make upgrades to an existing road.
Three open houses are planned to provide more information to the public: Tuesday, May 3, Vernal; Wednesday, May 4, in Rangely, Colo.; and Thursday, May 5, in Salt Lake City.
Climate change concerns
Environmental groups are voicing their opposition to the BLM's proposed action and say it represents a step backward in the effort to combat climate change.
"The Interior Department is working against President Obama's climate goals here," said Taylor McKinnon with the Center for Biological Diversity. "Enabling the development of one of the world's dirtiest fossil fuels is the opposite of climate leadership. The administration should abandon this project now."
Added Rob Dubuc, senior staff attorney at Western Resource Advocates: "We don't need to take this environmental disaster that comes with developing the dirtiest fuel on the planet — oil shale. Renewable energy innovations and improvements in energy efficiency make this fuel unnecessary to develop. BLM should not advance this project."
Hrenko-Browning said project critics are attempting to spread opposition over a project component that is separate and distinct from the development of fossil fuel, and distorting information in the process.
---
We don't need to take this environmental disaster that comes with developing the dirtiest fuel on the planet — oil shale.
–Rob Dubuc, Western Resource Advocates
---
"The BLM's involvement in preparing an Environmental Impact Statement does not imply any kind of government endorsement either, as some have suggested," she said.
Enefit has yet to submit any documentation to the Utah Division of Oil, Gas and Mining and the mining plan is in concept only, according to federal documents.
Critics assert the mining operation will contribute to an increase in greenhouse gas emissions, but the BLM — while acknowledging climate change — said it is impossible to quantify its impacts on regional or global emissions.
"Connection of project specific greenhouse gas emissions to greenhouse gas emission effects at the state, regional or global level would have no context and is a relatively meaningless exercise," the draft analysis said.
The BLM said it will accept emailed public comments about the draft environmental review through June 14 at UT_Vernal_Comments@blm.gov.
×
Photos
Related stories
Most recent Utah stories