Estimated read time: Less than a minute
This archived news story is available only for your personal, non-commercial use. Information in the story may be outdated or superseded by additional information. Reading or replaying the story in its archived form does not constitute a republication of the story.
SALT LAKE CITY (AP) -- A Delta woman, who had told authorities in the past that her husband abused her, called the sheriff's office and said she had shot him to death.
Carole Elizabeth Sessions, 46, called Millard County sheriff's dispatch at 11:20 a.m. Saturday and said she had shot her husband, Martin James Sessions, 49, on Friday night, Millard County Sheriff Robert Dekker said.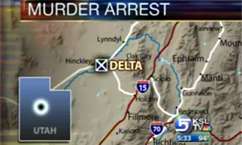 When deputies arrived at the couple's home, the woman directed them to the backyard, where they found the body.
Carole Sessions was booked for investigation of murder.
Dekker said Martin Sessions had been shot several times with a handgun, and the body had been moved from inside the house to the outside at some point.
Carole Sessions had previously complained to authorities that her husband had abused her, Dekker said.
------
Information from: The Salt Lake Tribune, http://www.sltrib.com
(Copyright 2006 by The Associated Press. All Rights Reserved.)
×