This archived news story is available only for your personal, non-commercial use. Information in the story may be outdated or superseded by additional information. Reading or replaying the story in its archived form does not constitute a republication of the story.
BRUSSELS — Just before the terrorist attacks at the Brussels airport, Mason Wells didn't notice anything out of the ordinary.
The 19-year-old from Sandy was serving a mission for The Church of Jesus Christ of Latter-day Saints in the France, Paris mission when he was caught in the blasts Tuesday morning. Even though he sustained second- and third-degree burns on his hands and face, with shrapnel hitting his leg and heel, he remained optimistic in an interview with Matt Lauer of the "TODAY Show" while recovering in a hospital Friday.
This isn't the first time Wells has been in close proximity to a terrorist attack. He was only a block away from the Boston Marathon bombing in 2013 and he was relatively close to the 2015 Paris attacks.
"These experiences that I've lived my entire life, they've done a lot to fortify my faith," Wells said. "I had some really personal experiences even sitting on the ground outside the airport, where I felt God's love for me. And that's something I would never deny. My only thoughts are that if God can comfort someone like me that went through those blasts, I know that He's there for everyone."
Wells was looking at his iPad at the Brussels airport when the first blast, which ISIS has claimed responsibility for, went off. He was told that he was only about 10 or 15 meters away from the bomb.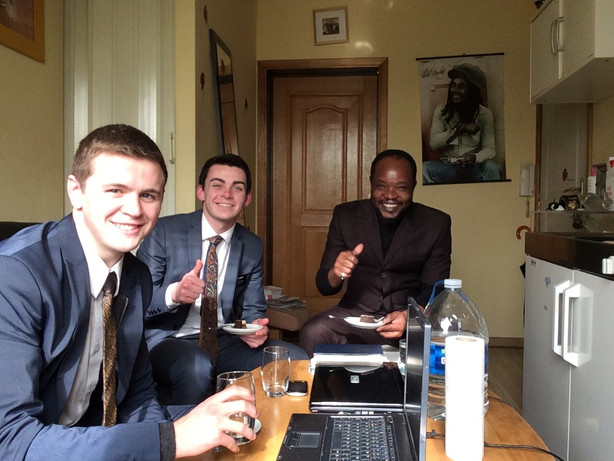 "I actually saw fire in front of my face and on the ground around me," he said. "I know that the burns came from that. My body was kind of lifted off the ground during the first blast. It was very loud and I started running towards the exit."
Wells said that he only took a couple of steps towards the exit when the second blast went off to the right of him a few seconds later. He doesn't believe he was hit by any shrapnel during that blast, but he did feel the impact wave. Wells remained conscious for both blasts and the following hours.
The 19-year-old has already been through surgery and is scheduled for more, with what will likely be a long recovery ahead of him. However, he said the doctors are doing a great job of taking care of him.
He has heard the three other missionaries who were injured are in good care as well, which makes him feel better. Wells said he knows he was lucky and feels love for others who were injured.
Wells' parents, Chad and Kymberly Wells, have been able to visit him at the Belgian hospital.
Contributing: Sam Penrod
×
Photos