Estimated read time: 3-4 minutes
This archived news story is available only for your personal, non-commercial use. Information in the story may be outdated or superseded by additional information. Reading or replaying the story in its archived form does not constitute a republication of the story.
SALT LAKE CITY — Buzz Aldrin's life has been all about timing.
Spending time flying with his father when he was young.
Timing in history that turned his U.S. Air Force service into combat experience as a fighter pilot in the Korean War.
While earning a doctorate from MIT, writing his thesis about perfect timing to intercept with an orbiting spacecraft that would gain the attention of a newly formed NASA.
Timing that bumped the moon landing mission up to his three-man Apollo 11 team.
And now, using his time to advocate for a manned mission to Mars.
"If space was the next frontier, I wanted to be part of it," Aldrin said Thursday, speaking to a cheering crowd at Salt Lake Comic Con's FanX event.
Edwin Eugene "Buzz" Aldrin Jr., a personal hero of Salt Lake Comic Con co-founder Bryan Brandenburg, joined the convention's increasingly creative lineup for the event, running through Saturday at the Salt Palace Convention Center.
Aldrin took time Thursday to meet with reporters at a kickoff news conference, sign books for fans, and speak to a crowd that included Sen. Orrin Hatch, R-Utah.
Dressed in a hand-me-down space suit that he got from his older brothers, 8-year-old Isaac Wilson stood on his toes to hand Aldrin a copy of his book to sign. The St. George boy came to FanX with his mother and two brothers to see Aldrin.
"He's the most famous astronaut in the world," Isaac said after a brief conversation with Aldrin, showing off the autograph in his new book.
During his presentation, Aldrin showed photos from the day he walked on the moon, reminiscing about the stories behind them. He recalled the first words that came to his mind as he stepped out of the lunar module and looked across the moon's dusty landscape: magnificent desolation.
"It was not a good place to set up housekeeping," Aldrin joked, drawing a laugh.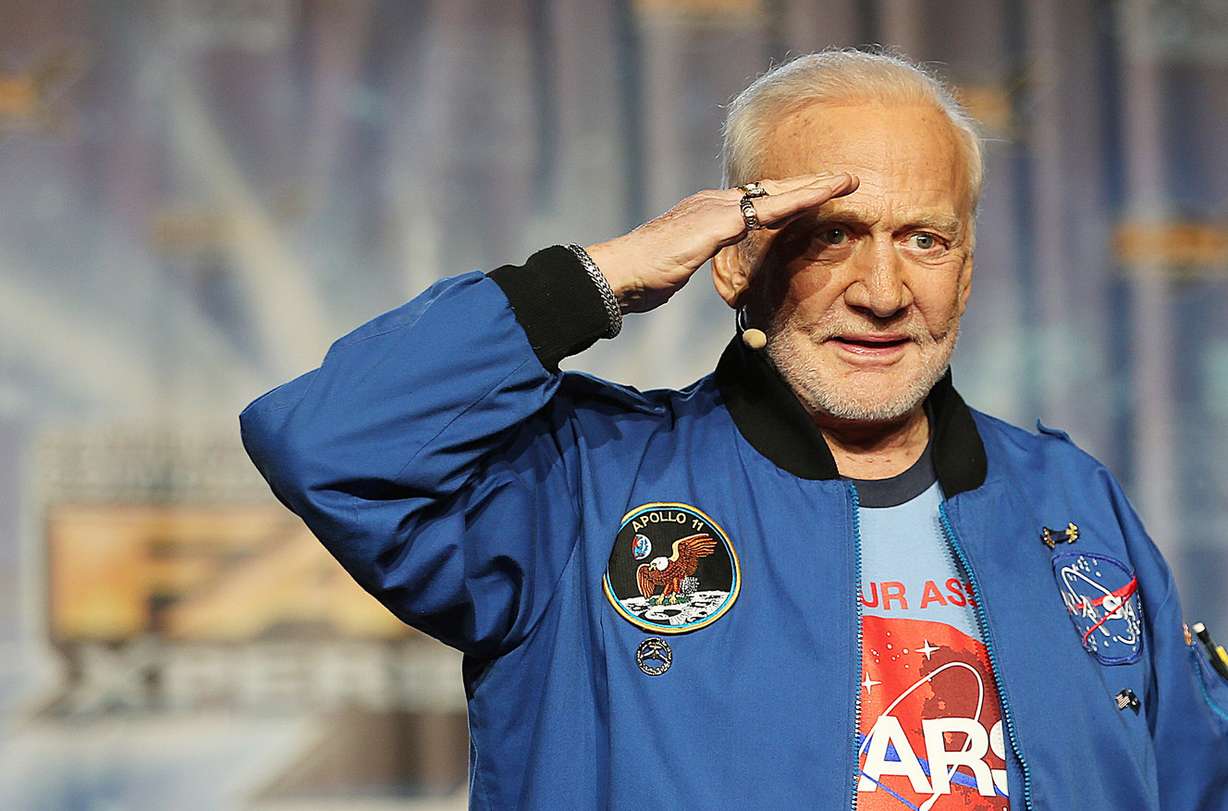 The astronaut took time to praise the more than 400,000 people who worked to make the groundbreaking mission possible, right down to the seamstresses who sewed his space suit.
"The world welcomed us back as heroes," Aldrin said. "But we knew they were cheering, not just for three guys, but for what we represented. That as a nation and a world we had accomplished the impossible. The true value of Apollo is the innovation and teamwork that overcame the many obstacles to reach the moon."
Life after the moon was challenging, Aldrin admitted, as uncertainty about what to do next led to depression and alcoholism. In time he asked for help, he said, a decision that brought his life back under control and moved him to continue studying what he loved: space travel.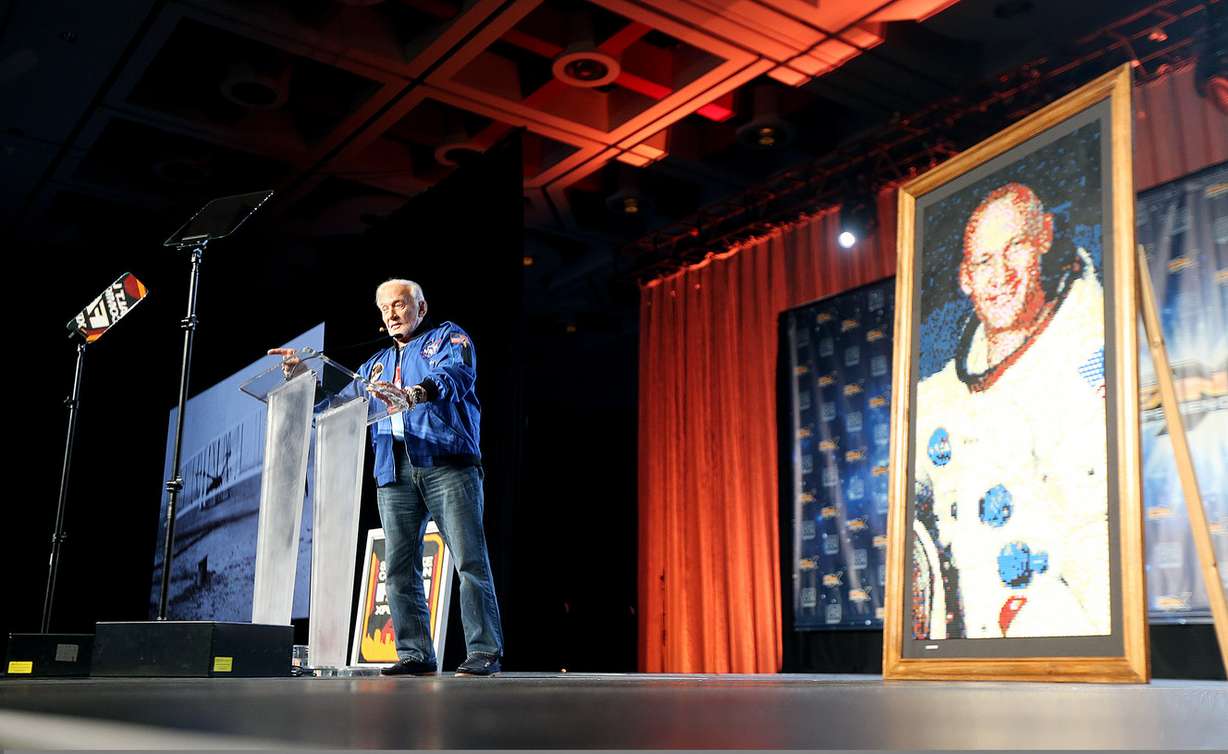 Aldrin concluded with his admonition to keep humanity's space research moving forward, an effort he says will bring scientific and technological advances that will benefit the world.
At 86, Aldrin said he doesn't believe he will live to see the world's first walk on Mars, but he hopes his theory about cycling pathways for space travel will lay the groundwork to make it possible.
"Humanity needs to push forward, beyond current limits, just like we did in 1969," Aldrin appealed, bringing the crowd to its feet. "Apollo was a story of people at their very best. We started with a dream and we did the impossible. I know, because I'm living proof that the impossible can be achieved, and it can be done again. Let's go for it!"
Aldrin has authored a book titled "Mission to Mars," as well as a children's book with the same message, which he said he hopes will inspire the next generation to propel the space program forward.
×
Photos
Related stories
Most recent Utah stories