This archived news story is available only for your personal, non-commercial use. Information in the story may be outdated or superseded by additional information. Reading or replaying the story in its archived form does not constitute a republication of the story.
PROVO — Sunday will mark a big moment for members of The Church of Jesus Christ of Latter-day Saints, with the dedication of the new Provo City Center Temple.
On Saturday, it was time to take a moment to celebrate the heritage of the community and Provo Tabernacle.
The cultural celebration was held in the Marriott Center at Brigham Young University. Several thousand young Latter-day Saints participated in the event that recounted the history of Provo, told the story of the historic Tabernacle and celebrated how this new temple came to be.
Through music, LDS youth from Provo and Springville joined together to celebrate Sunday's dedication of the Provo City Center Temple.
From the fire that destroyed the tabernacle five years ago, through the fascinating process to turn the burned out brick shell into a temple, the teens believe the new temple represents an important lesson about life.
"When life is the worst and crazy things are happening and life is so hard, to be able to come out of it and to be able to become this great thing and be blessed," said Rachel Holman.
Saturday night was also a moment for these participants to learn about the heritage of the community in a program, entitled "Beauty for Ashes."
"It is nice to hear the stories about the tabernacle and to know that we will have another temple here in Provo," said Julia Gonzales.
"I love it, it is so beautiful, it feels like heaven on earth," said Zachary Sink.
"The design, the architecture, the woodwork, it seems like the Lord was there to plan it and reconstruct it," said Carlos Colon.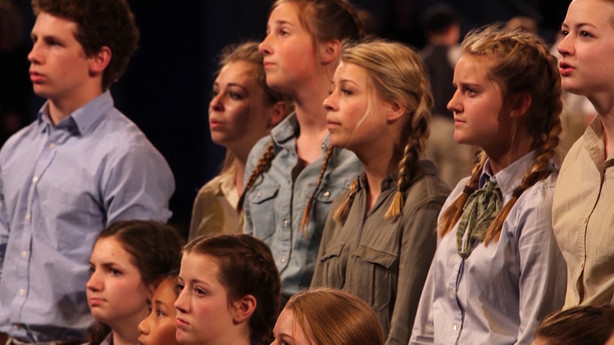 It's all in an effort to give thanks for the new temple and to help everyone feel a closer connection to it.
"We want them to feel the spirit and feel a great appreciation for the temple and this incredible gift that we have been given to have two temples in Provo," said cultural celebration director Polly K. Dunn.
The temple is designed to connect the past, the present and the future in the heart of Provo, all while preserving a community landmark.
On Sunday morning, church leaders will apply mortar to a cornerstone — the final symbolic step of the transformation of the Provo Tabernacle into what Latter-day Saints will consider to be a House of the Lord.
×
Photos
Related Stories