This archived news story is available only for your personal, non-commercial use. Information in the story may be outdated or superseded by additional information. Reading or replaying the story in its archived form does not constitute a republication of the story.
PROVO — Standing on the grounds of the newly constructed Provo City Center Temple is a statue of a little girl taking her first step, her parents waiting on either side of her with arms open.
The story of the statue, "In the Family Circle" began more than 40 years ago, though sculptor Dennis Smith recently modernized his work.
With his granddaughter, her husband and his great granddaughter modeling for him, Smith made subtle changes, including shortening the mother's dress and lengthening her hair.
Smith originally sculpted a version for The Church of Jesus Christ of Latter-day Saints in the 1970s. As part of the Nauvoo Monument to Women, it stands among 12 other life-sized sculptures Smith said were part of commemorating the different aspects of a woman's life.
"This one of course was the idea of a man and a woman and ... introduction to motherhood and ... woman and the man becoming a family," Smith said.
To raise money for the Nauvoo Monument to Women, small casts of "In the Family Circle" were sold to the general public, Smith said.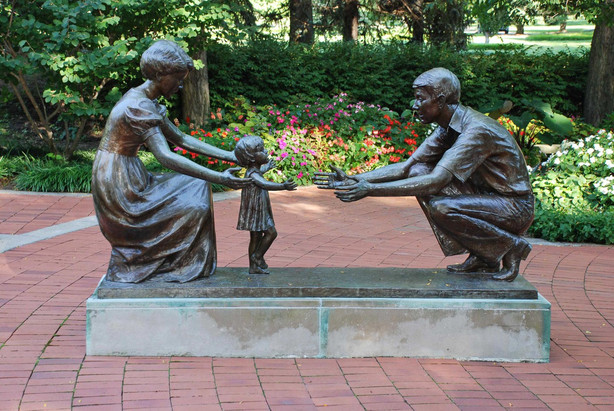 According to a 1989 General Conference address given by LDS Church President Thomas S. Monson, church leaders gifted an "In the Family Circle" statuette to Chairman of the State Council Erich Honecker the day he approved missionary work to open in the German Democratic Republic.
President Monson said Honecker was "highly pleased with the gift."
Smith has created more than 100 life-sized pieces. There are installations at the Seattle Washington Temple, the Madrid Spain Temple and the Triad Center in Salt Lake City. He is pleased with the placement of "In the Family Circle" at the Provo City Center Temple.
"It's kind of like the structure mirrors the temple behind. ... It was like it was designed to go there," Smith said.
The Provo City Center Temple will be dedicated March 20. Over 800,000 visitors passed through the doors during the recent open house.
×
Photos
Related Links
Related Stories