This archived news story is available only for your personal, non-commercial use. Information in the story may be outdated or superseded by additional information. Reading or replaying the story in its archived form does not constitute a republication of the story.
SANDY — Michelle Frazier played a song on the piano familiar to her 4-year-old son, Sam, snuggled at her side. It is music to her ears, as is the sound of Sam breathing clearly and easily without coughing.
It wasn't always the case. Both of her sons have asthma. Doctors diagnosed them at about age 1.
"It's really hard when they're that little just think, 'What can I do for you?' They don't know what's going on," said Frazier, who lives in Sandy.
Once while traveling it was so bad Sam ended up in the ER.
"He was starting to get a lot of retractions, which are indentations in their ribs, which shows that they're really struggling, that those muscles are trying extra hard to get the air in."
She hopes a new tool will help them avoid future ER visits. The eAsthma Tracker helps parents and doctors work together to manage symptoms. Doctors say it reminds parents to give medications and they can see first-hand how they're working.
On her computer or smartphone, Frazier answers questions about Sam's symptoms like, "Are they keeping him up at night?" And, "Is it interfering with daily activities?" It crunches all the data and lets her and her doctors know when he's in danger of having an attack.
The chart has three sections: green, yellow and red. If Sam were to dip into the yellow zone, his doctor could intervene to take steps better to control his asthma.
Frazier checks her older son's stats on the eAsthma Tracker. "Things look really good lately, which is awesome," she said.
Dr. Joseph Johnson, a pediatrician in Provo, helped develop the tool. "The parents love it because they feel like they know what to do when their child is having problems," he said.
Johnson works closely with University of Utah physician and researcher Dr. Flory Nkoy, who gathered responses from parents to design the new tool. "Because they are living with this situatiom, they are living with a child who has this disease and they know better, and now we are using them as experts to give us feedback," he said from his office in Primary Children's Hospital.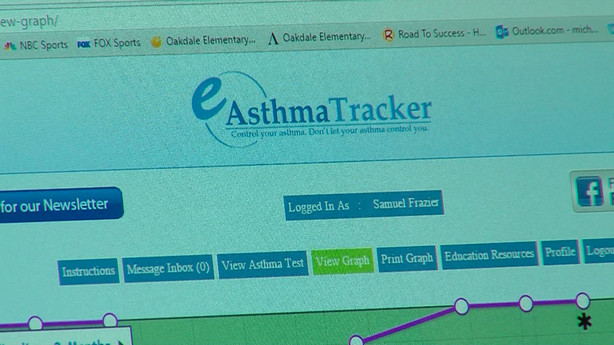 It's part of a study funded by a $1.9 million grant from the Patient-Centered Outcomes Research Institute, which strives to involve patients in research.
Frazier said she feels lucky she and her sons are a part of it. "We feel really blessed that we are doing so well."
So well that Sam is off his inhaler. Monitoring his symptoms weekly while taking that big step gave Michelle great peace of mind.
"Definitely. It made me feel more confident in my ability to follow it," she said.
"Doctors hope this tool will be available to all asthma patients and their parents, soon.
If you'd like more information about ways you can be more involved in you or your child's healthcare, there's a free conference tomorrow at the University of Utah. You can find more information here.
×
Photos