This archived news story is available only for your personal, non-commercial use. Information in the story may be outdated or superseded by additional information. Reading or replaying the story in its archived form does not constitute a republication of the story.
SALT LAKE CITY — When you walk through the front door, you're likely to be hit with a joke.
"I tell the story about the Scotsman and the Englishman," said Eric Gilzean. "The Englishman was bragging about how he was English. And he said, 'I was born an Englishman, I'm living as an Englishman, I'm going to die as an Englishman.' And the Scotsman said, 'Man, have you no ambition at all?'"
Gilzean runs Edinburgh Castle Scottish Imports, a store in the most unlikely of places.
"It's something that doesn't look like it should be here," he said.
It's a store with constant musical accompaniment, provided by speakers emitting the drone of bagpipes.
"Well, it lets people know this place is Scottish, in case they never noticed," Gilzean joked.
It's a store owned by a man with a name most have never heard before.
"It's kind of a Gaelic name," Gilzean said. "You don't spell it, you gargle it."
Gilzean's happy to admit many customers find this store a bit weird.
"As long as they don't think I'm weird," he laughed.
He's certainly not weird, but you won't find many storeowners in Utah who wear a kilt to work, even if he only puts it on for special occasions.
"I just wore this because I knew you were coming," Gilzean said.
It's easy to tell from his accent that he's not from around here, but Gilzean's made Utah his home. He followed his wife here 62 years ago, but never forgot where he came from.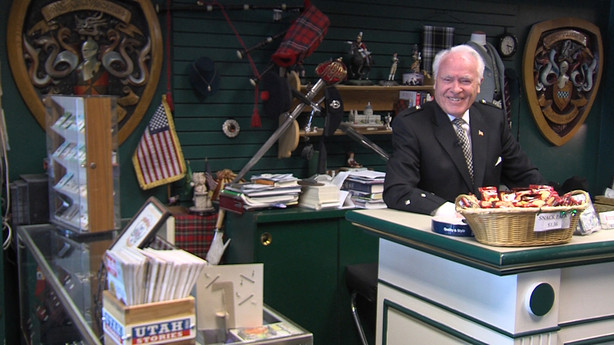 "I kept going back to Scotland on visits," he said. "Friends of mine used to say, 'By the way, could you bring me a Harris tweed jacket, 44 regular?'"
With every trip across the Atlantic, Gilzean became more and more of a pack mule, fulfilling all sorts of requests for Scottish goods. A fellow Scotsman told Gilzean he was missing out — why not turn his heritage into a business?
"The free enterprise system works even for Scottish people, you know?" joked Gilzean.
He's run stores in Trolley Square and Park City, but he's been on downtown Salt Lake City's Main Street since 1987, selling scarves, pocket watches, and that old Scottish staple: hats.
"Our top seller is hats and caps," Gilzean said.
But running a store like this means customers having asking the same question time and time again.
"Who's going to buy Scottish goods?" said Gilzean, repeating what he hears nearly every day. He sees his share of curious customers, but he also does business all across the country.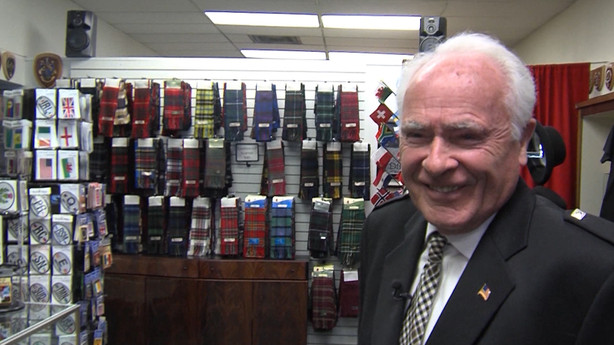 "Had a daughter that was fiddlin' around with computers. She said, 'You ought to get online, you know,'" said Gilzean. "I went down to BYU, and there was a fellow giving a talk about how to get a computer in your business. We got a computer, and then bingo, away we go."
Gilzean got into the Internet in its early years. He says his website's helped keep him afloat since the '90s — not just through sales, but through rentals.
"When that movie 'Braveheart' came over, there was an influx of weddings with kilts," he said. "That has never really abated."
Gilzean's proud of his heritage, but he's equally proud of his age, clocking in at 86 years old. Most people his age have been retired for 20 years.
"That's right, and they're sitting in rest homes looking at the wall," Gilzean said.
For four days a week, Edinburgh Castle is his home, and he has no plans of stopping.
"Just keep going 'till I drop, yes?"
So until he drops, you'll find Gilzean here, entertaining his customers and spreading his humor and heritage in the most unlikely of places.
---
Ray Boone is a photojournalist for KSL-TV. Contact him at rboone@ksl.com
×
Photos
Related Links