Estimated read time: 4-5 minutes
This archived news story is available only for your personal, non-commercial use. Information in the story may be outdated or superseded by additional information. Reading or replaying the story in its archived form does not constitute a republication of the story.
SALT LAKE CITY — As Salt Lake County Mayor Ben McAdams began his State of the County address Tuesday, Groundhog Day, he wondered what the groundhog would think about the Salt Lake Valley.
"I'm sure (it) would see that the state of our county today is strong," the mayor said. "But what about the future we see coming?"
Unlike forecasters who lure the groundhog out of its den and use its shadow to predict whether spring will arrive early, Salt Lake County will chart a future with smart tools and scientific data to make it "safer and stronger," McAdams said.
With public safety a top priority, the mayor announced the county will soon be implementing a long-awaited system to aid 911 dispatchers.
Two years ago, county officials approved $1.4 million to standardize emergency dispatch throughout the valley into a single computer-aided system, a measure the mayor declared necessary to reduce emergency response delays.
"Over the next 18 months, the transition to a single, countywide, computer-aided dispatch system will happen," McAdams said. "That's a change that saves lives and money."
With hard data at the core of McAdams' vision for the county, he also unveiled a new online tool — the Salt Lake MetroStat dashboard — to allow the public to see how the county is using that data to make decisions.
"As you explore the dashboard, you'll see where we need to do better," McAdams said. "We face challenges, such as criminal justice, homelessness, road maintenance, supporting an aging population, jobs and the economy, and air quality. We recognize those challenges, and we will meet them head on."
According to the dashboard, Salt Lake County is succeeding in its goal to maintain at least 50 percent of county roads at a level of "good" or higher. But McAdams said the county's public works team estimates maintaining that standard requires an investment of $7.5 million per year.
"In 2015, we spent $2.3 million, far less than our goal requires," he said. "Salt Lake MetroStat will show us and the public the gap between current road maintenance, available revenue and our ability to meet our standard."
The dashboard also shows Salt Lake County's homelessness rate "needs improvement," with 2,140 homeless individuals in January 2015 — a number county officials hope to reduce to 1,732 by 2018.
McAdams discussed how county officials hope to accomplish that goal through the work of its Collective Impact on Homelessness Steering Committee, and a $27 million request to the Utah Legislature to help fund services, shelters and affordable housing initiatives.
On crime, the dashboard shows the county's crime rate is "on track," at 4.74 percent as of 2013, but it's still the highest crime rate in Utah.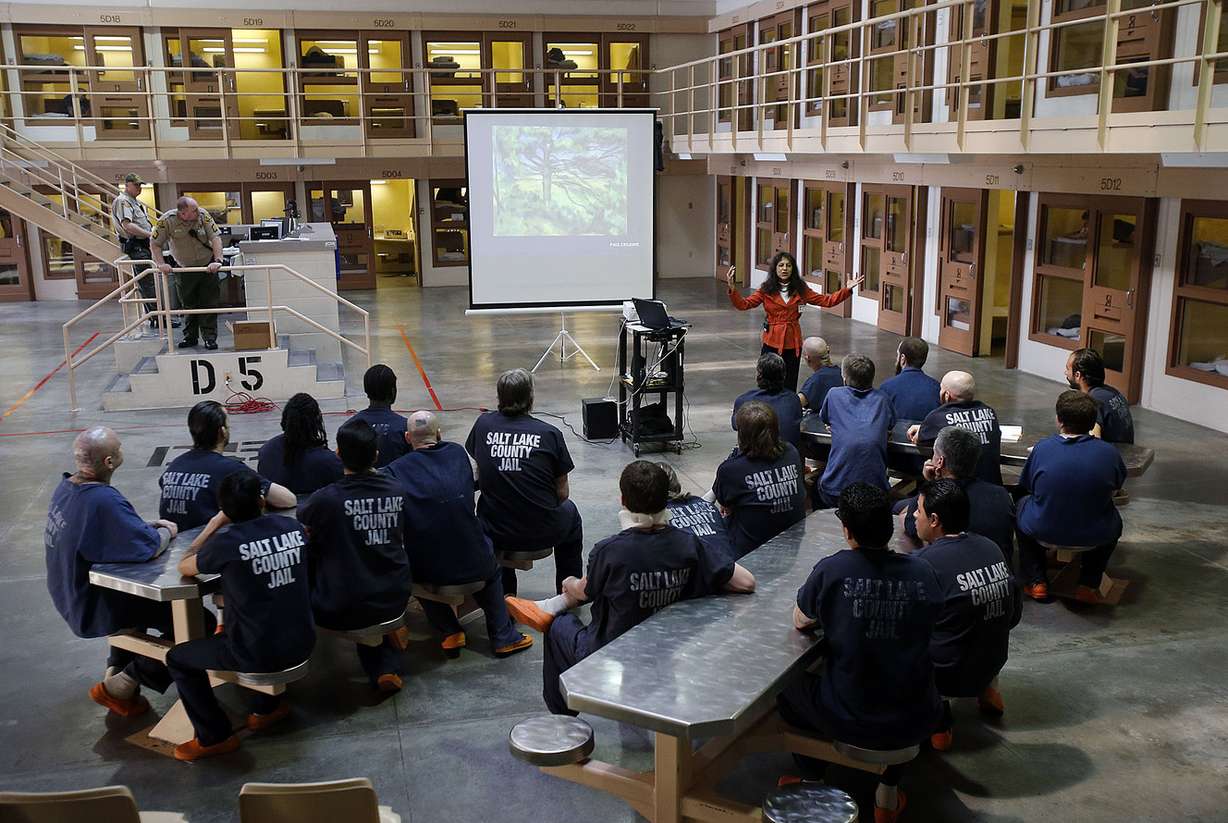 "Public safety is the county government's core responsibility," McAdams said. "We've had limited resources available to fund programs that would offer treatment — not jail — to those who frequently reoffend for low-level crimes. And assessing where we are today, well, we know we're losing ground."
The mayor said the county's sheriff and district attorney face increasing caseloads and a swelling jail population, but that's why county officials recently decided to continue a property tax that would have expired this year to pump more than $3.5 million into criminal justice budgets.
Plans include building a new community corrections center that includes treatment beds as an alternative to jail beds, as well as a receiving center to divert offenders to treatment rather than jail.
The mayor also championed two Pay for Success projects planned to target jail recidivism and homeless populations cycling in and out of the jail.
McAdams thanked the County Council for leaning toward committing $1.5 million to First Step House to develop a program to reduce recidivism, and another $1.5 million for the Road Home for a program to deal with homeless people who take frequent trips to the Salt Lake County Jail.
While some County Council members have expressed concerns about spending $3 million on what councilman Richard Snelgrove has called an expensive "experiment," the council has warmed to McAdam's proposal to bring private-sector dollars on board to fund programs upfront, with the county only repaying that money if goals of the program are met.
But the funding cannot be formally set until a public hearing Feb. 23, when the County Council will decide whether the $3 million will in fact be pumped into the Pay for Success programs.
Maintaining his previous skepticism in Pay for Success programs, Snelgrove said he's "cautiously optimistic" they will be a worthwhile investment.
County Council Chairman Max Burdick said he is always concerned when new programs are introduced, but he also hopes the county will continue to emphasize public safety.
"I'm not the guy that's always ready to start spending money," Burdick said. "I want to sit back and find out the best way to spend it. So my concerns are with these new programs, but I also want continued emphasis on public safety. That's always got to be No. 1."
×
Photos
Most recent Utah stories