Estimated read time: 4-5 minutes
This archived news story is available only for your personal, non-commercial use. Information in the story may be outdated or superseded by additional information. Reading or replaying the story in its archived form does not constitute a republication of the story.
SALT LAKE CITY — Kristie Griffiths was driving to work when she looked down at her hands and saw that they had turned bright white.
"That was the beginning," said husband Jerry Griffiths.
Three years ago. That's when Kristie's blood vessels began to leak and scar. That's when the skin began to tighten on her hands and body. That was when her body turned against her.
The diagnosis is systemic sclerosis, and it has no cure.
The Griffiths are holding out hope that a clinical trial of a new drug will bring relief. Four doctors worldwide are leading testing of the new compound, and one of them is Dr. Tracy Frech at the University of Utah.
Frech helped start the systemic sclerosis clinic at the U., which remains the only one in the Intermountain West. Her patients come from as far as Idaho, Montana, Nevada and Alaska.
For every patient who walks through her door, Frech has the tough task of telling them there is no medication for their disease.
"There is disappointment," Frech said. "They're like, 'Is there anything you have to offer besides being in your local registry?'"
Systemic sclerosis is rare — affecting about 35,000 to 70,000 people in the U.S. — and doctors still don't know how best to treat it. Should they suppress the immune system? Focus on diet and nutrition? Use multiple therapies together?
"Those questions are not yet answered," Frech said, adding that the body's immune system seems to turn on itself "for no reason."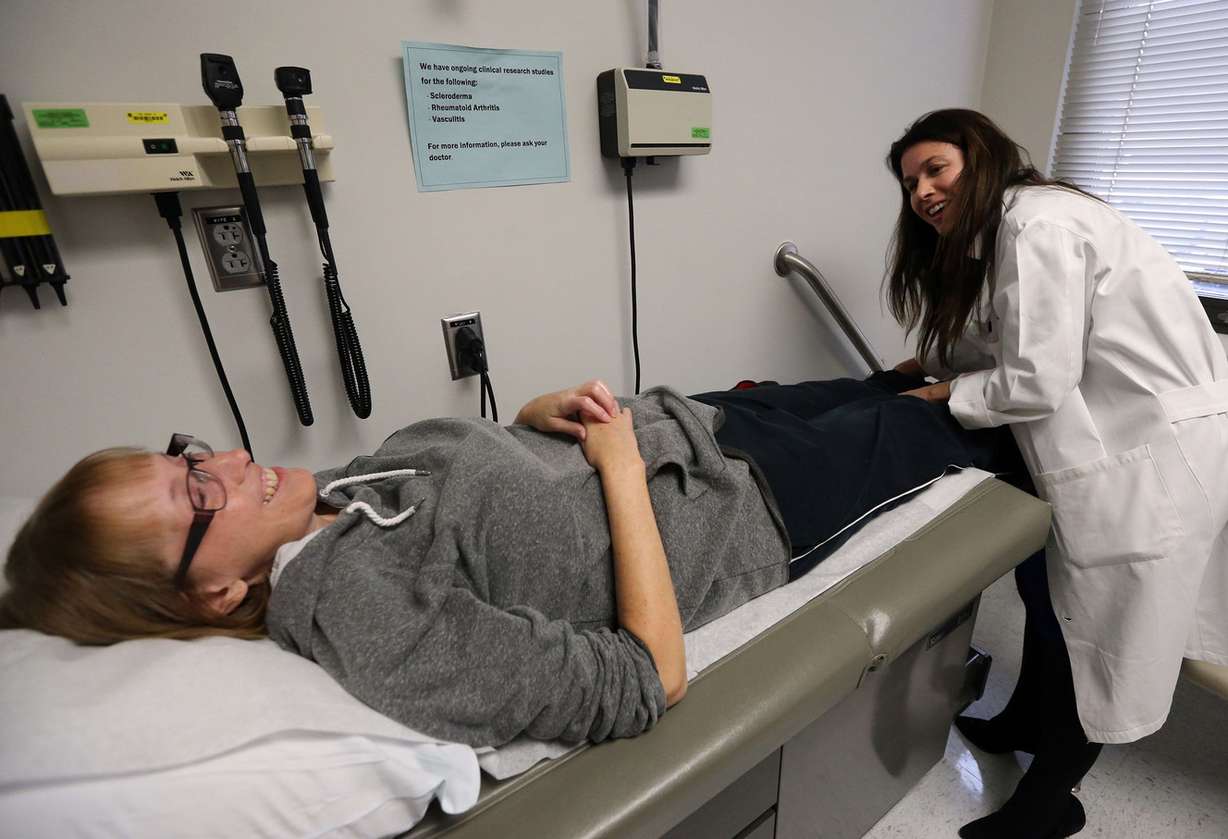 The autoimmune disease usually affects middle-aged women.
It starts by attacking the smallest blood vessels in the body. The scar tissue that forms as a result ends up blocking oxygen and nutrients from circulating properly. Eventually, the joints, skin and internal organs can be affected, causing constant pain.
"It's like a toothache under the skin all the time," Frech said.
The symptoms can vary wildly in type and intensity, making sclerosis hard to treat — and deadly.
The story is seen in Kristie Griffiths' hands.
At first they turned white, then blue — something called Raynaud's syndrome. Now they are shiny, the skin pulled tight, paralyzed in a painful claw. She can't open them or close them. She is frozen.
Before the disease hit, Griffiths was a financial director of a skilled nursing and rehabilitation center in Logan. She was also a mom and grandmother who loved hiking with her family.
Now she's largely confined to her house. Her husband does everything for her: holding a straw so she can drink water, tying her shoes, making sure the cans are opened before he leaves for work.
"We used to go camping all the time, we used to hike everywhere, and I think the frustration is sitting back at camp and not being able to do that," Kristie Griffiths said.
And then there's the pain, which she calls "excruciating." It's constant, and it gets worse with the cold.
After years of "scouring the Internet on a daily basis looking for any shred of hope," they found out about Resunab, Jerry Griffith said.
Frech was recruited by the pharmaceutical company developing the drug because she had been interested in the same compound. At the time, she was curious whether it could be made into a cream.
The compound is a synthetic endocannabinoid. That means it binds to a set of receptors that are a close relative of another kind of receptor — the kind that attaches to THC, an active chemical in marijuana.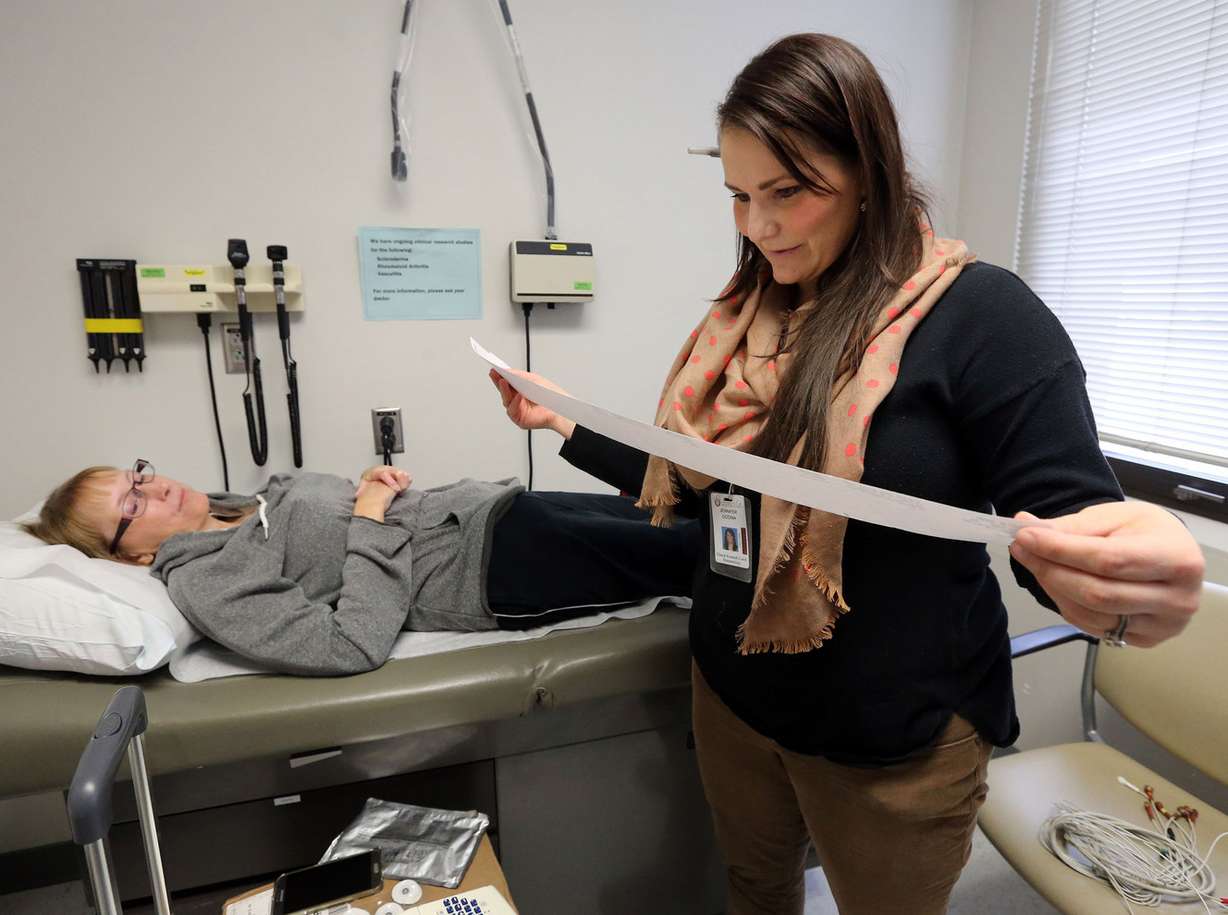 But Resunab activates only the receptors that deal with the immune system — not the brain, as THC does — and does not cause psychoactivity, according to Dr. Barbara White, the chief medical officer of Corbus Pharmaceuticals, which is developing Resunab.
Rather than shut down the immune system, the drug is believed to help activate and balance it, White said.
And because it's thought that Resunab can improve fibrosis and scarring, the drug might have implications for other diseases with a lot of inflammation, such as cystic fibrosis.
If it works, it would become the first FDA-approved medication specifically for systemic sclerosis.
To the Griffiths, it would be the first glimmer of hope in three years.
"As long as she wakes up, and I get to see her face, the day can only get better from there, no matter what it brings," Jerry Griffiths said. "She's my best friend."
Contributing: Heather Simonsen
---
Daphne Chen is a reporter for the Deseret News and KSL.com. Contact her at dchen@deseretnews.com.
×
Photos
Related Stories