This archived news story is available only for your personal, non-commercial use. Information in the story may be outdated or superseded by additional information. Reading or replaying the story in its archived form does not constitute a republication of the story.
SALT LAKE CITY — Like Gordon Hayward's underdog Butler team in the NCAA Tournament years ago, Travis Fredericks, too, is an underdog hoping to beat his fight with cancer yet again.
First diagnosed with colon cancer in February 2010, Travis has beaten cancer, seen its ugly face rear its head again and beaten it a second time, only to see it come back again, each time more aggressive than the last. As a true underdog, though, Travis is not ready to give up the fight just yet, which makes his connection to Hayward — one of Travis's favorite athletes — all the more special.
Hayward, now a veteran member of the Utah Jazz, shared a simple message on his Instagram account in early January stating that he was "wearing my blue for Travis Fredericks" — a phrase the Fredericks family adopted in Travis's first bout with cancer. Although a simple, seemingly meaningless gesture to others, Travis was blown away and grateful for something positive from one of his favorite athletes.
The Instagram post, and a subsequent Facebook post, came just two days after Travis learned his cancer was back for the third time and that the prognosis was gloom — a two-month to two-year chance at life with a 5 percent survival rate.
"It made my day, it made my week. I mean, I'm still talking about it and I tell everybody about it. It's not something that's quickly forgotten," Travis said amid receiving a treatment of chemotherapy.
"It's easy to get really, really down and really upset, and it's just stuff like that that brightens everything up," he added. "I know it's kinda silly because he's just another person. He's younger than me, too, and he's a kid in a lot of ways, but it's a special connection you get with sports."
For Hayward, it's a simple opportunity to help someone in need of support — an opportunity to bring some perspective to life.
"I heard about the story, and it kind of puts life in perspective when guys are battling cancer," Hayward said. "We're battling to get wins, but they're battling to hang on to life, and if there's anything I can do to support him, it's what I'm going to do."
Although already one of his favorite athletes, Travis said the gesture "makes you feel like he's really down to earth and just really cares about people, which I've heard is true about him."
Travis's battle with cancer
Prior to Travis's first bout with cancer, he had been studying to become a teacher while working in a management program at America First Credit Union. The credit union had given him the flexibility and opportunity to enter a potential management role while deciding whether a career in teaching was worth pursuing. Eventually, though, he would have to choose a career path.
"I was dealing with that choice, and boy did I think that was a tough part of life, having to make a choice like that," he said, reflecting on the now seemingly easier way of life before everything changed. "Getting that first (cancer) diagnosis ruined all that."
Cancer quickly took hold of Travis, and he was forced to pause his career path. For the next six months, Travis was given the flexibility to essentially put a hold on work and schooling as he went through treatments to eradicate the cancer. In time, Travis was eventually "cancer-free" and ready to get back to regular life.
Shortly thereafter, though, Travis got severe "survivor depression" and anxiety and was incapacitated as a result of the debilitating effects. Even the thought of getting out of bed was too much for Travis. As a result, Travis was forced to give up his job at the credit union as he worked to overcome his newfound disorder.
"I was unemployed, and my wife had to go back to work at that point," he recalls. "I continued to fight this depression and anxiety. I tried everything. I tried counselors, psychiatrists and all the different kinds of medicine. Finally, we found one that kinda started working."
Through an assortment of medication and months of therapy, Travis was starting to feel like his normal self again. But in November 2012, the cancer had come back and was more aggressive than the last.
"I was just coming out of it and seeing the light again. I was able to get out of bed and function and do the daily activities you need, and then I got diagnosed again," he said.
Shifting to survival mode, Travis said the depression and anxiety immediately went away as he focused on beating cancer yet again. The only other option was to give up and "I knew that if I did I would die."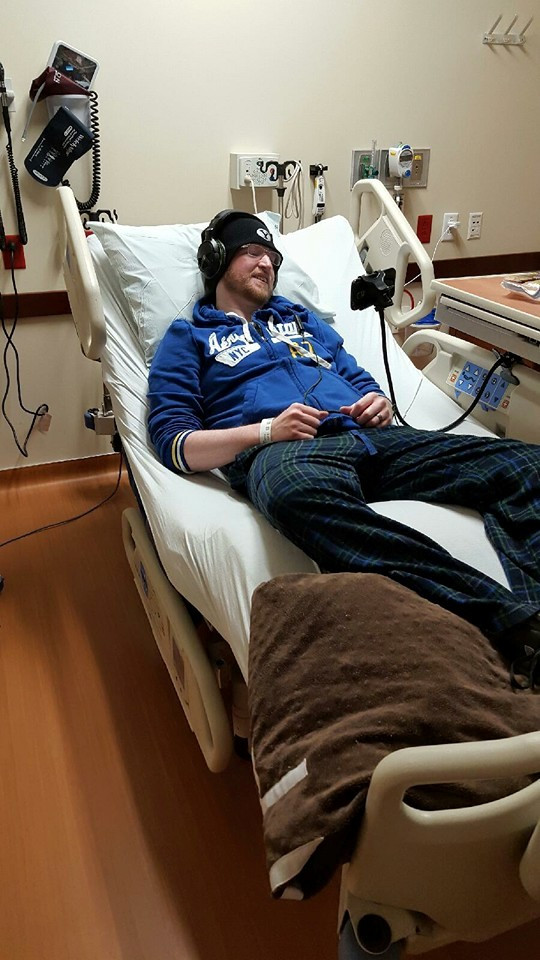 The cancer was aggressive and Travis rapidly lost weight. When healthy, he weighed approximately 220 pounds at 6-foot-1, but soon found himself down to 140 pounds and having a hard time fighting the cancer. The chemotherapy and radiation treatments had taken their toll on his body, and he was "at risk of not being able to fight the cancer."
Fortunately for Travis, the chemotherapy and radiation treatments killed the cancer, and he was able to undergo surgery to repair his colon. Shortly thereafter an abscess, which was created by the radiation treatments, was later discovered in his colon, leading to severe pain and crippling effects to his body.
"The pain it would cause was so bad that I would fall to the ground if I wasn't already lying down, and I would scream at the top of my lungs and I would just cry," he recalls. "They had me on the strongest narcotics you can be on — the max values of those — and it was barely controlling any of that pain; it was barely helping. (The pain) was still so severe that I couldn't live that way."
Doctors performed a colostomy to essentially bypass the abscess and ease the pain. With the help of antibiotics, doctors hoped to eliminate the abscess so Travis could ease back to a relatively normal lifestyle again. However, after further tests, cancerous cells were discovered surrounding the abscess and inside his lungs — metastatic colorectal carcinoma. The likelihood of overcoming the cancer a third time was extremely slim.
"I still find myself in kind of a denial, where I don't feel like it's true: the doctors have messed up or we're going to find out that it wasn't bad at all," he said. "It's surreal, and it's hard to wrap your mind around it, but at the same time, the devastation is definitely real."
Once again, Travis is on chemotherapy and radiation treatments as doctors hope to eliminate the cancer. Although the cancer is life-threatening, Travis is left hoping his immune system can stay strong enough to fight off an infection in his body while battling the cancer.
"So far I've been alive because my immune system fights that infection," he said. "If my immune system gets destroyed to the point that I can't defeat that infection then that's what's probably going to get me, in a way, because I'm going to get so sick and unable to eat."
In the coming weeks, Travis will have a clearer understanding of whether the 5 percent chance looks more like a reality or a fading dream. He will continue to receive chemotherapy treatments in hopes that he'll be able to beat cancer once again, but his wife Stacy said there may come a point where the reality may be that his fight will have to come to an end.
"It's hard to force yourself to be sick for a 5 percent chance," she said. "If we get to that point where the doctor says this isn't working, I don't think he'll continue to put more poison in his body if it's not doing anything."
Preparing for the future
As a father of three young children ages 10, 8 and 5 years old, Travis said he's more concerned about their future life, should his life end early. In preparation for his potential passing, he's started created short little videos for his children to help them get through the various stages of their life.
"They'll have these videos to watch and still get advice from him as they grow older," Stacy said.
"It's tough to think that I might not be around to do that — all their big events, their milestones," Travis said. "But even more so, the day-to-day, the hugs and the kisses and the smiles, it's tough."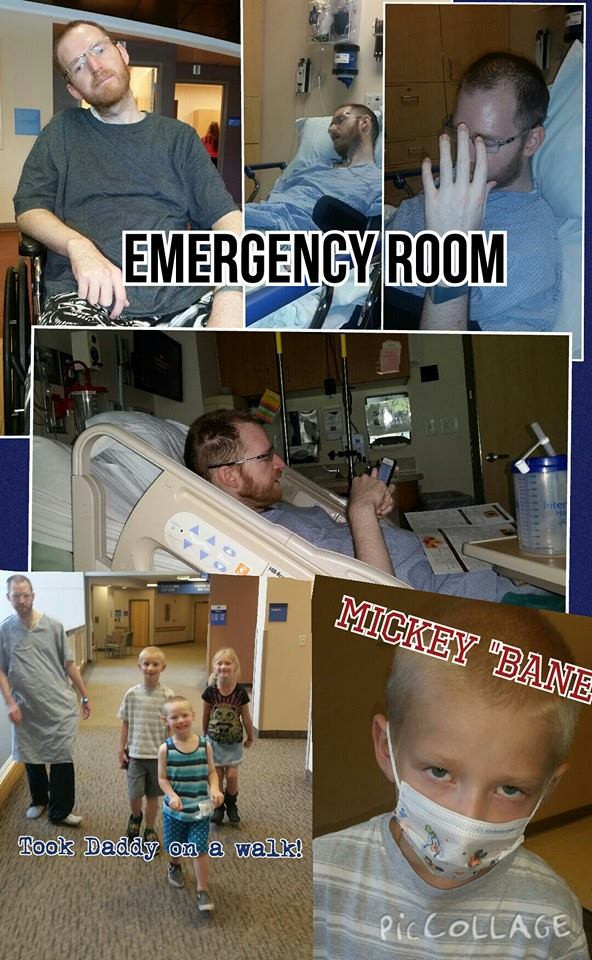 "I think I can figure out a way to be OK, but thinking about these kids not having their dad there when they get married or reach those milestones and go on a date is hard," Stacy said. "Trav has always joked with our daughter about her never dating because he was going to be there to scare every guy away. To realize that he might not be there for that, it's really hard. They love him so much and is such a good dad."
To Travis's 5-year-old son, overcoming cancer is all about magic.
"He gave me a hug (and said): 'I'm sorry you're sick. I just want you to know that if I was magic and I just had one more spell that I could use — it was my very last one — I would use it to get the cancer out of you.' I was like, gosh, that's so dang cute. Of course, I lost it a little bit," Travis recalls.
For the Fredericks, though, it's all about keeping perspective and living for today.
"You have to keep perspective that right now, in this moment, you're OK, and right now in this moment you can create memories, and in this moment you're alive — you're with your family, you can smile and it means something," Travis said. "It's still real; your life is just as real as it was before. It means just as much as it did before, if not more so. You have to remember to focus on day-to-day and moment-to-moment; otherwise you'll go down a path that you don't want to step down."
"I try to keep the perspective of today and living in the moment. I think there's always hope for the future, that I try to focus on every moment we have together. Obviously, there's the fear of losing him. You have to accept that," Stacy said. "It's hard not letting it consume you, and some days I let it give in, especially when he's really sick. He has some really bad days and those are the days that I can't really focus on it. Those are the days where I really lean on other people.
"We planned to grow old together, and so how do you really ever plan that he could be gone in a matter of weeks?" she adds.
Although the Fredericks family tries to live in the moment and hope for better days, the reality is that Travis is dying and has an incredibly uphill battle ahead of him. In the meantime, though, Travis will operate as if it's another day, another chance to be with his family and those he loves.
"Life has a really high market value when you're comparing it to not having it and having it is a big deal. I want those first few months, and I want to live with that, and then I'm going to look at getting through those next few years," he said. "I'm going to save all those moments and enjoy it like I'm going to make it. I'm going to pretend like I'm going to make it the whole way until they tell me that I'm not, and then things might change a little bit; I might eat more junk food."
×
Related Links