Estimated read time: 2-3 minutes
This archived news story is available only for your personal, non-commercial use. Information in the story may be outdated or superseded by additional information. Reading or replaying the story in its archived form does not constitute a republication of the story.
A new bug has made its debut in Salt Lake this year. In fact, it's the first time it's been seen in all of North America.
Walk anywhere in Jan Robbins' Cottonwood Heights yard and you'll find what are called red firebugs, lots and lots of them.
When Robbins first noticed them, she called entomologists at Utah State University. They promptly paid her a visit. "I noticed them coming out in the yard. I only noticed them a few, at first, and then every time I would go out, I would see more and more and more," she said.
Though they look similar to our traditional Box Elder bugs, the red firebugs are different. They have different coloration, and they are proliferating by the thousands.
The bug is native to Europe and probably found its way to Cottonwood Heights in Salt Lake on an imported plant or a seed.
"The red firebug is brand new to North America, first found in Salt Lake City this spring," said Dr. Erin Hodgson, entomologist at Utah State University. "It feeds on extremely dry seeds of linden, mallow and lime -- I wouldn't expect too much lime in the Salt Lake area."
Hodgson says it's doubtful the seed-eating firebug will do any significant damage to plants. But eventually, in sheer numbers alone, it will intimidate us.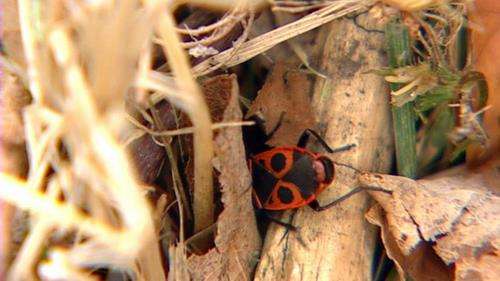 Robbins thinks we'll probably see them in masses on the sides of sheds, houses and other structures. "It will probably try to get into the structure when things start to cool off in the fall," she said.
Robbins is not worried about her plants, but the proliferation of the red firebug is far from appetizing for family wanting an outdoor barbecue. "[I] decided there was just too many bugs to deal with. I didn't want to have the side course being the bugs, you know," she said.
Hodgson expects the red firebug, which will adapt well here, to continue to spread throughout northern Utah.
For more information, or if you believe you've got the red firebug in your yard, click the related link to the right of the story.
E-mail: eyeates@ksl.com
×
Related links
Most recent Utah stories