Estimated read time: 4-5 minutes
This archived news story is available only for your personal, non-commercial use. Information in the story may be outdated or superseded by additional information. Reading or replaying the story in its archived form does not constitute a republication of the story.
CLEARFIELD — A program aimed at propelling veterans into a new career path after leaving the military is taking off at Hill Air Force Base.
The Solar Ready Vets program announced by President Barack Obama during a visit to Utah last April has begun training the first class of local veterans transitioning to the civilian workforce.
The training, scheduled to officially begin on Feb. 1, is a collaborative effort with Salt Lake Community College in partnership with the Department of Energy. Some of the training will take place in Hill classrooms, while some will be online "self-driven" learning, explained SLCC program coordinator Judy Fisher.
"All these people from the military bring various skills with them that allow them to go into whatever field they prefer," she said. "They are reliable, hardworking (and) they understand the concept of coming to work on time ready to go."
Fisher noted that the solar industry currently employs more veterans than any other industry in the nation. Participants will learn numerous skills pertinent to the solar sector, including technology, installation, design and maintenance.
Fisher said that the exponential development in solar nationwide makes this kind of program an excellent fit for transitioning veterans wanting to pursue a new career after completion of their military service.
"There is a lot of growth opportunity for them, and they bring a lot of skills with them … managerial skills, program management skills, all the things they've learned during their years in the service," she said.
Hill was chosen to be part of the program based on the number of exiting military personnel from the installation, the strength of the surrounding solar market and the capacity of nearby training institutions.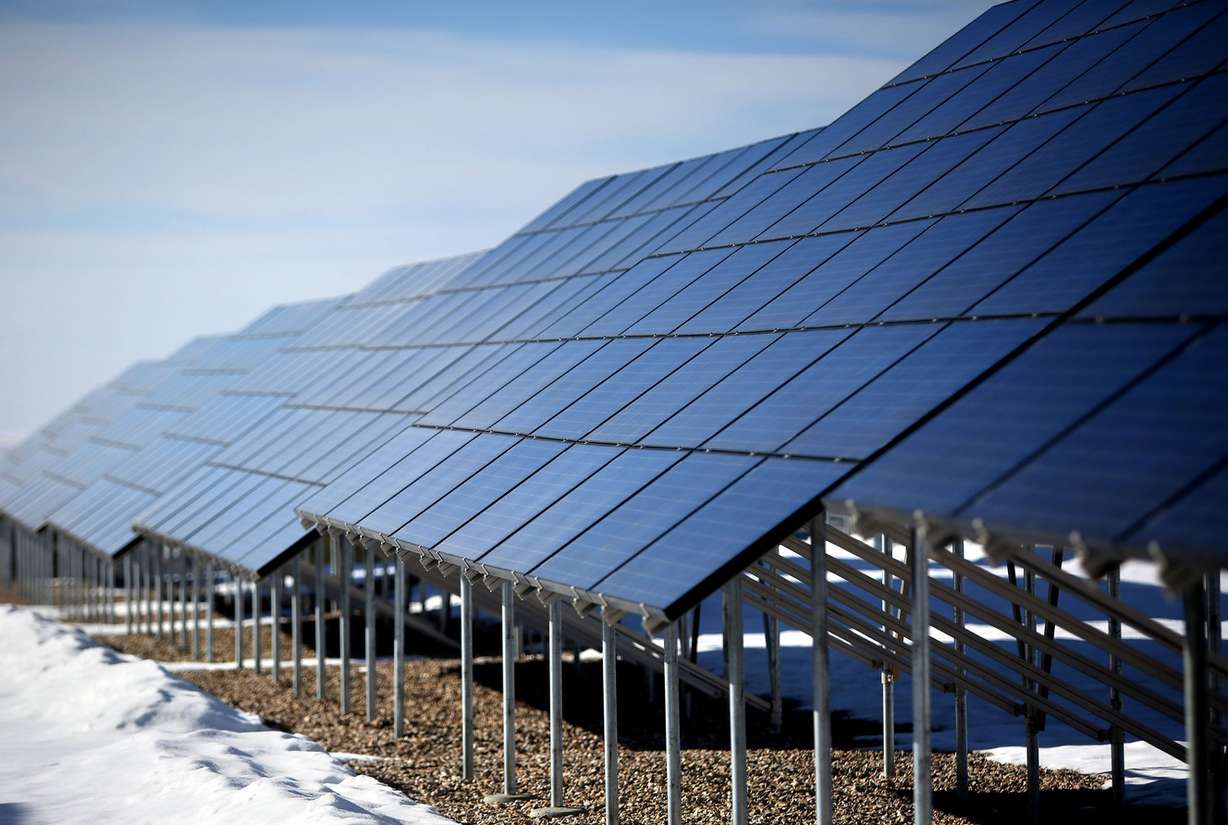 The base acquires 20 percent or more of its overall energy from renewable energy sources. When the base's solar array installation was completed in June 2009, it was Utah's largest ground-mounted photovoltaic system at the time.
"We take pride in the energy initiatives we have underway here," said Col. Ron Jolly, commander of the 75th Air Base Wing at Hill.
When it was originally announced in April 2015, Obama said the new program is one of many steps to help nearly 700,000 veterans and military spouses get a job. Hill is the fourth base to implement the program, which is already underway at Camp Pendleton, California, Fort Carson, Colorado, and Naval Air Station Norfolk, Virginia, Fisher said.
Related
Thus far, 150 military veterans have registered to begin training for careers in the solar energy career field, she noted.
While veterans are not guaranteed a job, the Energy Department reports that all of the participating veterans have been extended job offers from renewable energy companies participating in the initiative. Starting salaries for these types of positions average between $20 per hour to $24 per hour. The program prepares veterans to be strong candidates for a wide range of solar energy careers, including management, photovoltaic installation, sales and technical positions.
The program is tied to the Department of Defense's SkillBridge Initiative, a program designed to equip active duty military personnel within six months of moving to veteran status with skills to enter the civilian workforce.
The Department of Energy is working with the Department of Defense to expand Solar Ready Vets to a total of 10 military bases by late spring 2016.
During the initial phase, classes are paid for by the Energy Department, while funding for continuing classes paid by the members' G.I. Bill benefits, said Capt. Joshua Tate, deputy director of the 75th Force Support Squadron.
"We have eight currently registered with more Airmen expressing interest every day," he said. "Many are currently working through the application process."
Among those Hill airmen enrolled in the program is Master Sgt. Christopher Howe, an armament section supervisor, who plans to retire after a 20-year career in the Air Force. He described the program as a "great opportunity."
"It's free training toward the end of my (military) career that gives me relevant skills for the civilian job market," he explained. "I couldn't see not taking advantage of the training."
Howe said he has always had a passion for the idea of the sustainability economy and this is a way to become meaningfully involved in it.
"Sustainable energy fits into that paradigm and is certainly something I'd be interested in doing," Howe said.
×
Photos