Estimated read time: 4-5 minutes
This archived news story is available only for your personal, non-commercial use. Information in the story may be outdated or superseded by additional information. Reading or replaying the story in its archived form does not constitute a republication of the story.
PLEASANT GROVE — Pleasant Grove High School is about to be overrun with former disc jockeys. Forty years worth of DJs have been invited to a reunion this week at the school where they cut their teeth and honed their skills at a student radio station.
At least 90 former DJs — most of whom have grown up already — are expected to attend.
"We started in 1976," said broadcasting teacher Russ Mayo. "And so we're inviting all DJs, old and new, to come back and celebrate."
KPGR-FM is different from many student-operated stations because it appears to have an audience far beyond its student base in Pleasant Grove. Salt Lake City resident John Maynes listens regularly, even though he has no connection to the school 30 miles away in Utah County.
"I just listen to it on my way home from work — and to work — some days," Maynes said, "if I can get it to come in."
Listeners in Utah County typically listen on 88.1 FM. In Salt Lake County, the station can be heard at 96.7 FM thanks to a translator station that rebroadcasts the signal.
Most times of day, listeners tuning in are likely to hear music and other programming introduced by teenage DJs.
"Yeah, they are broadcasting, and it's live, and it's the full thing," Mayo explained.
KPGR's studio is in a small room partitioned off from a large classroom where hundreds of wannabe DJs have learned the craft over the years.
As he launched a typical class, Mayo gave the students an assignment on techniques for telling a story. "You're going to refine it," he told them. "You're going to make it the best story that you can."
He also coached them on using voice fluctuations that might improve their on-air performance. "If you're monotone the whole time, it's not going to be good," Mayo explained.
A few years back, Mayo himself was one of the students. He turned what he learned into a career of teaching.
"It's a dream job for me," he said.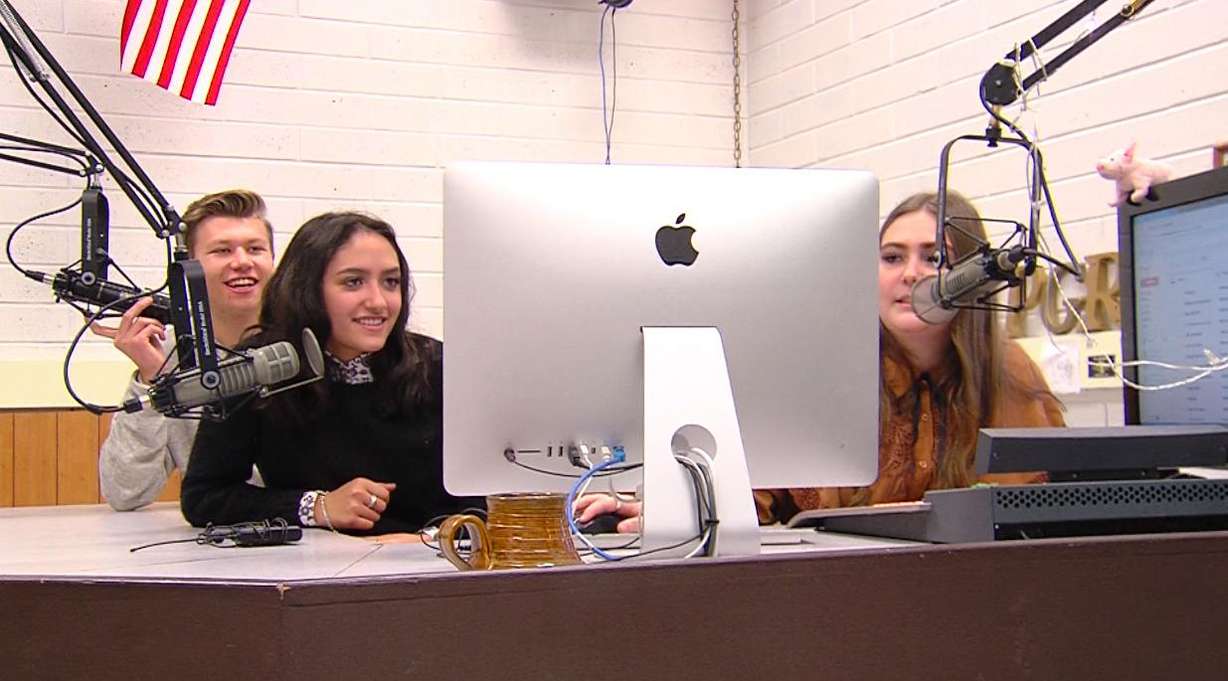 As Mayo's students worked on individual projects, senior Jake Winkel began producing a series of musical tones on a desktop computer. "Right now I'm making a promo for the radio," he explained.
In a second studio adjoining the classroom, three students worked on a rap-music spot. "We do a lot of stuff that just goes on the radio and a lot of stuff" that doesn't, said senior Malcolm Hatfield, who aspires to a career in filmmaking. "We just kind of create as much stuff as we can."
Over the years, generations of students have gone through the training, hoping they'll be selected as KPGR DJs. Mayo believes that even though most do not go on to become professional broadcasters, they still benefit from the technical and creative skills they learn.
"I have people contact me all the time telling me that they've turned it into a career," Mayo said.
Senior Gwynie Bahr said she and other DJs have had to develop skills in public speaking. "It's kind of challenging to get out of the box and be like, 'Uhhh, I'm talking to a microphone, I'm not actually talking to a person,' she said. "That's kind of our challenge."
The students who are lucky enough to be chosen for DJ duty get to play lots of tunes on the air and to sometimes introduce live bands from the area.
"Local music and indie rock is our thing," Bahr said.
At odd hours, the station operates on autopilot through a computerized program. But student DJs are on the air from 6:45 in the morning to 10 at night on weekdays, as well as for a few hours on Saturday mornings.
Maynes discovered the station by accident a couple of years ago. "I listen to it whenever I can get it to come in, probably for the last two years, since I noticed it on the radio dial," Maynes said. "It's pretty good, and the kids have way good taste in music."
Mayo said the student DJs often hear from listeners who stumble onto KPGR while scanning the FM dial. "A lot of people don't know that it's just a high school station," Mayo said. "When they contact it, they say, 'Hey, what's going on? I mean sometimes you guys are really professional and sometimes you're flying off the lid on some weird topic about homecoming, or whatever else.'"
"They're not the most seasoned DJs," Maynes said. "They're high school kids, and they're having a good time." Still, he believes some of them could have a future in broadcasting. "Yeah, definitely," he said. "I've seen a few of them that, they play really good music and they seem to know how to be a DJ."
The student DJ reunion is scheduled at Pleasant Grove High School Friday at 7 p.m.
×
Photos