Estimated read time: 2-3 minutes
This archived news story is available only for your personal, non-commercial use. Information in the story may be outdated or superseded by additional information. Reading or replaying the story in its archived form does not constitute a republication of the story.
SALT LAKE CITY — Investigators are reviewing video to determine what caused a fatal crash involving a car and light-rail train Monday that left one person dead and several passengers with minor injuries.
Witnesses said Jose Delrio Cabral, 51, of Ogden, ignored traffic signals and the downed crossing arm as the car he was driving slammed head-on into an eastbound TRAX train at 600 West and North Temple shortly after 11 a.m.
A few minutes before the crash, Cabral was involved in a hit-and-run incident only a few blocks away, Salt Lake police detective Greg Wilking said.
"It seems as if he was fleeing that scene," Wilking said. "The vehicle went through the gates that were down right into the front of the TRAX train."
Police investigators will look at video obtained from the Utah Transit Authority as part of the probe, said UTA light-rail general manager Todd Provost.
Service along the Green Line was impacted for about 15 hours due to major damage to overhead electric lines, Provost said. Crews worked well into the night to get trains back on schedule, he said.
The cost to repair damage to the rail equipment and busted concrete on the bridge is estimated to be well into six figures, said UTA chief safety and security officer Dave Goeres.
Additionally, the rail car involved sustained significant damage and will be sent out for necessary repairs. A replacement will be put into its place for service on the airport TRAX line, Goeres said.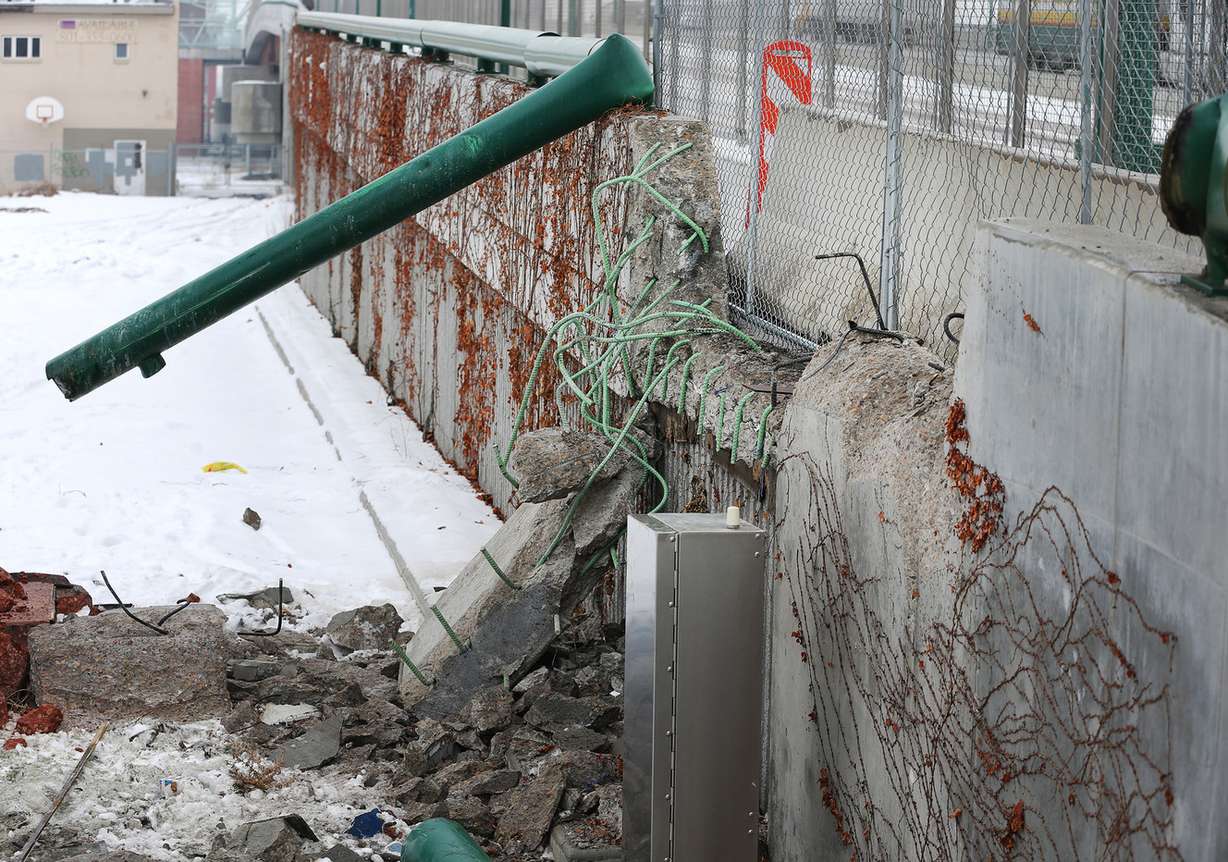 Seven passengers, including the train operator, were transported to local hospitals, and nine others were treated and released at the scene, said Salt Lake Police Sgt. Robin Heiden. Two others initially refused transportation to the hospital but later drove themselves there, she added. All injuries were reported to be minor — mostly cuts and bruises.
Four people were briefly trapped inside near the front of the train after a pole fell on top of it, preventing the train doors from opening, Heiden said.
Wilking said an autopsy will be performed to determine the official cause of death, with toxicology results expected in a few weeks.
Cabral had previous run-ins with law enforcement. According to court records, a warrant for his arrest was issued in 3rd District Court after 3 p.m. Monday. Last April, he failed to pay restitution after pleading guilty to misdemeanor charges involving an assault against a police officer, court records state.
In 2015, Cabral pleaded guilty in two separate cases to reduced charges of attempted possession of a controlled substance, and he pleaded guilty in 2014 to criminal mischief, according to court records.
Contributing: McKenzie Romero, Sam Penrod
×
Photos
Related stories
Most recent Utah stories