Estimated read time: 4-5 minutes
This archived news story is available only for your personal, non-commercial use. Information in the story may be outdated or superseded by additional information. Reading or replaying the story in its archived form does not constitute a republication of the story.
SALT LAKE CITY — Here are 10 local stories you may have missed this weekend. As always, click on the headline to read the full story.
Every good story begins with a piece of the past. In this case, the past is found on a shelf in the back of an old shop behind John Bruce's home — a shop where everything is coated in a glaze of sawdust.
"The skin of it is quarter-inch eight-ply baltic birch," Bruce said, holding out a small piece of plywood. It's a piece of the infamous "Spruce Goose," the wooden airplane built by billionaire Howard Hughes.
One person is in critical condition and another in custody on suspicion of DUI Sunday morning after a crash on I-80, police said.
Around 3 a.m. Sunday, police received calls of a Nissan Versa traveling north in the southbound lanes of I-215 near 5500 South, according to Sgt. Mary Kaye Lucas of Utah Highway Patrol. The vehicle continued to I-80, traveling westbound in eastbound lanes, Lucas said. At approximately 2300 East, the vehicle collided head on with a full-sized Dodge van in the left lane, according to Lucas.
A local low-income family got a sad Christmas surprise when their van and all their presents were stolen.
Danielle Wirtjes said she and her family don't have much.
"This is low-income housing, so we don't have a lot of money here," she said.
A Utah County teen has embraced the season of giving and raised enough money to make 220 blankets for patients at Primary Children's Hospital.
Makayla Olson said the idea for the donations started in 2012 when she and her friends decided to make blankets instead of giving gifts to each other. Then Olson started raising money so she could buy the materials and make more blankets.
Six people were transported to area hospitals with serious injuries after two cars collided on Redwood Road Sunday evening.
A black Lexus was traveling southbound on Redwood Road and attempted to make a left turn at 700 North, according to Salt Lake Police Lt. Martin Kaufmann. The Lexus then collided with a white Ford Expedition traveling northbound.
Sports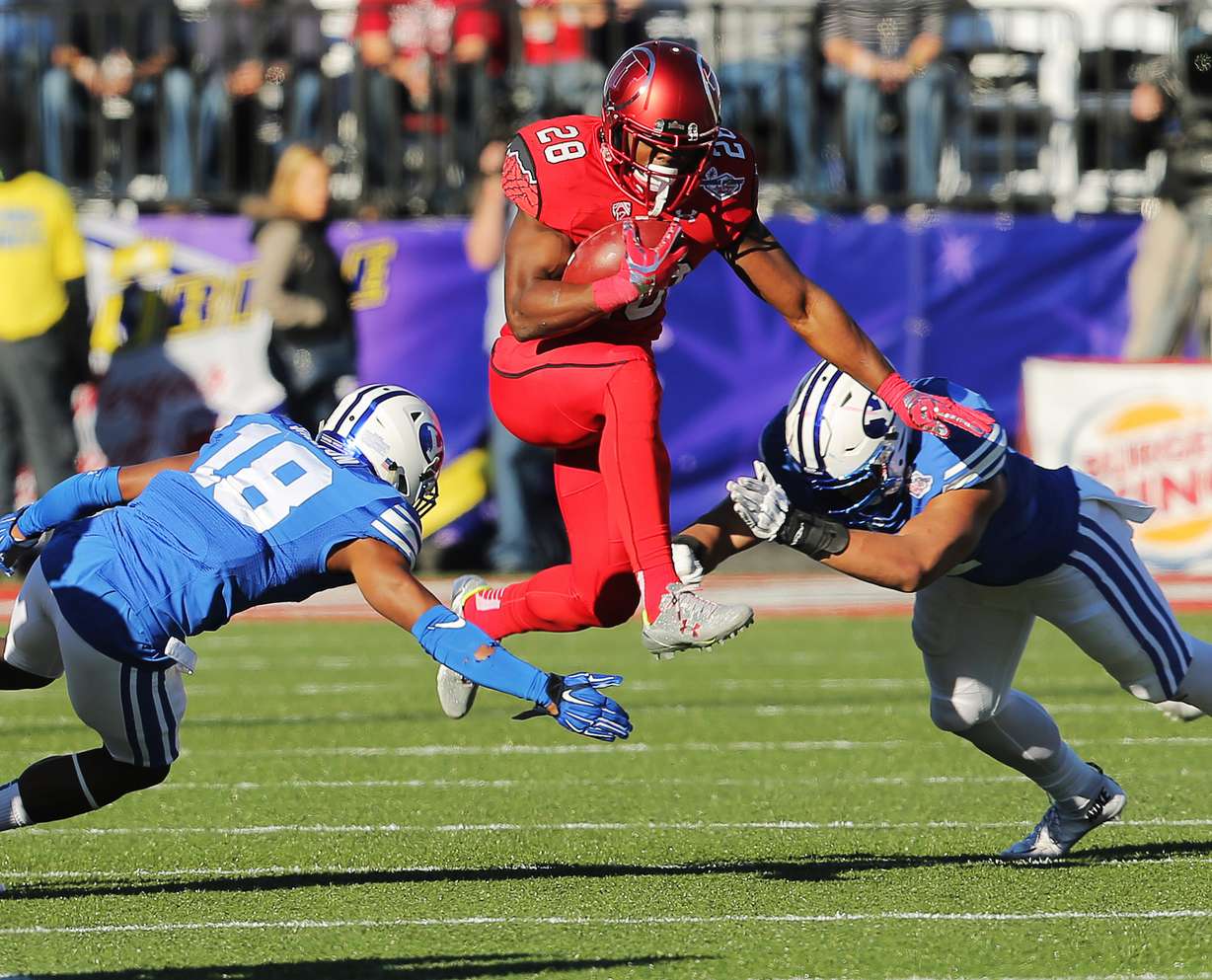 BYU kept turning the ball over, and Utah kept scoring.
About the only question left after five first quarter touchdowns by the Utes was how big their Las Vegas Bowl rout would be. Until BYU regained its composure, that is, and made it a game for both teams to remember.
Utah took advantage of a disastrous start by BYU, scoring five first-quarter touchdowns on turnovers — including two interceptions by Tevin Carter — before holding on Saturday to beat the Cougars 35-28.
Kalani Sitake has been named the 13th head football coach of Brigham Young University, athletic director Tom Holmoe announced following the Cougars' 35-28 loss to rival Utah in the Royal Purple Las Vegas Bowl.
The hiring ends a wild, surprisingly public head coaching search for the private university owned by the LDS Church.
Now the attention turns to whom Sitake will choose as his assistants. Of particular interest in Provo is whom he will choose as the next offensive coordinator. Here are four names with a connection to BYU that Sitake could tap to run the Cougars' offense.
Utah coach Larry Krystkowiak says the Utes weren't fixated on avenging the Sweet 16 loss to Duke in March.
That doesn't mean the Utes aren't savoring the 77-75 upset of No. 7 Duke at Madison Square Garden on Saturday. Kyle Kuzma scored 21 points to lead Utah (9-2) and Jakob Poeltl had 19 points and 14 rebounds before fouling out with 31 seconds left in OT.
Utah coach Quin Snyder didn't want his young team to fret over a losing streak, and that's not a concern anymore.
Gordon Hayward scored 26 points and the Jazz beat the Denver Nuggets 97-88 on Friday night to snap a season-high, four-game skid.
×
Most recent Utah stories