Estimated read time: 2-3 minutes
This archived news story is available only for your personal, non-commercial use. Information in the story may be outdated or superseded by additional information. Reading or replaying the story in its archived form does not constitute a republication of the story.
MURRAY — An Eagle Mountain couple experienced the miracle of birth at freeway speeds early Friday morning on the way to the hospital to deliver their fourth child.
Shay Allred was driving his wife to Intermountain Medical Center in Murray when Kristin Allred knew the baby couldn't wait any longer.
"We were almost there, and I'm like, 'Oh, I'm going to start pushing,'" she recalled from her hospital bed.
Soon, Shay Allred realized the gravity of the situation.
"She was like, 'I think I can feel the head!'" He said, "I'm like, 'Wow, okay!'"
He called 911, but a little over a minute into the call, traveling 80-miles-per-hour on I-15 through Sandy, the baby was out. Mom caught the child with her hands.
"The head came out and I just instantly just put her up here," the mother said, motioning to her chest.
Dad's eyes sparkled as he described what happened through his eyes.
"'Oh! Here she is!' And [she] just picked her up," Shay Allred said. "It was pretty amazing to see."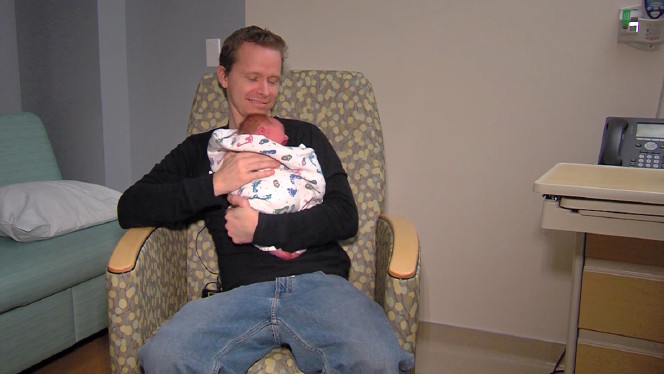 Steve Breinholt/KSL-TV
The couple stopped their car shortly afterward on the 9000 South overpass, but they weren't finished with the tense moments.
The newborn didn't appear to be breathing. Shay Allred noticed the umbilical cord was wrapped around the baby's neck.
The Allreds said they were grateful to the dispatcher who helped them through the situation. The baby girl was breathing and crying moments later.
"Even for like two hours after, it's like, 'This is so fake,' like, 'Who does this?!'" Kristin Allred laughed.
Cool and collected, all together in their hospital room, baby seemed to already have a lot in common with her parents.
"Like I said, we're a pretty mellow couple and just did what you have to do," Kristin Allred said.
The couple had not decided on a name for their newborn daughter as of Friday night, but were leaning toward Elizabeth.
×
Photos
Most recent Utah stories