Estimated read time: 3-4 minutes
This archived news story is available only for your personal, non-commercial use. Information in the story may be outdated or superseded by additional information. Reading or replaying the story in its archived form does not constitute a republication of the story.
WEST JORDAN — There aren't too many jobs out there as important as Rick Waite's job.
"I'm just kind of going through my normal procedure, checking and making sure all my lights are functioning properly," he said as he did a pre-inspection of his school bus Friday.
Waite is a bus driver for the Jordan School District and does this every morning, no matter how rainy, snowy or cold it gets.
"I guess I'm embarrassed it's so dirty, but they don't open the bus wash when it's this cold," said Waite with a laugh, as he looked as his bus.
Bus No. 1328 may not be the cleanest bus on the roads, but Waite makes sure it's one of the safest — especially for some of the children he brings to school.
"Sometimes I think we look at special-needs children and we look off to the side because we don't want to deal with it. It'll go away," Waite said. "But they are just so pure and special and sweet, and they don't know they have a situation."
You can tell Tyson is one of Waite's favorite students.
"Hello, Tyson," Waite said as he opened his bus doors in front of the house Tyson lives in, giving him a big high-five once on board.
Of course, Waite would say that about any of his kids.
"I'm kind of an emotional guy," he said. "I love them all."
Which is why this day, the day before Christmas break, is one he looks forward to all year. With his long white beard, jolly frame and laughing demeanor, it's easy for people to do a double take when they see him.
"A few years ago, I was doing some yard work and was running late to work, so I didn't shave. It was a Thursday," Waite said. "On Friday, I figured the weekend was coming, so I didn't shave again."
"Then I decided not to shave the week after. One of my co-workers asked me if I was going as Santa Claus. I didn't think I looked like him, but now, I guess I do."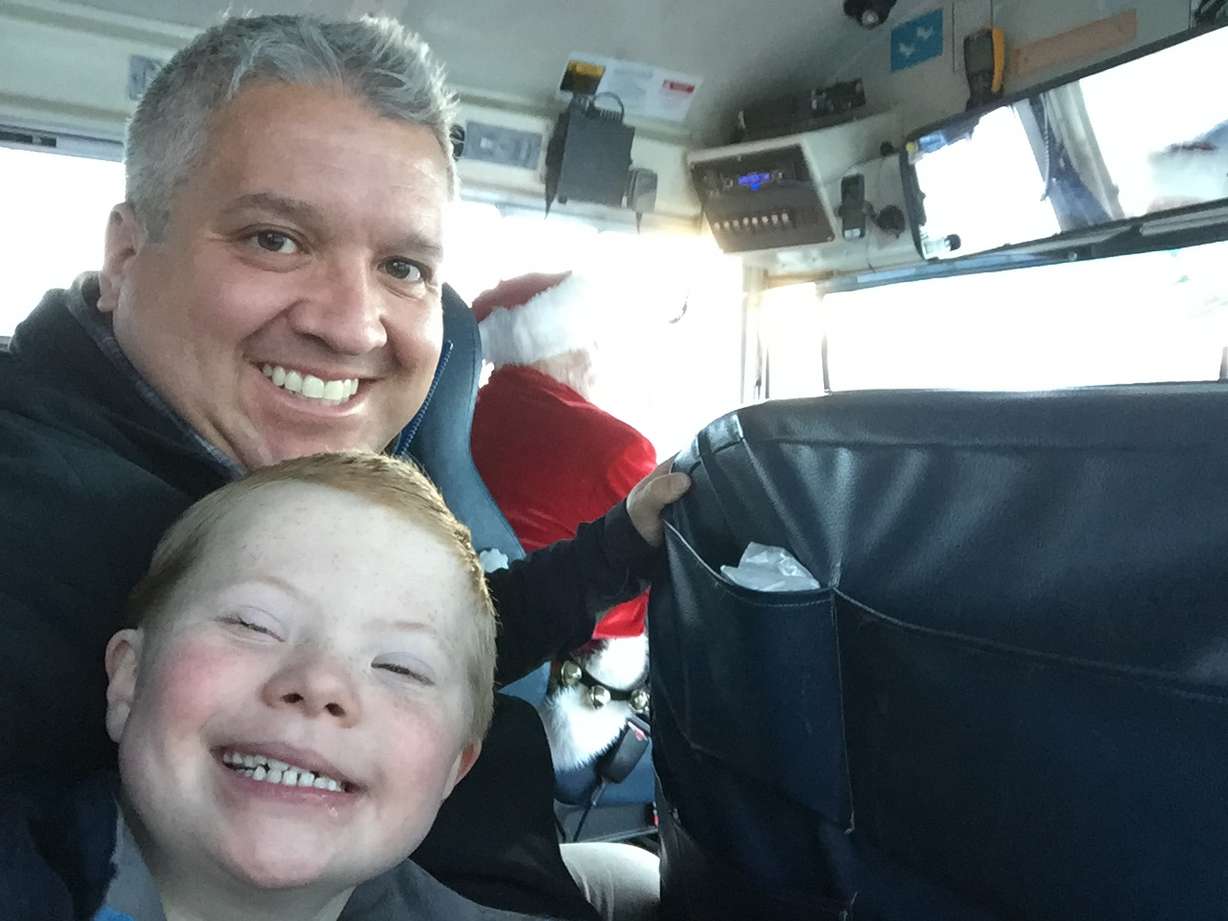 Being Santa Claus has become a sort of part-time job for Waite during the Christmas season. His wife plays Mrs. Claus.
"I shave my beard off right after Christmas, and then start growing it again right around Memorial Day," Waite said.
Five years ago, he decided to start doing it for his school bus routes. The children loved it.
They couldn't stop smiling Friday as they realized their bus had become Santa's sled, taking them to school.
"They really have a lot of fun with it," Waite said. "It's a riot. I don't know of anything I do that is as fun, let alone more fun."
However, there are times when he asks the kids what they want for Christmas and the answers aren't so fun.
"Two weeks ago, we had a young boy that asked me, he wanted to spend time with his dad. And I said, 'Where is your father?' He said 'I don't know.' And … it's tough sometimes," said Waite, his voice trailing off in emotion.
---
At the end of the day, just the pure joy and happiness you can see in their smiles, it makes it all worth it.
–Rick Waite, school bus driver (a.k.a. Santa Claus)
---
It seems not even Santa can fulfill every Christmas wish list. That's why, on this special day, he does everything he can to make it a happy day for his kids.
He cranks the radio as loud as the kids tell him to.
He does high-fives and knock-knock jokes.
After making sure his elementary children are buckled in, some kids even play a form of hide-and-seek in their seats. Santa pretends he can't see them, which makes all of them giggle with delight.
"At the end of the day, just the pure joy and happiness you can see in their smiles, it makes it all worth it," Waite said. "I hope I made their day a little better."
×
Photos
Most recent Utah stories