Estimated read time: 5-6 minutes
This archived news story is available only for your personal, non-commercial use. Information in the story may be outdated or superseded by additional information. Reading or replaying the story in its archived form does not constitute a republication of the story.
NAVAJO MOUNTAIN, San Juan County — At a time when traditional Utah schoolchildren are anxiously awaiting a holiday break from school, their Navajo counterparts in San Juan County would just like passable roads to get to classes.
Alex Bitsinnie is well aware of the perils of trying to get his daughter and niece to Navajo Mountain High School every day, slipping in the mush of the dirt road, having to stop to move boulders out of the way and traveling down an 11-degree grade with no guardrail.
"If there is mud or snow we encounter hardship," said Bitsinnie, who is president of the Navajo Nation's Navajo Mountain Chapter.
Bitsinnie said there is a gravel pit and crusher standing by to grade County Road 435 and to take it from dirt to gravel, but no money available.
"We are just looking for funding," he said.
San Juan County is part of a tri-state coalition that is partnering with the Navajo Nation to urge the federal government to restore funding to the Indian School Bus Routes Maintenance Program.
In San Juan County, there are 258 miles of school bus routes in the Navajo Nation, 87 miles of which remain unpaved. Across the entire nation, 77 percent of the roads are dirt.
The effort has the support of Utah Gov. Gary Herbert and Arizona Gov. Doug Doucey, as well as congressional representatives like Rep. Ann Kirkpatrick, D-Arizona, who wrote an op-ed piece saying it is more than a transportation issue, it is an issue of civil rights.
"Navajo students deserve the same access to education as any other student in Arizona, New Mexico or Utah," she wrote in the Navajo-Hopi Observer.
Supporters of improving the Navajo school bus routes requested $4.5 million as part of the five-year, $305 billion transportation bill approved by Congress earlier this month. They were shot down.
San Juan County's Chief Administrative Officer Kelly Pehrson said proponents are now seeking stand-alone legislation in January to pay for maintenance and improvement of Navajo school bus routes.
Pehrson said the county used to get about $500,000 a year for help on maintenance of Navajo school bus routes, but the program was not reauthorized.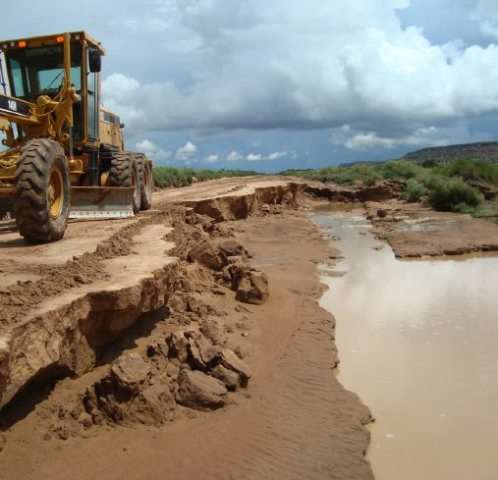 Last year, he said a late winter storm dropped 18 inches of snow in Monument Valley and students were out of school for 10 days.
"The school buses cannot drive on these roads and a lot of these citizens live in very rural and remote areas and just can't get to school," he said.
"Our goal as a county is to improve the roads to gravel roads and make them more passable when the storms hit. But it is very hard," Pehrson said.
The county's own road maintenance budget was in the hole $1 million last year, and upgrading the school routes from dirt to gravel would cost about $18 million.
Still, since 2005, the county has spent $11 million out of its own budget to fix Navajo school routes.
"They are citizens of our county and we are going to serve them as much as we can," Pehrson said.
The Navajo Department of Transportation has tried to step in where it can, but with the Utah segment of the nation the farthest geographically from its capital of Window Rock, Arizona, sometimes money trickles there at the slowest rate.
Brandy Tomhave from the Tomhave Group is a lobbyist hired by San Juan County and other proponents to push for federal money to fix the Navajo school bus routes.
She said before the maintenance program was repealed, the three states where the Navajo Nation divides its topography received about $500,000. San Juan County, since it is the only county in the state with a Navajo Nation footprint, used that money to help maintain routes.
Since 2010, however, San Juan County has been paying for nearly all the costs in a transportation arrangement that stretches back even farther.
"San Juan County is unique in the nation in that it is contracted to step into the boots of the federal government to perform the transportation services that the Bureau of Indian Affairs otherwise would. That is an arrangement over 20 years old," she said.
"San Juan County recognized that the roads on the reservation were terrible and the BIA, with its headquarters in Gallop, New Mexico, recognized it did not have the reach to service Utah Navajo like it should," Tomhave added.
She said the funding for Navajo school routes was not part of the huge transportation spending package recently approved because it was viewed as an earmark.
"An earmark is special funding that only benefits one congressional district," Tomhave said. "This involves multiple districts, 11 counties and three states. … It is a regional allocation."
Arguments that it was just like paying for Appalachian Native American infrastructure fell flat, she said. "The Navajo Nation is far away from (Washington) D.C. and poorly understood."
Tomhave said she found it ironic the federal transportation spending package that cut out money for the Navajo school bus routes included a grants program for urban bike paths.
"I think they are lovely to have, but they're not essential — they certainly are not as essential as a bus route that is the only way for Navajo children to access education."
The lack of money for Navajo bus routes, Tomhave said, is difficult to understand, impacting 85,000 K-12 students.
"There is no federal responsibility to pay for bicycle routes in urban and city areas but there is a responsibility to fund these roads. These are roads on federal lands for federal trustees to get to federal schools on federal school buses. It is a total abdication of responsibility," she said. Email: amyjoi@deseretnews.com Twitter: amyjoi16
×
Photos