Estimated read time: 2-3 minutes
This archived news story is available only for your personal, non-commercial use. Information in the story may be outdated or superseded by additional information. Reading or replaying the story in its archived form does not constitute a republication of the story.
REXBURG — It was festive, heartfelt and it came as a complete holiday surprise to one local family.
This weekend, the Gundert family received a gift from a group of Brigham Young University-Idaho students that will be cherished as a Christmas memory for years to come.
BYU-Idaho Junior Chris White helped organize a Christmas caroling flash mob in front of the Rexburg family's home on Friday, Dec. 11. More than 100 students and locals rushed the lawn for an impromptu Christmas concert.
Jason Gundert's wife, Anna, died in July, leaving two 9-year-old twin girls and a 5-year-old boy without a mother. White heard of the family and wanted to make their holiday season brighter. He thought the event was a perfect way to bring some Christmas cheer to the family.
"The main goal is just to make them smile, to make the family happy and to have them take away something that can … help them through this tough time," White told EastIdahoNews.com at the event.
Flash mobs often involve synchronized dancing and blaring music, but this musical gathering — although still fun and active — took a more solemn tone.
The beginning of the caroling mob started with a performance by five to seven talented local singers, such as online beatboxing sensation Parker Kane and Rexburg vocalist Jake Chamberlain.
There was a dance number as well as drummers, and finally a crowd of about 100 people performing "Hark the Herald Angels Sing." A live nativity scene was arranged to illuminate the front yard during the caroling mob's presentation.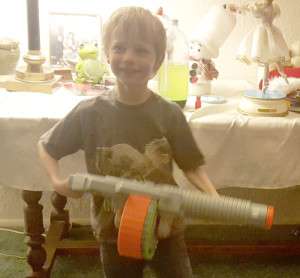 Patti Eaton, sister of Anna Gundert, said saw the impromptu event being organized on Facebook. She was planning to attend until she realized it was set for her sister's family. Eaton said the unexpected passing of her sister had been rough, but said she's someone worth celebrating.
"She had such a big heart — it just stopped," Eaton said. "She's such a big personality. She was just too big a spirit to keep in such a small capsule."
She said they were grateful for the performance and the love extended to her family. Nine-year-old Lisette Gundert and her siblings were excited to receive gifts from the carolers and to see all those who came together on behalf of her family.
"I felt my mom's spirit," Lisette said.
About $500 was raised for the family in donations collected from BYU-Idaho students. The funds went toward gift cards, iPads and toys for the Gunderts.
White said he hopes the event will inspire others to do more this holiday season.
"I hope that it helps bring the Christmas spirit to the community and helps everyone realize the reason for the season is to give to others and remember our Lord and Savior Jesus Christ," White said.
×
Related links
Most recent Utah stories