Estimated read time: 6-7 minutes
This archived news story is available only for your personal, non-commercial use. Information in the story may be outdated or superseded by additional information. Reading or replaying the story in its archived form does not constitute a republication of the story.
SALT LAKE CITY — With a precious days-old baby gently swaddled in her arms, and still reeling from the pain of an emergency C-section, Kristin Sumbot heard the words she had dreaded for the past five years.
Cancer.
The pressure she'd been feeling in her head, and subsequent brain bleed and surgery, were due to glioblastoma multiforme — a deadly and aggressive brain tumor. Lying in her hospital bed while cradling her newborn baby, Sumbot was given just 16 months to live.
"We were planning on bringing our little baby home and being a normal family," Sumbot said. "We were ready for the sleepless nights, baths in the sink and walks outside before it got too cold. We weren't ready for cancer."
The painful road of a cancer patient is not unfamiliar to Sumbot. She was diagnosed with acute lymphoblastic leukemia at age 17. After two years of battling the disease, she was declared cancer-free and hopefully for life.
She went on to marry Nathan Sumbot in November 2010 and attended BYU as an art education major. Her battle with leukemia, though intensely painful and traumatic, remained part of her identity and defined her outlook on life.
"Since I was diagnosed in 2008, I've always felt the need to share my experience and try, through the midst of it all, to have hope," Sumbot said.
As another way of staying involved, Sumbot worked with many cancer foundations, one of which was the Northern Nevada Children's Cancer Foundation (NNCCF).
Related:
"I've helped raise money for them, donated artwork and have been a motivational speaker for some of their events," Sumbot said. "I've gone to Capitol Hill with the NNCCF and have spoken with senators and congressmen about raising funds for research and clinical trials to avoid the late effects of chemo and radiation, which they think is one of the leading causes of my new cancer."
In 2012, Sumbot and her mom, Leslie Katich, traveled to Nepal and Tibet and climbed the Himalayas on behalf of the nonprofit Radiating Hope, whose mission is to "improve cancer care … around the globe."
On her journey, Sumbot carried Tibetan prayer flags, which symbolized "hope, strength and well-being" for other cancer patients.
"The flags for me were a symbol of hope, which is something we often lose sight of when we are on difficult paths in life," Sumbot said. "I climbed the Himalayas with prayer flags to raise awareness and to help others see that we can find happiness amidst hard things."
As time passed and she remained in remission for longer, the frail cancer patient she once was seemed a mere shadow of her current self. Now healthy, vibrant and strong, Sumbot had moved on with life, determined to live each day to her fullest. She and her husband, Nathan Sumbot, were also anxiously anticipating the arrival of their baby boy, due in October 2015.
However, one morning, just three days before her due date, Sumbot awoke with a strange headache.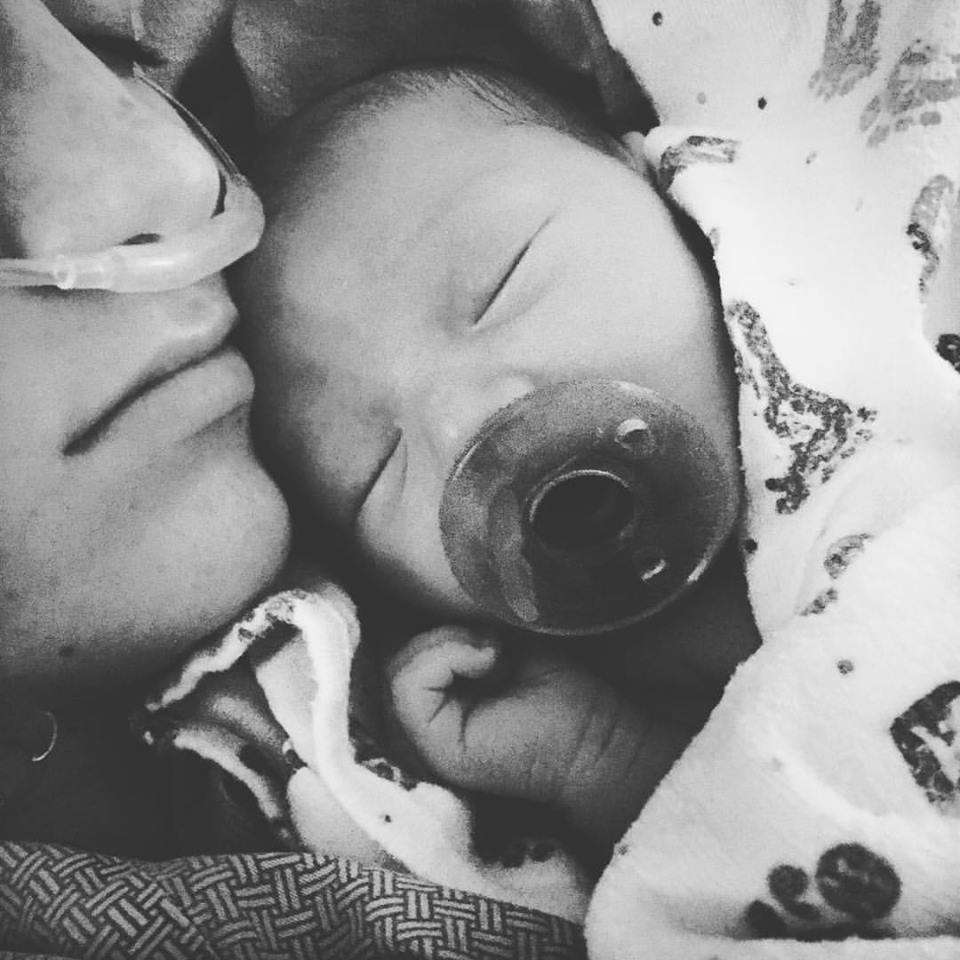 "It seemed like a normal Saturday morning," Sumbot said. "I knew my baby would come any day at that point in my pregnancy, and I was looking for any slight sign of labor to rush off to the hospital. When I walked into the kitchen to get some breakfast and ran into the door and two walls, I knew something was wrong."
When a brain scan revealed a brain hemorrhage, Sumbot was immediately scheduled to undergo an emergency C-section. Several hours later, August James Sumbot was born.
"It's hard to describe the magic that happens when you meet your little one for the first time," Sumbot said. "(It's) a moment this diagnosis can never taint or take away from me."
Nathan Sumbot also said the birth of their baby boy provided them momentary relief.
"He was perfect," he said. "(He was) a calm amidst the chaos, a perfect distraction."
A few days after giving birth, Sumbot underwent surgery so doctors could figure out what was causing the bleeding in her brain. Her world was turned upside down once the results of her surgery came in. Sumbot was diagnosed with grade IV glioblastoma multiforme, the deadliest form of brain cancer.
Leslie Katich, Sumbot's mom, said although they always knew there was a possibility the leukemia could return, they were shocked at the new diagnosis.
"I was completely taken back and devastated," Katich said. "I struggled with the immediate heartache I felt for Kristin and what this meant to her and her new family."
Sumbot said, however, that her new baby provided her with hope and a greater resolve to fight her illness.
Related:
"You never think about having cancer once, let alone twice," Sumbot said. "Old feelings of devastation and uncertainty resurfaced. But so did my will to fight and survive. My previous survivorship and my love for my new child and family overpowered the despair. It helped me find happiness and hope in a very surreal, unfair and chaotic moment." At 8 weeks old, August is thriving, and new parents Kristin and Nate are doing all they can to soak in these precious moments with their newborn son. They live life to the fullest and live happy, because there is so much to live for.
"I'm just trying to enjoy each day," Sumbot said. "There is a miracle out there for me somewhere, but the reality is that my days are few."
Though under the standard treatment, Sumbot only has an estimated 16 months to live, and she and her family are hoping and praying for a miracle. She remains hopeful and will do all she can to have more time with her son and husband.
"We focus on the small victories, what we have and not on what we don't have," Sumbot said. "We enjoy every minute we have together, because each day is a gift and every moment is precious."
An online fundraiser has been set up in behalf of Kristin Sumbot and her family. To donate to their cause, visit her GoFundMe page*.
*KSL.com does not assure that the money deposited to the account will be applied for the benefit of the persons named as beneficiaries. If you are considering a deposit to the account, you should consult your own advisors and otherwise proceed at your own risk.
---
Sara Phelps is a graduate of Brigham Young University with a degree in communications. EMAIL: sphelps@byu.net
×
Photos
Related links
Most recent Utah stories