Estimated read time: 4-5 minutes
This archived news story is available only for your personal, non-commercial use. Information in the story may be outdated or superseded by additional information. Reading or replaying the story in its archived form does not constitute a republication of the story.
SALT LAKE CITY — Saying that a "heroin tsunami" is making its way across the state, the U.S. attorney for Utah stood with several top local, state and federal law enforcers Thursday to address a growing drug and aggravated robbery problem.
U.S. Attorney John Huber says there has been a spike in the number of violent robberies along the Wasatch Front and particularly in Salt Lake County. That's something he says can be directly correlated with a surge in heroin addiction.
"Although we have sympathy for those struggling and suffering with addiction, we have no tolerance for violent crimes committed by addicts," said Huber who also sent a message to those who rob banks or commit serial robberies while threatening violence: "Whether they use a note or knife, they face the possibility of going to a far off federal prison for a long time."
Although local police chiefs have been talking about a growing heroin problem for some time, Huber said Utah is still in the early stages of a "heroin epidemic" that if not addressed, could become worse.
According to the Rocky Mountain High Intensity Drug Trafficking Area, 37 pounds of heroin were seized in Utah in 2012, compared to 250 pounds two years later in 2014. Neighboring states such as Wyoming and Colorado did not see a similar increase during that same time period.
'We can't arrest our way out of this'
Standing alongside Huber Thursday were several law enforcement officials, including members of the FBI, Drug Enforcement Agency, Salt Lake interim Police Chief Mike Brown, Salt Lake County Sheriff Jim Winder and Salt Lake County District Attorney Sim Gill. All said they are committed to working together to get the message out to violent offenders that they will be arrested and prosecuted.
"The reason we catch them is they're high and they're damn near crazy," said Winder. "They commit these robberies in a series that is alarming. It places people in significant jeopardy and their frequency and violence continues to increase as their addiction level rises."
"When you use violence or the threat of violence to take property from another person, that is a dirty deed," Huber said, adding that those who committed an armed robbery have "hit rock bottom. Their life is in shambles and they are headed to prison."
But a common phrase used by the law enforcers at Thursday's press conference was, "We can't arrest our way out of this."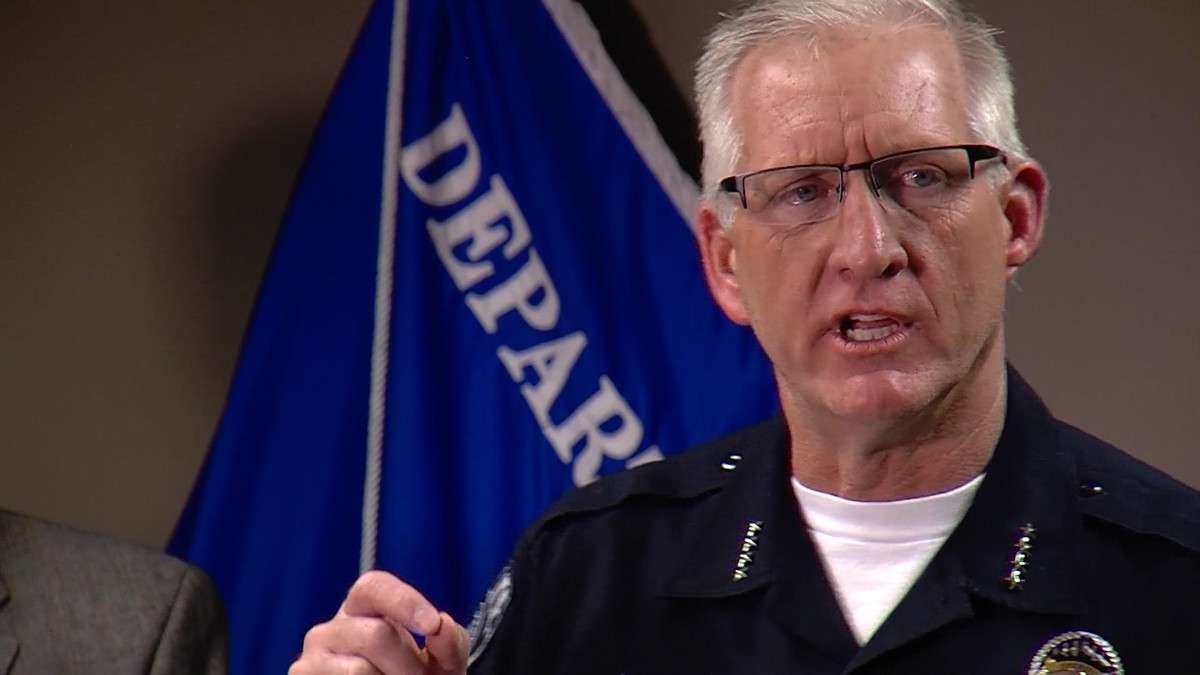 "It's time we wake up. This is a community problem. Heroin addiction doesn't just start overnight. It starts when people in their families fail to recognize the early symptoms of addiction and fail to take active and aggressive steps to resolve it," Winder said.
Heroin addiction is something that affects all walks of life and people of all races and socioeconomic backgrounds, Gill said. The typical heroin user starts off by becoming addicted to pain pills. And Huber noted that Utah currently ranks fifth in the nation for the highest number of overdoses from prescription medications, averaging about 21 each month.
Even Winder said he has a relative who was recently arrested for a series of robberies because he was addicted to heroin.
"My own relative — high on heroin and committing a series of robberies in the Salt Lake Valley … eventually found slumped over, literally dying, as heroin coursed through his veins in Pioneer Park. He now sits in my jail," the sheriff said sternly.
A call for help
Winder called on state lawmakers to approve the funds needed to address the heroin problem. He said more treatment beds are needed.
Huber said while medical providers, treatment providers and social service providers all individually do their jobs well, coordination between all those entities isn't going as well.
"If you're an addict and are in need of help, we have incredible programs. We are committed to a therapeutic justice model," Gill said.
But Gill stressed that heroin addicts should not confuse compassion with the concern law enforcement officials have over violent crimes.
Winder and Gill want Salt Lake County to continue collecting an annual $9.4 million from taxpayers as part of the 20-year bond to build the current Salt Lake County Jail. That bond will be paid off this year. But Winder and Gill would like to see the money now put into services for chronic offenders who have addiction problems, including the construction of a new community corrections center.
#heroin_graphic
Contributing: Mike Anderson
×
Photos
Most recent Utah stories